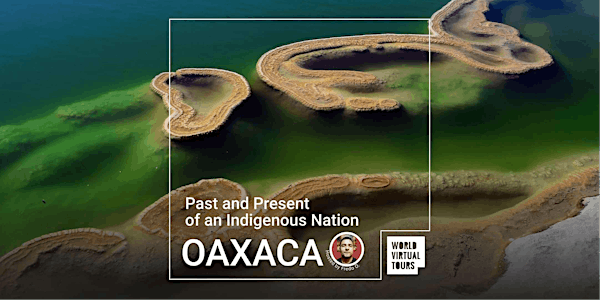 OAXACA: Past and Present of an Indigenous Nation
Discover the large pre-Hispanic cities arose from the valleys of Oaxaca that coexisted with the Mayans and Teotihuacans.
About this event
👷🏻‍♂️ Build this project with us:
Our Tours are FREE TO JOIN
the Event is TIP-SUPPORTED (read below ⭐)
⏰ Time is listed as Eastern Time (US/New York)
Language: English
Live stream event from Mexico, hosted by FREDO O.: Graduated Licensed Tour Guide, tourist journalist with 7 years of experience.
Summary
The pre-Hispanic era of Oaxaca and the great Zapotec cities
The indigenous heritage of Oaxaca reflected in the languages, crafts and society
The power and complexity of Oaxacan gastronomy
Craftsmanship practices and products centuries old
Architecture of the capital of Oaxaca, a colonial city with a multicultural atmosphere
Modern art inspired by the history of this region
The natural attractions that exist in Oaxaca
Live Q&A
Contents suitable for children
Description
To explore Oaxaca is to travel through centuries of cultural tradition. We are going to visit a historical region of Mexico.  Today is an essential reference for Mesoamerican history, gastronomy, handicrafts and tourism.
Large pre-Hispanic cities arose from the valleys of Oaxaca that coexisted with the Mayans and Teotihuacans. Monte Albán and Mitla, capitals of the Zapotec civilization, are today impressive archaeological sites that are worth visiting and having the experience of appreciating their unique architectural designs.
You will know the fruits of the mixture of multiple indigenous ethnic groups that currently subsist in Oaxaca, coupled with the miscegenation of the colonial era and the heritage of the Afro-descendants who settled there. Gastronomic elements such as tamales, mole and mezcal have their roots  in this region.
We will also walk through the streets of its colonial city, we will pass through its impressive beaches on the Pacific Ocean and we will visit the most representative examples of art inspired by the indigenous essence of Oaxaca.
Special Instructions and Requirements
PC, laptop, tablet or smartphone
Stable internet connection
This experience will use Zoom
PLEASE NOTE: since is a Free Event with high demand, if you don't connect on first 10 mins from tour start, we reserve the rights to assign your reserved seat to someone else
Read Carefully Our TOS here:
https://worldvirtualtours.online/terms.html
You can TIP Fredo here:
https://worldvirtualtours.online/tiptheguide.html?guide=Fredo
⭐ Why donate to your Tour Guide
Our project is solely funded by your donations.
All our virtual tours are made possible only thanks to your support as part of our Community.
The majority of your tip supports the Guide, the rest lets our group continue to carry out our initiative.
THANK YOU!
#maya #toltec #mexico #zapotec #oaxaca #monument #history #travel #art #immersiveexperience #virtualtour #virtualtrip #arthistory #culturalheritage #gods #artandculture #culture #mesoamerica #yucatan #mezcal