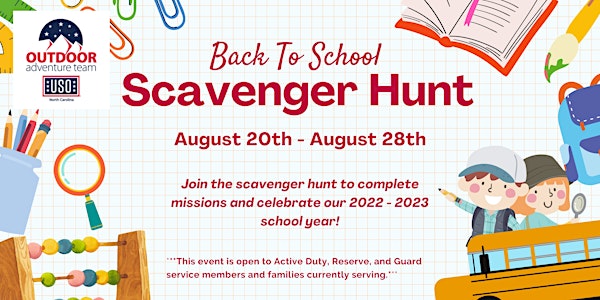 OAT Back to School Scavenger Hunt
USO North Carolina Back To School Scavenger Hunt!
About this event
Celebrate Back to School here in the Sandhills with the USO North Carolina's Outdoor Adventure Team by joining in our virtual Scavenger Hunt!
Teams may register beginning August 16th and throughout the event until all spots are filled.
How It Works:
The scavenger hunt will run through the GooseChase app and will require downloading to complete missions with your team. Each team may consist of a family with military children.
A link to complete the participation liability waiver will be on both the confirmation page and in the confirmation email.
Once the liability waiver is complete, the confirmation page will provide the game code and password to use in the GooseChase app to join the hunt. Please Note - You will not be able to join the game without completion of the waiver. This will come to you in a separate email before the scavenger hunt starts.
Once the scavenger hunt is live, each team will have access to the missions for the game. Choose which missions to complete and upload a photo/video via the app. Earn points for each mission completed. Some missions will only be available for a limited time, make sure to check the app daily!
Example Mission: I Pledge Allegiance - Find and take a photo with an American flag!
1st, 2nd, and 3rd place prizes will be awarded. If there are ties for first-third place, each of those teams will receive a prize.
***This event is open to active duty, reserve, and guard service members and their families currently serving ***