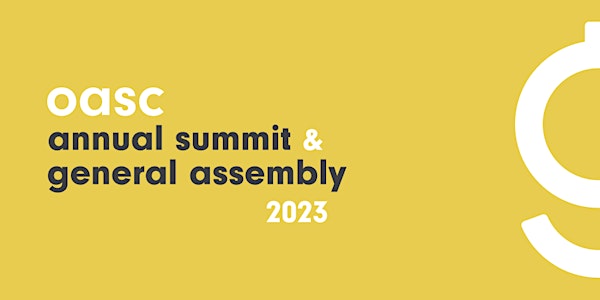 OASC Annual Summit & General Assembly 2023
Featuring engaging panel discussions & workshops on our Minimal Interoperability Mechanisms (MIMs) and other smart city projects
By Open & Agile Smart Cities (OASC)
Date and time
Wednesday, June 14 · 9am - 5:30pm CEST
Location
Sparks Meeting 60 Rue Ravenstein 1000 Bruxelles Belgium
Agenda
9:00 AM - 9:30 AM
Welcome & registration
9:45 AM - 10:00 AM
Opening by Karl-Filip Coenegrachts, OASC Chair
---
@Auditorium
10:00 AM - 10:15 AM
Introduction to the plenary session by Martin Brynskov, OASC Tech Lead
---
@Auditorium
10:15 AM - 10:30 AM
Keynote speech by Cristina Bueti, ITU & U4SSC
---
@Auditorium
10:30 AM - 10:45 AM
Keynote speech by Mattias Bergdahl, European Commission: DG GROW
---
@Auditorium
10:45 AM - 11:15 AM
Panel debate
---
Experts from cities, industry and research engage in discussions on pros and cons of digitalisation, AI, data, standards, interoperability. Focus on a global and user-centric perspective. Panelists: ...

11:15 AM - 11:45 AM
Coffee break
12:00 PM - 1:00 PM
Workshops by OASC, FARI & Quebec Office
---
1. MIMs for dummies: what is a MIM, why is it useful, practical examples. 2. Deep dive into OASC 3. FARI - Quebec: Local Artificial Intelligence for Communities and Public Administrations, where to s...

1:15 PM - 2:15 PM
Lunch break
2:30 PM - 4:00 PM
Parallel workshops
---
Two interactive workshops on digital projects and tools with OASC & URBANITE and Vrije Universiteit Brussel (VUB). Participants attend their first workshop from 14.30h until 15.15h and a second works...

2:30 PM - 4:00 PM
Presentation on the MIMs version 6.0 // HYBRID
---
Newest version of OASC MIMs for approval. HYBRID session in auditorium, open to all OASC members. @Auditorium
4:00 PM - 4:15 PM
Coffee break
4:30 PM - 5:30 PM
Speed networking sessions
---
1. "Cutting Edge AI - Needs & ideas for OASC-members" (Citcom.ai project), Joost Haugmark Jensen, Chief consultant - Confederation of Danish Industry. 2. "Modelling Digital Twins using NGSI-LD", Mart...

4:30 PM - 5:30 PM
OASC General Assembly // HYBRID
---
Open for OASC Members. Agenda: 1. Validation of MIMs, Martin Brynskov, OASC Tech Lead and Michael Mulquin, OASC MIMs ambassador. 2. Projects update, Margarida Campolargo, OASC Projects Director. 3. B...

5:30 PM
Closure by Karl-Filip Coenegrachts, OASC Chair
About this event
8 hours 30 minutes

Mobile eTicket
Welcome to OASC's Annual Summit, a day full of interesting ideas about and hands-on tools for digital societal challenges and local needs.
We will bring in perspectives from all over the world about data, AI, standards and interoperability for cities and share OASC's latest update of the Minimal Interoperability Mechanisms (MIMs), MIMs Plus v6.0.
OASC members will elect their new Council of Cities (deputy) coordinator and dive into the network's past and future plans in the General Assembly.
Faites vos jeux!