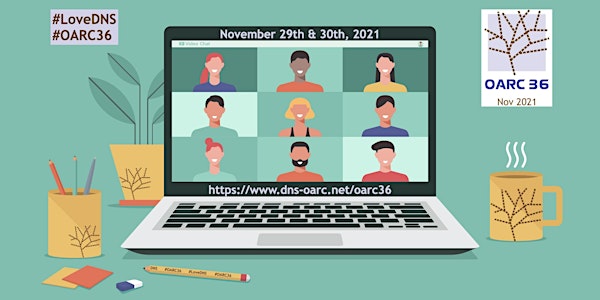 OARC 36
OARC 36 will be an online workshop and will take place on November 29th (14:00 - 16:05 UTC) and 30th (10:00 - 15:30 UTC), 2021
About this event
Social Media hashtags: #OARC36
Workshop website: OARC 36 Workshop
DNS-OARC is a non-profit, membership organization that seeks to improve the security, stability, and understanding of the Internet's DNS infrastructure. Part of these aims are achieved through workshops.
DNS-OARC Workshops are open to OARC members and to all other parties interested in DNS operations and research.
For more information about DNS-OARC itself, please visit our primary site.
Registration Fees:
Members & Supporter Participants (within allocation): US$ 75
Sponsors, Patrons (within allocation): FREE
Students, presenting researchers (on application): FREE
Participants from underrepresented gorups (on application): FREE
Everyone else: US$ 150
Funding DNS-OARC Workshops:
We are currently seeking further funding for the workshop. This can be done in various ways:
2) Annual Workshop Patronage (in the calendar year 2021)
3) Donation
4) Adding an additional amount to your registration of OARC 36 - by selecting both your "Registration" and the "A Little Extra" options on the registration page.
FAQs
Send an email to meeting@dns-oarc.net
Only in special circumstances where previously agreed
Please contact us to do this