Oakland Slow Art Day - The Clock Tower Studio/Gallery at historic Cotton Mill Studios - April 27, 2013

Saturday, April 27, 2013 from 11:00 AM to 2:00 PM
Event Details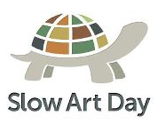 The Clock Tower Studio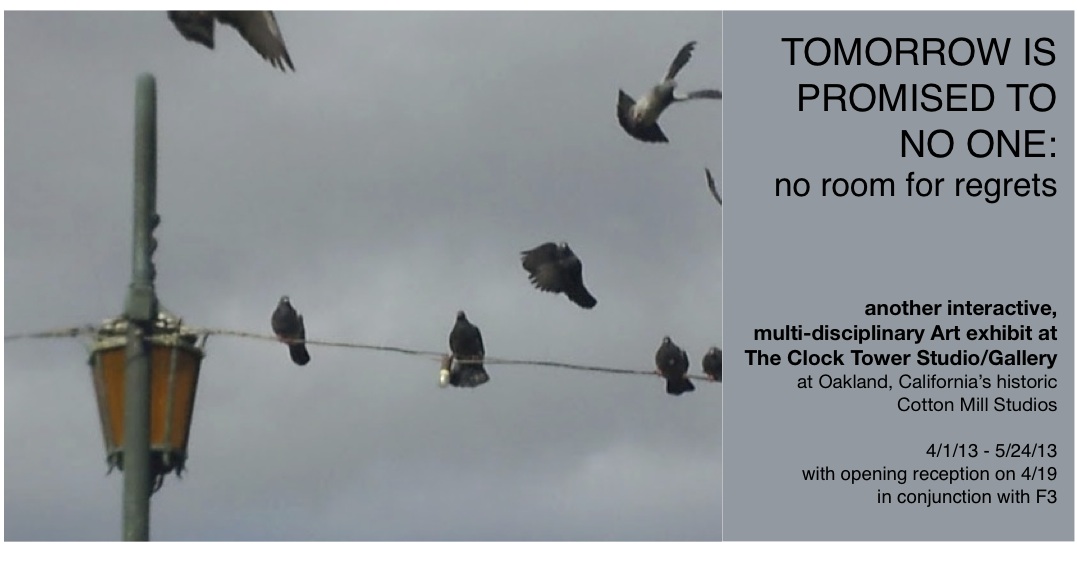 About The Clock Tower Studio/Gallery
The Clock Tower Studio/Gallery is the live, work & exhibition space of Oakland-based multi-disciplinary artist, Larissa, located in Oakland, California's historic Cotton Mill Studios. The Clock Tower Studio/Gallery also showcases the work of other visual, performing, literary and healing artists creating a tangible, physical dialogue about the world that surrounds us. In The Clock Tower a space has been created where multiple disciplines of Art merge to inspire critical thought, creativity, personal growth and Arts education through the vehicle of rotating exhibits, special events, sale and/or commission of Art-work and private tours and/or workshops.
"The Clock Tower is my vision and Omar's joy. The goal is to create a space where multiple disciplines of Art can merge and be explored. Opening a gallery is a political and revolutionary act. Formal venues for the exhibition of Art are disappearing across the country. This is tragic because these venues are natural homes for critical thought. Formal venues for Art exhibition are the canary in the cultural coal mine of a society. It is in a spirit of socio-political activism that I open The Clock Tower Studio/Gallery."
-Larissa gallery owner & director
About Tomorrow Is Promised To No One: no room for regrets
Solace and comfort are illusive these days. Do you seek it? Where have you found it? Do you want it? Can you offer it? What if tomorrow were not going to come? Ponder these questions through the encounter of Art by Kevin Sharp, Larissa, Mike Samuel & Myrrhia. 
Art viewing: 11:00 AM - 1:00 PM
Lunch: 1:00 PM - 2.00 PM
At The Clock Tower Studio/Gallery
Lunch will be a seasonal vegetarian soup and salad. $8 donation suggested. Please email the host with any food allergies. 
Host: Larissa, contact Larissa via e-mail
Slow Art Day is a worldwide celebration of art that encourages people to look at art SLOWLY – and thereby experience art in a new way. You can see more about Slow Art Day and the mission behind it on our website: http://SlowArtDay.com.
As Slow Art Day approaches, you'll hear from your host with more information, as well as instructions about what to do when you arrive for Slow Art Day.
More info about Slow Art Day movement: facebook | twitter | tumblr
Have questions about Oakland Slow Art Day - The Clock Tower Studio/Gallery at historic Cotton Mill Studios - April 27, 2013?
Contact Fresno Art Museum
Attendee List
Sort by:

Date

|

First Name

|

Last Name
When & Where

The Clock Tower Studio/Gallery at Oakland, California's historic Cotton Mill Studios
1091 Calcot Place #416
Oakland, CA


Saturday, April 27, 2013 from 11:00 AM to 2:00 PM
Add to my calendar
Organizer
The Fresno Art Museum is located in the heart of Fresno, near the intersection of Clinton and First Streets, next to Radio Park. 
Exhibitions include contemporary and modern art and photography and ethnographic and cultural exhibitions which reflect and celebrate the diverse population of the San Joaquin Valley. The Museum is also home to very large and impressive collection of Pre-Columbian artworks from Mexico and what is now modern-day Peru. It is the only museum in Fresno accredited by the Americian Alliance of Museums.
In addition to thought-provoking and exciting exhibitions, the Fresno Art Museum provides the region's 1.6 million residents with a forum for contemporary and modern issues as they relate to art and culture, films, concerts, lectures, docent tours, and symposia to enlighten, educate, and entertain its visitors.
Over 14,000 people from across the Valley and around the world visit the Museum each year.