Description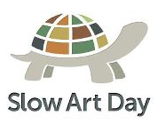 Oakland Museum of California
Art viewing: 11:00 AM - 12:00 PM
Lunch: 12:00 PM - 1:00 PM
At the Blue Oak café
Host: Robert Fahey, contact Robert via e-mail
Slow Art Day is a worldwide celebration of art that encourages people to look at art SLOWLY – and thereby experience art in a new way. You can see more about Slow Art Day and the mission behind it on our website: http://SlowArtDay.com.
For Slow Art Day, we've chosen five* pieces in our Gallery of California Art for visitors to experience for at least ten minutes each:
1) Double Time by Robert Hudson, 1963.
2) Tropical Landscape by Fortunato Arriola, 1870
3) Franc Pierce Hammon Memorial Windows by Arthur F. Mathews, 1925
4) Just a Matter of Time by Paul Kos, 1990.
5) Yosemite Valley by Albert Bierstadt, 1868.
*Bonus* San Francisco Chinatown by Yung Gee, 1927.

You may participate in this event no matter if you RSVP or not. The pieces are listed in an order that lends itself to a loop around our Gallery of California Art.
As part of OMCA's recent transformation, the Gallery of California Art has been revitalized into a living, breathing space, pulsating with energy and ideas. Organized thematically, the Gallery is installed along three themes: California Land, California People, and California Creativity. This thematic approach allows visitors to see works in different media and from different periods side by side, inspiring new ways of looking at California's evolving role as a cutting-edge center of visual expression. Seminal works by artists such as Albert Bierstadt, Dorothea Lange, Richard Diebenkorn, Edward Weston, and David Ireland remain highlights of the art collection, but museum-goers can also count on making new and thought-provoking discoveries every time you visit. View art your way: Move a chair in front of your favorite artwork and sit as long as you like.
More info about Slow Art Day movement: facebook | twitter | tumblr
Organizer of Oakland Slow Art Day - Oakland Museum of California - April 27, 2013
The Fresno Art Museum is located in the heart of Fresno, near the intersection of Clinton and First Streets, next to Radio Park. 
Exhibitions include contemporary and modern art and photography and ethnographic and cultural exhibitions which reflect and celebrate the diverse population of the San Joaquin Valley. The Museum is also home to very large and impressive collection of Pre-Columbian artworks from Mexico and what is now modern-day Peru. It is the only museum in Fresno accredited by the Americian Alliance of Museums.
In addition to thought-provoking and exciting exhibitions, the Fresno Art Museum provides the region's 1.6 million residents with a forum for contemporary and modern issues as they relate to art and culture, films, concerts, lectures, docent tours, and symposia to enlighten, educate, and entertain its visitors.
Over 14,000 people from across the Valley and around the world visit the Museum each year.