About this Event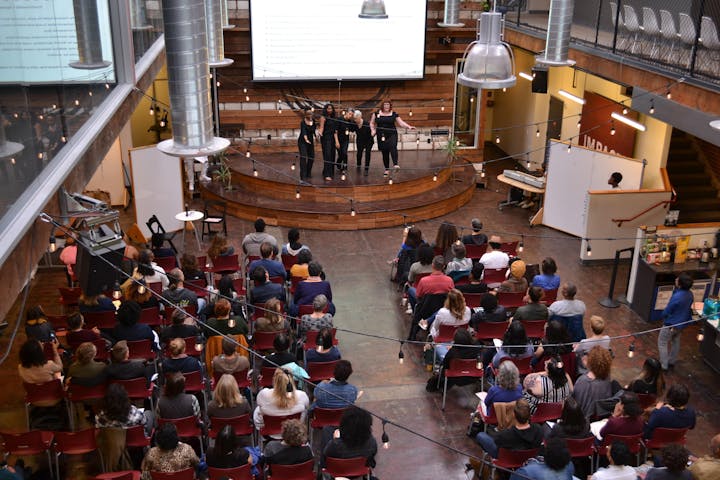 You are invited to an exclusive performance of the newly launched Oakland Freedom Theater (OFT), a first-of-its kind ensemble of actors, musicians, and expert facilitators utilizing art and empathy to facilitate open, productive, and solutions-oriented conversations around diversity and inclusion.
Sponsored by CLEVER, The Influencer Marketing Agency, this intimate evening of theater, conversation, and community is designed to introduce corporate and non-profit leaders to an emerging and highly-effective strategy for organizations working to address issues of diversity, equity, and inclusion.
Whether you are a corporate or non-profit leader--especially if you are charged with your company's diversity, inclusion, and/or culture initiatives--you won't want to miss this demonstration. Learn how OFT can help facilitate difficult conversations or sensitively highlight areas of concern within your organization. Our goal is to help managers and executives create a more open, trusting, happy, and productive work environment.
Featuring POC and LGBTQIA+ performers, Oakland Freedom Theater uses Playback Theater, a crowdsourced approach which invites participants to tell their own stories of diversity, equity, and inclusion in order to facilitate conversations around and create context for potentially sensitive topics. Participants are supported in their storytelling through an interview process with our skilled facilitator. Observing participants are invited to share in the experience as trained actors bring each story to life.
Playback theater is an amazing tool for DEI work because it:
Takes a compassionate, low-risk approach to deconstructing complex themes and fosters vulnerability and action towards change
Activates empathy, eliminate shaming and blaming, and dismantles silos across difference
Sets the stage for authentic organizational change work to occur.
Oakland Freedom Theater was founded by three women with decades of professional expertise using the arts as a tool for gender and racial justice:
Sangita Kumar, Principal & Founder of Be The Change Consulting
Allison Kenny, Co-Founder & Creative Director of Spotlight: Girls
Lynn Johnson, Co-Founder & CEO of Spotlight: Girls
By the end of the evening, you will have everything you need to integrate this immersive, heart-centered experience into any and all of your diversity, equity, and inclusion initiatives.
More about our Sponsor:
CLEVER is the award-winning influencer marketing agency providing brands with flawlessly managed service and access to a complete, vetted ecosystem of influencers. Tech-driven and human where it counts, CLEVER curates the perfect lineup of influencers who create and share sponsored content that reaches millions of target audiences and drives proven ROI.
CLEVER's founders - Stefania Pomponi, Cat Lincoln, and Kristy Sammis - are the authors of Influencer Marketing for Dummies and were the brainchild behind the #BatKid social phenomenon.