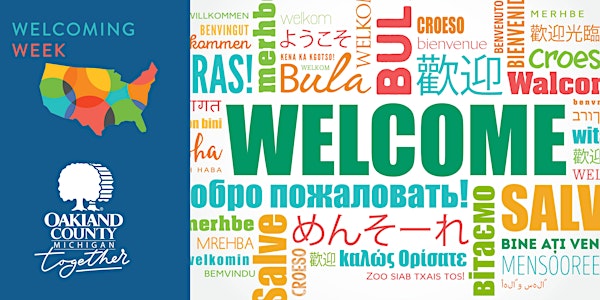 Oakland County Welcoming Week - Creating Home Together Zoom Event
Join us for the stories of three tremendous individuals and how they are Creating Home Together in Oakland County.
About this event
Welcoming Week is a time to come together to celebrate the wonderful things that each of our different cultures and backgrounds bring to the community. Traditionally, it is marked by in-person events with songs, dance, and food from around the world, or perhaps a community storytelling event where foreign-born residents and long-time residents can share what brings them together.
As with so many things during this pandemic, the Welcoming Oakland Welcoming Week plans had to adjust. We are pleased to offer this virtual storytelling event on Thursday, September 17th at 5:00pm. Four tremendous individuals will tell us their story of Creating Home in Oakland County in a lightly moderated Zoom event.
The theme of Creating Home Together is particularly poignant this year as we all struggle to define what home means to us under increasing COVID-19 restrictions and deepening political divides. For Welcoming Oakland, Creating Home Together is to create an environment where everyone feels they belong and they are safe, no matter where they are or where they are from, because each of us has a stake in the future of Oakland County
Come meet State Representative Padma Kuppa, 168 Group CEO, Ricky Dong, and MSU Mechanical Engineering student, Kattie Romero and listen as they share their stories of Creating Home Together and their experiences in Oakland County. It is sure to be a thoughtful and personal event.
Please register at Eventbrite and a secure Zoom link will be emailed to you. Be sure to include your email in your registration.