Actions and Detail Panel
Oakland Black History Month Film Series
Fri, February 24, 2017, 5:30 PM – 9:30 PM PST
Description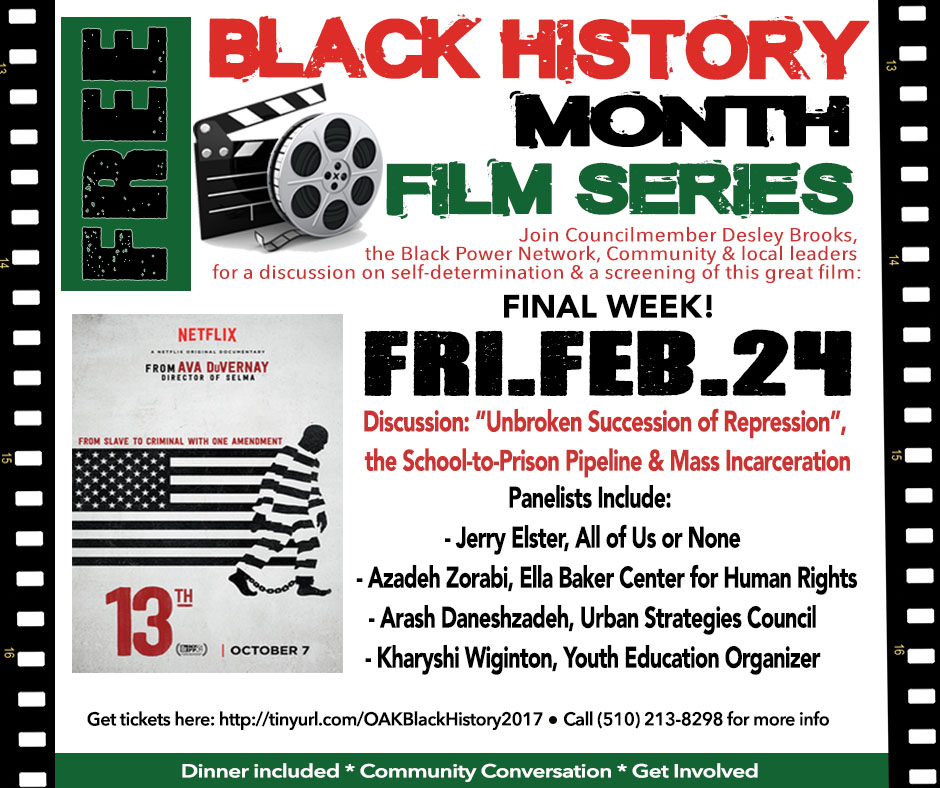 Though the United States is only 5% of the world's overall population, it is responsible for 25% of the world's incarcerated individuals. The documentary "13th" highlights the period post-Emancipation and follows history to the explosion of the prison industrial complex while exploring what has led to America becoming the largest jailer on the planet.
Join Councilmember Desley Brooks, the Black Power Network, Community & local leaders for discussions on self-determination & screenings of these great films:
FEB. 3RD - John Henrike Clarke - A Great and Mighty Walk
FEB. 1OTH - The House I Live In
FEB. 17TH - The Night Tulsa Burned
FEB. 24TH - 13th
Each film screening will be following by a community dinner, discussion on ways to create and maintain a healthy, thriving Black community in Oakland.
This Friday, February 24th, join speakers:
- Jerry Elster, All of Us or None
- Azadeh Zorabi, Ella Baker Center for Human Rights
- Arash Daneshzadeh, Urban Strategies Council
- Kharyshi Wiginton, Youth Education Organizer
- and more
for a community conversation about "the Unbroken Succession of Repression", the School-to-Prison Pipeline & Mass Incarceration.
Call (510) 213-8298 to get involved as a participant, and or sponsor.