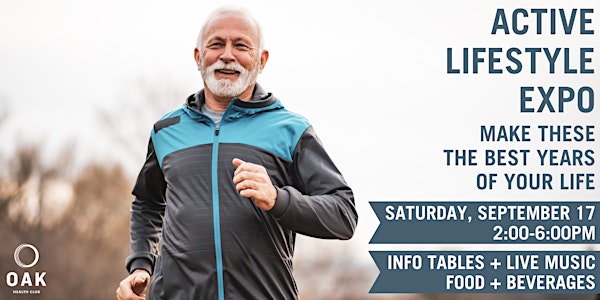 OAK Health Club's Active Lifestyle Expo
Join OAK Health Club for our Active Lifestyle Expo!
When and where
Location
OAK Health Club 19945 Riverside Commons Plaza Ashburn, VA 20147
About this event
Learn how to make these the best years of your life at our Active Lifestyle Expo on Saturday, September 17 from 2-6pm! This event is open to everyone. Members, non-members, friends, family, all are welcome!
Join us for:
+ Information tables from a variety of local businesses and organizations
A Family Tie - Senior Consulting Services
AARP - AARP Membership Benefits
Ashburn Senior Center - Activities and Programs
Care Access - Alzheimers Disease Prevention
Disabled Veteran Empowerment Network - Veterans Wellness
Encore Creativity - Choral Arts for Older Adults
Fairfax County Consumer Affairs Branch - Avoiding Scams and Fraud
Inova Physical Therapy - Orthopedic Health and Fall Prevention
Inova Loudoun Hospital - Cardiac Rehabilitation
Inova VIP 360 - Concierge Medicine
Kensington Senior Living - Occupational Therapy
Legacy Lawyers - Estate Planning
Loudoun Symphony - Symphony Performances
Mission4life - CPR and First Aid Classes
Mosaic Theory MD - Longevity Medicine
OAK Health Club - Nutrition and Movement
Pedego - Electric Bikes, Rentals, and Repairs
PFS Investments - Financial Planning
Potomac River Running - Walking and Running Groups
Sterling Playmakers - Activities and Events
Vegetable + Butcher - Meal Delivery Services
+ Live music
+ Food and beverages from SuperFd
Vegetables with Mint Chutney
Slider Duo (Fried Green Tomato Slider and Gochuchang Beef with Kimchi and Cilantro Aioli)
Falafel Spoon with Isreali Salad and Tahini Drizzle
Chicken Tikki Skewer with Masala Yogurt
Mini Cheesecakes with Berry Compote
+ Wine and beer (21+)
+ Outdoor activities and games
Registration is required to attend.