Oak Grove High School - Class of '07 Ten Year Reunion!
Description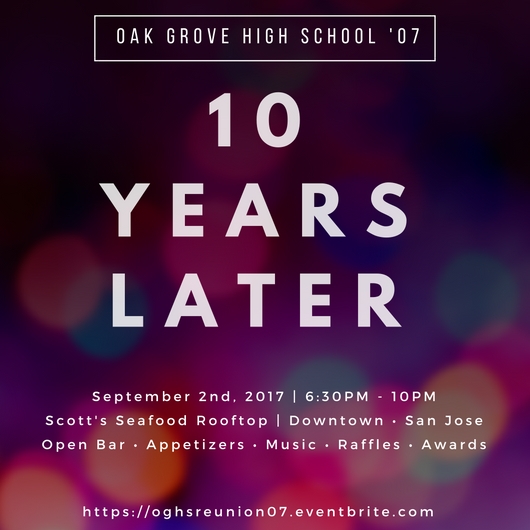 Come join Oak Grove High School's Class of 2007 for a fun evening of cocktails, food, music, awards, (and awkward high school photos!), while celebrating our growth and accomplishments in the last TEN YEARS!
For this event, we've reserved an entire rooftop bar/patio area at Scott's Seafood Bar and Grill in San Jose for our reunion celebrations. This is a great opportunity for you (and a guest) to reconnect with old friends/teammates or mingle with those you never had the chance to get to know and even build your professional network!
We hope to see you there!
____________________________________________________________________________________________________


EVENT OVERVIEW
Where: Rooftop Patio of Scott's Seafood Bar and Grill @ (185 Park Ave. San Jose, CA 95113)
When: September 2, 2017 (6:30pm - 10:00pm)
Who can buy tickets: Oak Grove Class of 2007 Alumni (+1)
Where can I buy tickets: Eventbrite
Cost:
Early RSVP Ticket Price: $90.00 (must purchase before June 30, 2017)

Late RSVP Ticket Price: $110.00 (must purchase before August 1, 2017)
Dress Code: Classy Cocktail
DETAILS
A ticket for this event includes access to Scott's Seafood rooftop patio, premium menu open-bar (available from 7-10pm) and a variety of fine appetizers/hor d'oeuvres prepared in-house by Scott's chefs. Activities include: live DJ, reunion photobooth, ten-year reunion awards, raffle/prizes, reunion video presentation, and more! The event is held exclusively for Class of 2007 Alumni and one (1) guest. A ticket is required for each person. Must check-in at the door upon arrival. Space is limited, so please reserve tickets for you and your guest soon.
Please see FAQ below for additional information about the event, including how to submit pictures/videos for the reunions video, sponsorship, tickets, video submissions, opportunities to volunteer, etc.

100% of the money will be budgeted for this lit reunion! =)
____________________________________________________________________________________________________

FAQs
Do I have to bring my printed ticket to the event?
No. Please check in with your ID and guest's ID if you're bringing a guest.

Will vegetarian options be available?
Yes. We will have a variety of vegetarian & non-vegegarian options available.
If I purchase 2 tickets, will there be a discount?
To ensure an unforgettable reunion, we've decided to set the price as-is and the entire budget is allocated to reservation of the venue, food, entertainment, open-bar, & other fun activities!
Where can I submit videos and pictures for the reunion video?
Please upload any videos and pictures from highschool here: https://www.dropbox.com/request/CZLWqalye6T39Xu8Hcbx
I would like to volunteer & help out, who should I contact?
Please feel free to email oghsreunion07@gmail.com and let us know what you would like to help with. The more help, the better!
Will there be any hotels available for the event?
We are working with near by hotels to reserve rooms. We will annouce hotel and rates soon. Please email oghsreunion07@gmail.com if you are considering a hotel room.
What are the parking uptions?
Parking validation will be available from 6:30PM - Midnight. The restaurant sits atop a six story parking structure and guests would park and take an elevator to the 6th floor where the restaurant is located.

We're looking into providing either an UBER/LYFT discount code for the event - so STAY TUNED!
How do I share this event for other Class Alumni who are not on Facebook?
You can simply share the following URL with any other Class Alumni:
https://oghsreunion07.eventbrite.com
How can I contact the organizer with any questions?
Please feel free to email your questions to oghsreunion07@gmail.com.
What's the refund policy?
As much as we would like for you to be with us during the reunion, we understand that emergencies do come up. If this is the case, please simply let us know if you are unable to attend our event in a timely and realistic manner. We would be more than happy to process a complete refund to you. The last day to request for a refund is 8/2/2017.