S E P A R A T E AND SIP!!! JOIN US FOR OUR LAST BRUNCH UNTIL THE SPRING!
About this Event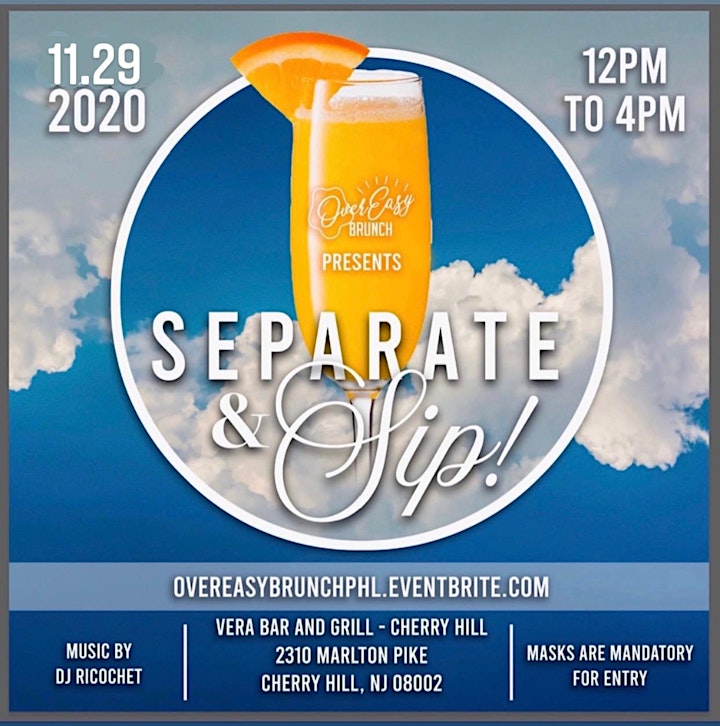 Hey Brunchers! We are BACK to deliver another memorable brunch experience at VERA !!!!
O V E R E A S Y .......

Delectable food? ✔️
Drinks, Drinks, and DRINKS? ✔️
Aesthetically pleasing atmosphere? ✔️
Unmatched sound mixing and vibes? ✔️
Top notch service? ✔️
A helluva good time? ✔️✔️✔️
WELCOME TO OVEREASY...
Brought to you by Erica Nikole and DJ Ricochet!...
Curated to deliver an elite social life experience, this event will undoubtedly elevate what you may know as 'brunch'. We invite you to VERA CHERRY HILL, an outdoor, tropical oasis themed deck , bar, and lounge offering exquisite eats and drink and bottle specials!
Basically, on 11/29/20, YOU and your friends have somewhere to be!!!
Overeasy is a meticulously curated brunch experience currently based in the Philadelphia region. Created to deliver a elite social experience, Overeasy is elevating what most know as 'brunch'. Spot-based to maintain exclusivity, Overeasy has become highly anticipated and an event that our guests refuse to miss! We make it a priority to host at the most aesthetically pleasing venues, offer delectable brunch dishes, and a incomparable soundtrack to vibe to.

TICKETS are REQUIRED to attend! Table times are 12 pm or 2:00pm ONLY. There is a maximum of 8 people per table. No exceptions!
THERE WILL BE NO BAR SEATING DUE TO CDC GUIDELINES! YOU WILL BE REQUIRED TO SIT AT A TABLE!
PLEASE make sure your entire party arrives at once. No Tickets will be SOLD at the door. 
This event is a TICKET ONLY event !!!!!! IF YOU DO NOT HAVE A TICKET, YOU WILL NOT BE ADMITTED! NO EXCEPTIONS!!!!
MASKS ARE REQUIRED TO ENTER AND EACH GUEST IS SUBJECT TO TEMPERATURE CHECKING! PLEASE BE MINDFUL THAT THIS IS AN INDOOR EVENT!
FREE PARKING
Let's separate and SIP!