N'Zuri Saturdays

Saturday, December 10, 2016 at 10:00 PM

-

Sunday, December 11, 2016 at 3:00 AM (CST)
Event Details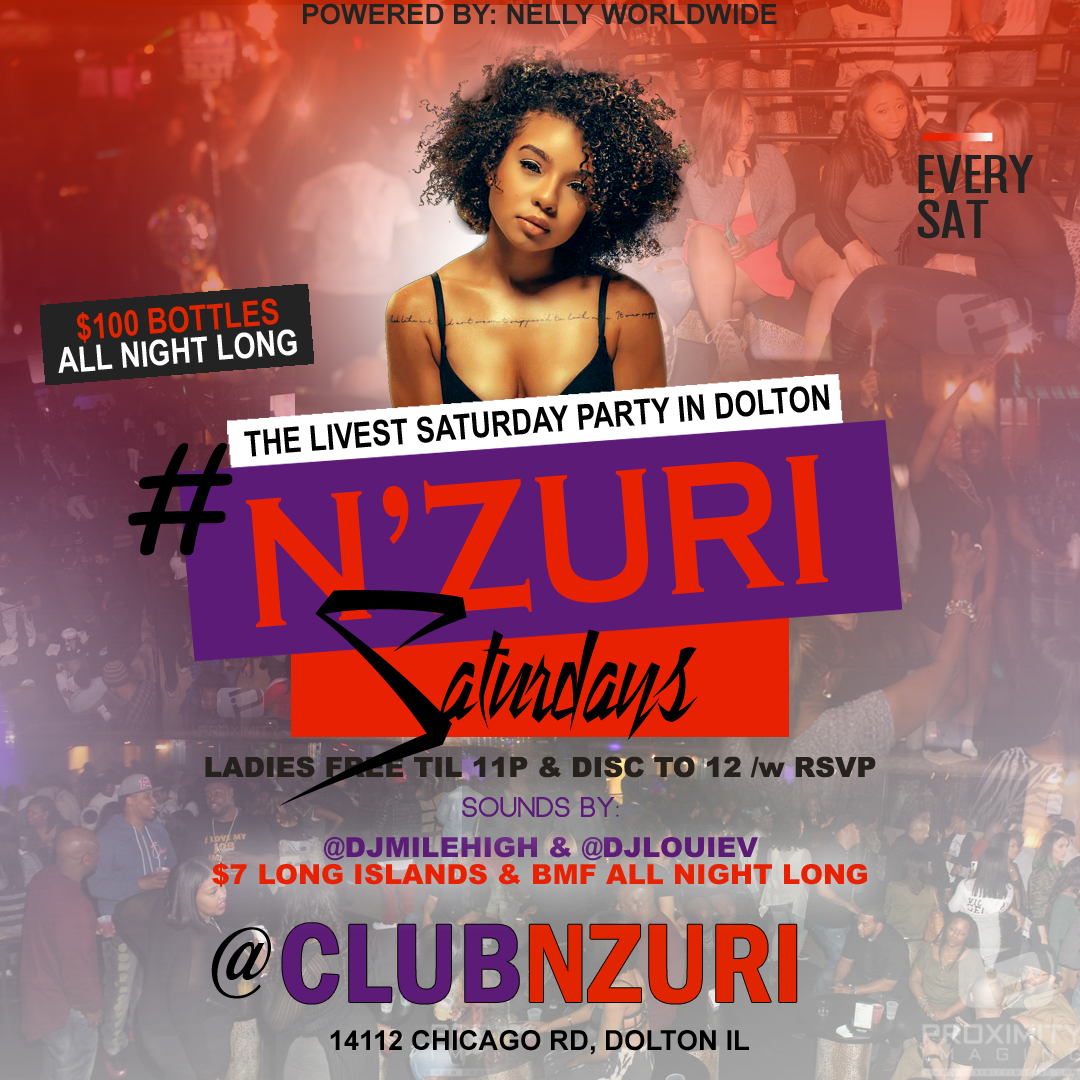 Presents
#NZURISATURDAYS
@

H o s t  e d  B y

To Ensure That You And Your Guests Have An Enjoyable Experience At Club N'Zuri, 
PLEASE READ THE INFORMATION BELOW CAREFULLY.
________________________________________
DISCLAIMER: This document was edited on 1/4/2016 and is subject to change without notice. Errors and omissions may be resolved at the discrepancy of the Promoter, who has the final authority over any admissiondiscrepancies. The promoter do not work for the club. The club has total authority over security, bar, vip sections and liquor pricing.
___________________________
Follow Us On Instagram
Add Us On Facebook
To Book A Party Or For Bottle Service
Text 312-978-0913
___________________________
PARTY INFO
Saturday Specials
$124 All Flavors Ciroc, Grey Goose or Belaire
$163 Patron, Don Julio, or Remy VSOP
Birthdays
Birthday parties with 4 guest or more counted by 11:00 pm will receive a FREE bottle of champagne w/ VIP High Top Table.
Address / Time:
14112 Chicago Rd | Dolton, IL 60419
10:00 pm until 3:00 am (Doors close at 2:00 am)
Parking
Street Parking is available. Free Lot Parking
Dress Code
Proper attire is required of ALL guests (including Birthday Celebrants and Vip patrons).
We prefer LADIES to wear a dress or fashionable jeans and a blouse with heels. Wedge shoes are optional if heels are not a preferred choice.
We prefer GENTLEMEN to wear a crisp pair of jeans with a designer t-shirt or a button-up or collared shirt and casual shoes.
We will NOT admit guests with flip-flops or "wife beaters".
There is a MANDATORY COAT CHECK which costs $4 per item checked.
Entry
All guests, including bottle / birthday celebrants, must be 21 years of age, or older and present a valid driver's license or state identification as proof in order to enter. US Passport as proof of identification is subject to acceptance by Club N'Zuri security.
All guests are subject to search at the discretion of door staff. The following items will not be allowed: illegal drugs, knives, razors, "rat tail" combs, aerosols, pepper spray, mace, eye drops, alcohol, prescription medicine, lighters, cigarettes, or any other item posing a potential health or safety risk.
Club N'Zuri reserves the right to refuse entry based on all reasonable factors allowed by law.
Admission
Admission is Ladies Free & Men Discounted(with RSVP) to 11pm. Admission after 11pm without RSVP will be $20 and up. Text discounts after 11pm are upon discretion. Please have all guest RSVP. One RSVP, per person.
Guests must be IN THE DOOR before 11pm to receive any free or discounted entry. Once guests enter the venue, there are NO REFUNDS for any reason. There are NO INS & OUTs.
Patrons (without RSVP) will have to pay $20+ starting. Pricing will exceed no higher than $50! The later in hour patrons arrive, the more the entry fee.
DJs
The DJs in weekly rotation is: Dj Jamal Smallz (WGCI)
Food
Outside food is NOT permitted. Club N'Zuri has a kitchen that is open til 2 am. Ask any host or bartender for a menu. Birthday Cake Is welcomed only if Bottle Service Is Purchased!
Atm
Atm is located inside club hallway
Decorations
Decorations is permitted only if bottle service is purchase.
Smoking
Smoking is NOT permitted inside Club N'Zuri.
BOTTLE SERVICE INFO
Bottle Pricing
VODKA
Ciroc $124 - Grey Goose $124 - Kettle One $124 - Effen $124 - Effen Black Cherry or Cucumber $124 - Remy V $124
TEQUILA
Don Julio $161.20 - Patron $161.20 - Avion $142.60 - 1800 $124
COGNAC
Remy 1738 $186 - Remy V.S.O.P $161.20 - D'usse $186 - Hennessy V.S. $142.60 - Hennessy Privilege $186
CHAMPAGNE
Cheurlin Penfilo Le Medaillon $155 - Moet Nectar Rose Imperial $228 - Belaire Rose $124
WHISKEY
Jameson $124 - Jack Daniel's $124 - Jack Daniels Honey $124 - Crown Royal $124 - Crown Royal Apple $124
All pricing is TOTAL! Tax, gratuity and vip table is included.
If you are interested in a Bottle service contact Nelly @ 312-978-0913 to reserve a section!
VIP tables are first come first serve. Bottles can also be purchased at the bar.
*Referrals
Party Bus 1st Class Party Bus 219-267-0676
Custom Flyer Rashaun Designz 773-457-4026
Cake Destiny Desserts 773-691-6565
Event Planner Designs Ideal Events 773-609-0323
___________________________
Follow Us On Instagram
Add Us On Facebook
To Book A Party Or For Bottle Service
Text 312-978-0913
___________________________


For B-day Celebrations: call/text
312.978.0913

When & Where

N'Zuri Entertainment Center
14112 Chicago Road
Dolton, IL 60419


Saturday, December 10, 2016 at 10:00 PM

-

Sunday, December 11, 2016 at 3:00 AM (CST)
Add to my calendar