NZBA002 Family Reconnect Full Programme #1

Friday, May 17, 2019 at 7:00 AM

-

Monday, May 20, 2019 at 10:00 PM (Malaysia Time Malaysia (Kuala Lumpur) Time)
Event Details
Programme NZBA002
​NatureZen Family Reconnect Full Programme
About the Programme
Just like the Intro Programme - but more!

If you came to the Intro Programme,
you had a taste and learnt a few techniques.

Now go all in with 4 Days of Peace, Serenity and Love!

​> 2 Full Workshop Days
> 3 Nights of beautiful Resort accommodation


"I seem to have lost the connection to my teenage children.
All we do is fight and argue"

"I want to learn better techniques for communication with my children,
​and ways to maintain my calmness even when in a stressful situation"

Sound familiar?

If "whatever" seems to be the extent of the communication
you have with your kids lately, this Programme is for you:)

Expanding on the 1 day Intro Programme, we combine mental &
psychological techniques with physical relaxation practices
and Detox for Life! dietary insights to make sure you manage
your interactions with your kids in a positive way.

We can't guarantee you'll never lose your cool again:) 

But you will be able to recognize the trigger points
that are the signs of the blow up that's on the way.
By attending this Intro Programme in the beautiful
Orchard Wellness Resort near Melaka Malaysia, you will 
gain
insights into your relationships with your kids
 and
how you can change that whole dynamic.

Programme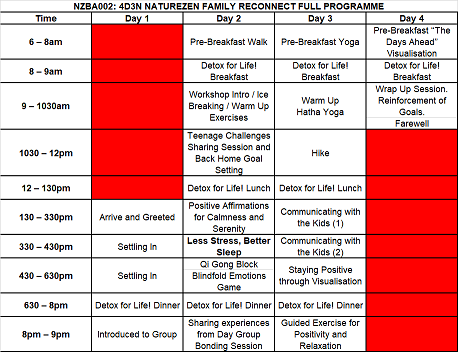 * 2 Full Workshop Days to truly help you understand the 
Family Reconnect Programme
* 3 Nights accommodation
​
* Fresh organic food 
* Coaching Support
* Group Learning Sessions to better
understand the food we eat
* Individual Sessions to understand and
manage your own unique challenges
* Multiple techniques to recognize, manage and overcome
all of the complex interactions you have with your kids
This Programme is for NatureZen RealWomen only
If you are successful, career-focused AND
a loving mother and wife who finds being
SuperWoman 
all the time is just really hard,
you are a NatureZen RealWoman ! 
And if your body and mind is letting you know
you are struggling, through stress, sickness, exhaustion
and relationship problems, then you most definitely
are a NatureZen RealWoman!
When you go through the
Full Family Reconnect Programme
you will understand how you 
can
manage your emotional state. 
No matter what your situation is at work,
at home or anywhere else,
nothing will "get" to you.
You will be in control
but not in a bad "controlling" way:)
The NatureZen Family Reconnect
2 Day (3 Nights) Full Programme
will give you all the information you need
about the emotional tangle between you and your children
and integrate the lessons into the rest of your life,
for the rest of your life!
The Full Programme
participant capacity is 10
and will be run by a 
trained 
Practitioner
and support staff.
The Full Programme Fee includes:
* Full 2 Day Programme

* Pick up/drop off within Kuala Lumpur area or KLIA airport

* Detox for Life! food items
for Breakfast, Lunch and Dinner

* 3 Nights Accommodation at The Orchard Wellness Resort in Melaka
* Free Lifetime Membership of the NatureZen Wellness Club
* Your full trip coordination (airfares excluded)

See https://naturezen-wellness.weebly.com/programmes.html
for further information or call / WhatsApp
Dennis on +60169839715 for any questions 
*************************************************************
But before I forget, have you taken your
7 Systems of Health
Whole Detox Free Health Quiz?
If not, please go here and do it now:
Save This Event
When & Where

The Orchard Wellness Resort
63 Jalan Solok Uban
Kampung Baru
Lubok China, Melaka 78100
Malaysia

Friday, May 17, 2019 at 7:00 AM

-

Monday, May 20, 2019 at 10:00 PM (Malaysia Time Malaysia (Kuala Lumpur) Time)
Add to my calendar
Organiser
NatureZen Wellness is the new brand from MCM GreenMan Group, a designer of chalets and glamping units for eco resorts.
We serve who we call our NatureZen RealWomen - career-focused AND loving mothers, wives and daughters - SuperWomen trying to balance everything all at the same time!
Work, career, bosses, subordinates, sons, daughters, husbands, mothers, fathers, more family, household.... it never ends.
Ou website www.naturezen-wellness.weebly.com explains how we are changing the traditional approach to Wellness Programmes by focusing in on specific problems faced by our NatureZen RealWomen.
We combine wellness programmes, (Balancing Act Programmes) and Whole Detox Programmes and help RealWomen solve the problems they tell us they need solved