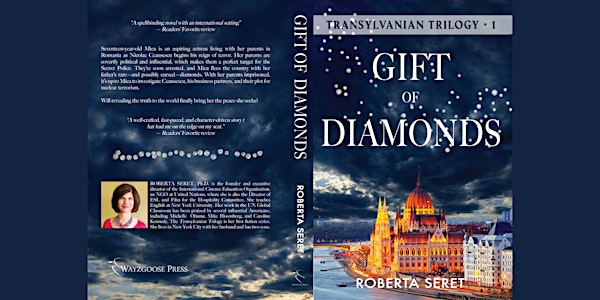 NYU SPS Academy of Lifelong Learning Book Club: "The Gift of Diamonds"
This discussion will be led by the author Dr. Seret.
About this event
This is the first book in the Transylvanian Trilogy series by author and CALA instructor Roberta Seret.
About the Book: Seventeen-year-old Mica is a determined aspiring actress living with her parents in Romania as Nicolae Ceausescu begins his reign. Her parents are covertly political and influential, which makes them a perfect target for the Secret Police. They're soon arrested, and Mica flees the country with her father's rare—and possibly cursed—diamonds. With her parents imprisoned, it's up to Mica to investigate the terrorism involving Ceausescu and his nuclear business partners.
About the author: Roberta Seret is the director of Advanced English and Film for the Hospitality Committee at the United Nations and Founder of the NGO at the United Nations, International Cinema Education. She has created a global classroom for students of all ages at the United Nations and now at New York University Her work for the United Nations has been praised by various influential Americans, including Michelle Obama, Mike Bloomberg, and Caroline Kennedy. In addition to the Transylvanian Trilogy, she is the author of World Affairs in Foreign Films and is also the creator of a new visual-literary pedagogy in short video formats, FILMeds©, that she has created with a 5-year Ford Foundation grant.
The book is available in digital and print formats on Amazon. 
To learn more about upcoming courses and programs at the Academy of Lifelong Learning (ALL) at NYU SPS and to keep the conversation going, feel free to also join the Academy of Lifelong Learning (ALL) Facebook Lounge.
You will be sent the Zoom link by 5PM EST on Monday, April 19 so please check your spam/junk folders. If you do not receive it by 5pm, please email us at sps.cala@nyu.edu .