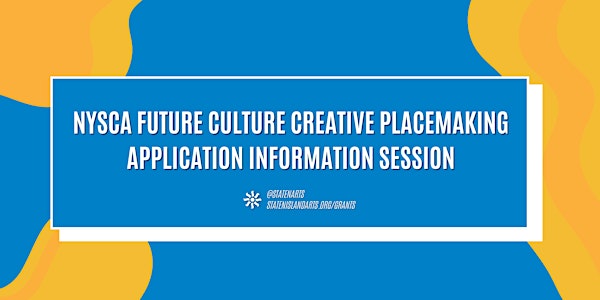 NYSCA Future Culture Creative Placemaking Application Information Session
Get funding for your creative project!
About this event
Future Culture Creative Placemaking Grants are meant to support artists creating new work in a community setting that connects places and people using arts and culture on Staten Island's North Shore.
An essential element of this funding is community engagement. The project must engage a segment of the community through a public program and/or the inclusion of community involvement in the development and creative process of the project.
The information session will be presented online. RSVP is required.
At this session, we will review the application in full.
All grant-funded projects must include a public component or public sharing of the work.
See www.statenislandarts.org/grants for our full schedule of sessions.
Questions? Contact Gena Mimozo at gmimozo@statenislandarts.org, 718-447-3329 x1003