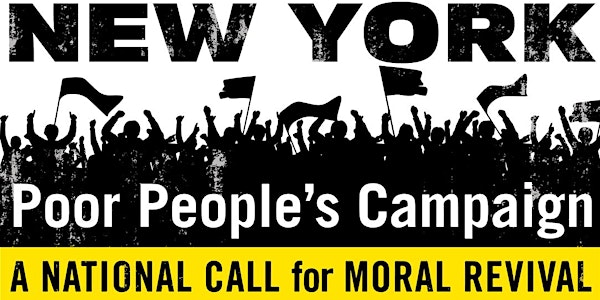 NYS Poor People's Campaign People's Assembly
Join grassroots leaders and activists from across the state! Unete a líderes y activistas alrededor del Estado de New York!
When and where
Location
Stony Point Center PC(USA) 17 Cricketown Road Stony Point, NY 10980
Refund Policy
Contact the organizer to request a refund.
Eventbrite's fee is nonrefundable.
About this event
The 4th NYS PPC People's Assembly will bring together grassroots leaders and activists from across the state to build community, learn together, and prepare for the NY Poor People's Campaign's next steps in 2023. The Assembly will begin with check-in at 3pm on Oct. 14 (program begins at 4 pm) and conclude at 2pm Oct. 16 and will be held at Stony Point Retreat Center in Stony Point, NY, with the option to join virtually.
As we've done in the past, registration is "pay what you can." If the cost of a full-price ticket is inaccessible, scroll down to the "Donate" section of the form, and you can contribute any amount that is comfortable to you. No amount is too small! If you have any questions, you can email newyork@poorpeoplescampaign.org.
La 4ta Asamblea de la Campana de los Pobres del Estado de New York, va a juntar lideres comunitarios y activistas de alrededor del Estado para construir comunidad, aprender juntos y prepararnos para los próximos pasos de la campaña.
La asamblea comenzará con la registración a las 3:00 PM el Viernes, 14 de Octubre y terminará a las 2:00 Pm el Domingo 16 de Octubre, (el programa comienza a las 4:00 PM) Sera celebrada en el Centro de Retiro de Stony Point en New York, con la opción de participación virtual.
Como hemos hecho en el pasado, el registro es "pagar lo que puedas". Si el costo de un boleto de precio completo es inaccesible, desplácese hacia abajo hasta la sección "Donar" del formulario, y puede contribuir con cualquier cantidad que sea cómoda para usted. Ninguna cantidad es demasiado pequeña! Si tiene alguna pregunta, puede correo electrónico newyork@poorpeoplescampaign.org.
COVID protocols: Proof of vaccination will be required for all attendees over 5 years old. All attendees will also be required to take a rapid test when they arrive at Stony Point. Masks will be required indoors except when eating or in your room. We will also set up air filters in common areas for additional protection.
Protocolos de COVID: Se requerirá prueba de vacunación para todos los asistentes mayores de 5 años. Todos los asistentes también deberán realizar una prueba rápida cuando lleguen a Stony Point. Se requerirán mascarillas adentro, excepto al comer o en su habitación. También instalaremos filtros de aire en áreas comunes como protección adicional.
Children: Kids are welcome! Please indicate on the registration form if you will be bringing any children under 4. Fill out a separate registration for kids 4-12. We are currently determining whether we will offer professional childcare.
Niños: ¡Los niños son bienvenidos! Indique a continuación si traerá niños menores de 4 años. Complete un formulario por separado para niños de 4 a 12 años. Actualmente estamos determinando si ofreceremos cuidado infantil profesional.
Transportation: For those using public transportation, we can assist with rides from the bus or train station to the retreat center. There is plenty of free parking available on-site for those driving. We will do our best to connect people from the same region who are interested in car pooling. If you have other transportation-related questions or needs you may also contact newyork@poorpeoplescampaign.org and we will do our best to assist you.
Transporte: Para aquellos que utilizan el transporte público, podemos ayudar con los viajes desde la estación de autobús o tren hasta el centro de retiro. Hay un montón de parqueo gratuito disponible en el centro de retiro para los que conducen. Haremos todo lo posible para conectar a personas de la misma región que estén interesadas en compartir el automóvil. Si tiene otras preguntas o necesidades relacionadas con el transporte, también puede escribirnos a newyork@poorpeoplescampaign.org y haremos todo lo posible para ayudarlo.
¡Haga clic en "registrarse" para registrarse hoy!
Click register to sign up today!
PRELIMINARY SCHEDULE
Friday, October 14
4:30 - 6 pm - Session 1 - Grounding and Getting to Know Each Other
6- 7 pm - Dinner
7 - 8 pm - Session 2 - Looking back: Celebrating and reflecting on our work together
8 - 9 pm - Session 3 - Looking ahead: Understanding and responding to economic and political crises
Saturday, October 15
8 - 9 am - Breakfast
9 - 10:45 am - Session 4 - Poverty in New York: The state of our state
11 am -12 pm - Session 5 - Fusion organizing: What it is and why it matters
12 - 1 pm - Lunch
1:00-2:30 - Session 6 - Engaging in elections: Challenges and opportunities in New York
2:30-3:00 - Break
3 - 5 pm - Session 7 - Next steps for the NYS PPC
5-6 pm - Free time/optional activities
6 - 7 pm - Dinner
7 - 9 pm - Free time/optional activities
Sunday, October 16
8 - 9 am - Breakfast
9 - 10:30 am - Session 8 - Skill building workshops
10:45 am - 12 pm - Session 9 - Confronting Christian Nationalism
12 - 1 pm - Lunch
1 - 2 pm - Session 10 - Closing and Send-Off
Viernes, 14 de octubre
4:30 - 6 pm - Sesión 1 - Conexión a tierra y conocerse
6- 7 pm - Cena
7 - 8 pm - Sesión 2 - Mirando hacia atrás: Celebrando y reflexionando sobre nuestro trabajo juntos
8 - 9 pm - Sesión 3 - Mirando hacia el futuro: Comprender y responder a las crisis económicas y políticas
Sábado, 15 de octubre
8 - 9 am - Desayuno
9 - 10:45 am - Sesión 4 - Pobreza en Nueva York: El estado de nuestro estado
11 am -12 pm - Sesión 5 - Organización de la fusión: qué es y por qué es importante
12 - 1 pm - Almuerzo
1:00-2:30 - Sesión 6 - Participar en las elecciones: Desafíos y oportunidades en Nueva York
2:30-3:00 - Descanso
3 - 5 pm - Sesión 7 - Próximos pasos para el NYS PPC
5-6 pm - Tiempo libre / actividades opcionales 6 - 7 pm - Cena 7 - 9 pm - Tiempo libre/actividades opcionales
Domingo, 16 de octubre
8 - 9 am - Desayuno
9 - 10:30 am - Sesión 8 - Talleres de desarrollo de habilidades
10:45 am - 12 pm - Sesión 9 - Confrontando el nacionalismo cristiano
12 - 1 pm - Almuerzo
1 - 2 pm - Sesión 10 - Clausura y despedida