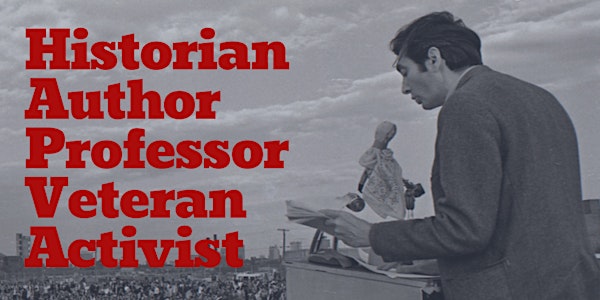 NYPL This Month a Century Ago: Howard Zinn Born
A look back at specific moments that occurred a hundred years ago, and how they define us today!
About this event
Join us for the latest installment of This Month a Century Ago - Celebrating the birth of Howard Zinn. The year 2022 marks the centennial of historian, author, professor, veteran, playwright, and activist Howard Zinn. (August 24, 1922-January 27, 2010). To honor the occasion we have invited professors Robert Cohen and Sonia Murrow to discuss Zinn's legacy.
No introductory work of American history has had more influence over the past forty years than Howard's Zinn's A People's History of the United States, which since it's publication in 1980 has sold more than three million copies.
Howard Zinn life's work focused on a wide range of issues including race, class, war, and history, and touched the lives of countless people. In addition to A People's History of the United States, Zinn was the author of dozens of books including the play Marx in Soho, Vietnam: The Logic of Withdrawal, and SNCC: The New Abolitionists. He received many awards including the Lannan Foundation Literary Award for Nonfiction, the Eugene V. Debs award for his writing and political activism, and the Ridenhour Courage Prize. His work, inspired by the past, informing the present, will continue to influence the future.
Join us for a discussion on the life, work, and legacy of Howard Zinn!
About the Presenters:
Robert Cohen is a professor of history and social studies in NYU's Steinhardt School of Culture, Education, and Human Development. He is an affiliated member of NYU's History Department. His historical scholarship focuses on politics, higher education, and social protest in twentieth-century America. His social studies work links middle and high school teachers with the recent advances in historical scholarship, and develops curriculum aimed at teaching their students to explore history as a critical discipline – and one that is characterized by intense and exciting debate.
Sonia Murrow is associate professor of the Social Foundations of Education and Adolescence Education in the School of Education at Brooklyn College. She is a certified social studies teacher and taught for the NYC Department of Education before earning her doctorate. Professor Murrow's research interests include the history, policy and practice of urban education and the teaching of history to adolescents.
"To be hopeful in bad times is not just foolishly romantic. It is based on the fact that human history is a history not only of cruelty, but also of compassion, sacrifice, courage, kindness. What we choose to emphasize in this complex history will determine our lives. If we see only the worst, it destroys our capacity to do something. If we remember those times and places—and there are so many—where people have behaved magnificently, this gives us the energy to act, and at least the possibility of sending this spinning top of a world in a different direction." -- Howard Zinn