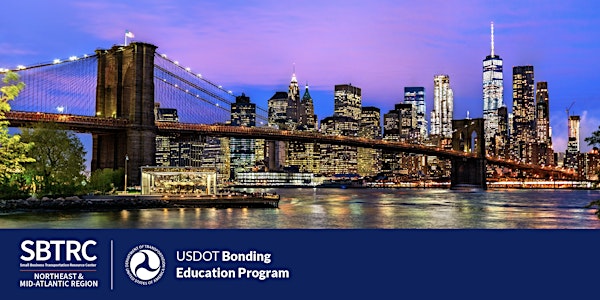 NY/NJ USDOT Bonding Education Program Information Session
This program is tailored to businesses competing for transportation-related contracts.
About this event
Bonding Education Program Information Session
Learn how Surety Bonds can Benefit Your Business
Join the Northeast and Mid-Atlantic Region Small Business Transportation Resource Center (SBTRC) for an informative and engaging session on how your business can become bond ready and compete for upcoming transportation-related projects in New York and New Jersey.
The Bonding Education Program (BEP) is a collaboration between the U.S. Department of Transportation (US DOT), The Enterprise Center, and The LaGuardia Community College Small Business and Entrepreneur Services Center designed to help small businesses increase bond capacity, strategize their bids, and pursue new projects with confidence.
After this session you will:
Meet the BEP NY/NJ team
Learn how to apply for the next cohort
Get an overview of the FREE six-week program
Get information on the benefits of a surety bond
Learn about upcoming infrastructure projects in New York and New Jersey
More than $29.5 billion have been allocated for projects in the Northeast Region under the Infrastructure Bill opportunities, earmarked for repairing roads and bridges, improving transportation options, upgrading our nation's airports and ports, and much more.
Is your business positioned to compete and win?
Participants from our last three programs secured more than $18,225,000 in Bond Capacity. Your business can be our next success story.
Before you join us, review the application, check out the BEP website, and bring your questions. This will be an informal, interactive and friendly session to help you determine if this is the right opportunity for your business.
Invite other businesses that you think would benefit from the BEP. We look forward to meeting you!
-SBTRC Team