NYIT 2013 MFA Thesis Exhibition

Daily Event: 6:00 PM to 9:00 PM (PDT)
Event Details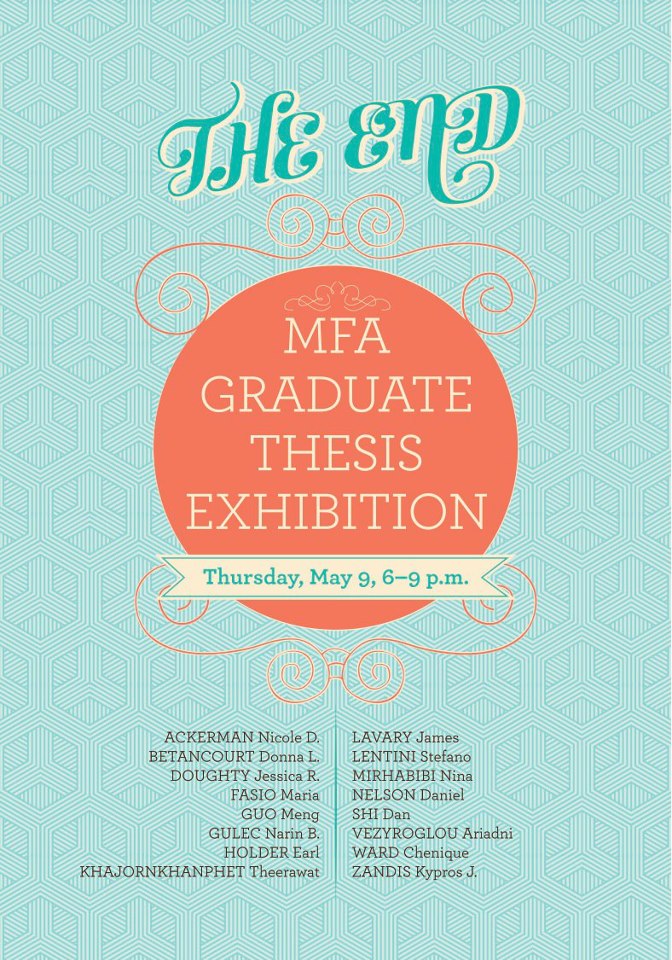 New York Institute of Technology
2013 MFA Thesis Exhibition

May 9 – 20, 2013
Monday - Friday, 10am - 10pm
Opening:
Thursday, May 9, 6-9 pm
NYIT Gallery
11th floor, 16W 61st Street
Columbus Circle, New York, NY 10023
The New York Institute of Technology Fine Arts Department of the College of Arts and Sciences presents the 2013 MFA Thesis Exhibition, encompassing work by the sixteen artists who will graduate from the program this May working in the fields of Art and Technology, Graphic Design and Computer Animation.
The artists will present their work in the auditorium adjacent to the NYIT Gallery 61, followed by the opening reception on Thursday, May 9, 6-9 pm and closing on May 20th.
The NYIT Gallery is located on the 11th floor at 16W 61st Street, New York, NY 10023 (Broadway and 61st, nearest subway station: Columbus Circle A, C, D,1).
This event is free and open to the public.
Where

NYIT Gallery 61
1849 Broadway
New York, NY 10023


Daily Event: 6:00 PM to 9:00 PM (PDT)
Add to my calendar
Organizer
New York Institute of Technology, Fine Arts Department http://www.nyit.edu/fine_arts
The New York Institute of Technology (NYIT) Fine Arts Department of the School of Arts, Sciences and Communication offers graduate cousework in three areas: Computer Graphics and Animation, Graphic Design, and Fine Arts and Technology. In these MFA programs, we integrate an historical perspective within the context of emerging technologies blended with a critical relationship to art. We integrate theory, technology, and practice. Our mission is woven into the mission of our institution, the New York Institute of Technology, providing career oriented professional education and access to opportunity for all qualified students. We support applications-oriented research that benefits the larger world.
NYIT 2013 MFA Thesis Exhibition