NYFW 2016 Fashion for Charity Hosted by Miss World America

Tuesday, February 16, 2016 at 7:00 PM
Event Details
On Tuesday February 16th 2016 Prive Group, Star Vodka, DEG Production and Eurocircle presents the sixth annual NYFW Fashion for Charity Event to Benefit The Georgie Badiel Foundation. The event will be hosted by Miss World America Victoria Mendoza and super model Georgie Badiel to support her foundation. The finest of NYC's society will be gathering for an illustrious runway fashion event. 
The Gala will feature an array of designers: Rachel Sin, Limpasso Couture, Samantha Leibowitz, House of Sadia, Anthony Eastwick, and Henry Picado. There will also be an intermission with a live art show by Peace Simon. 
The Event will be sponsored by Star Vodka, StylingOn Showroom, Make-Up Pro, Dining Engagement Group, Eurocircle, Tease Tea - Modern Tea Blends For All Of Your Desires and Andrea Maack Fragrance Collection.
Tuesday, February 16th 2016 at 7pm
Sponsored Open Bar 7:30pm-8:30pm
Highline Ballroom 431 West 16th Street, between 9th and 10th Ave., NYC
For table reservations and more info please email degoffice@gmail.com
For upcoming events visit us at www.degproduction.com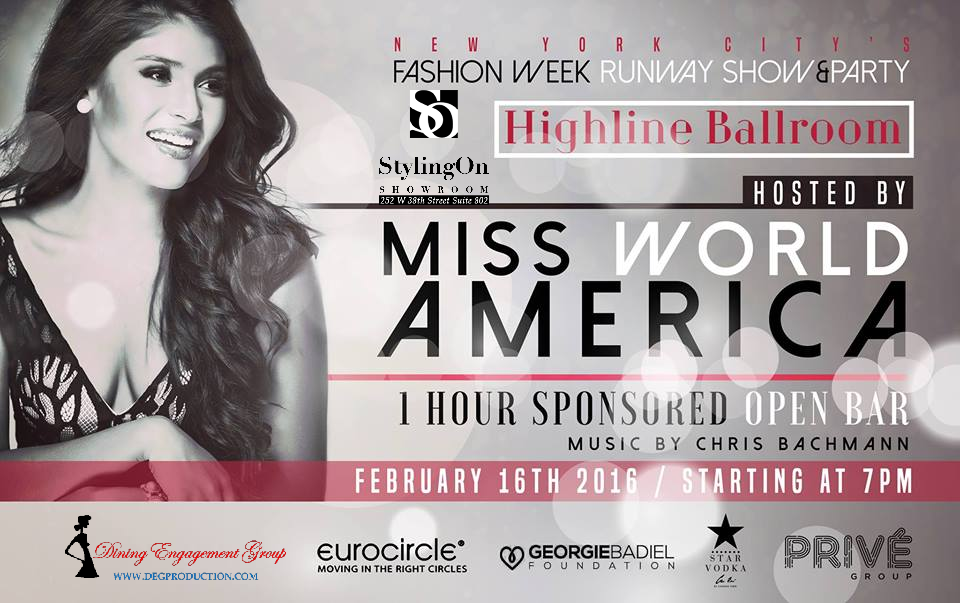 Organizer

Dining Engagement Group specializes in the production of unique high-end dignitary and celebrity events. Our events combine the prestige of the financial and dignitary world together with the beauty and glamour of the Fashion, Music and Entertainment Industry. We structure, produce and manage the event from start to finish, bringing together all the elements for a Class A #1 success. To sign up for our coming events and parties visit us at http://degproduction.com/mailing-list/