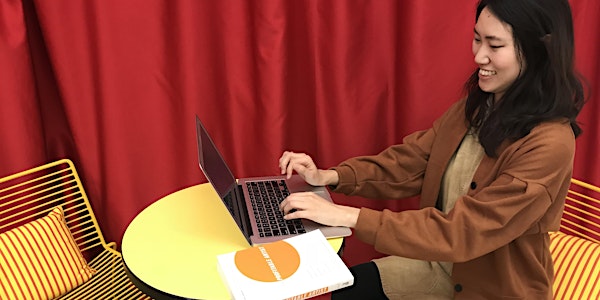 NYFA Online Learning: Writing About Your Artwork: Artist Statements
NYFA Online Learning: Writing About Your Artwork: Artist Statements
About this event
The New York Foundation for the Arts (NYFA) is pleased to announce its March online workshop, part of our Online Learning Initiative that provides professional development workshops to artists and creatives nationally and internationally through a webinar platform. Our second Spring 2020 workshop is "Writing About Your Artwork: Artist Statements" presented by Michelle Levy, NYFA Coach and Curator and Interdisciplinary Artist. It will take place online on Tuesday, March 17, 2020 from 6:30 PM - 8:00 PM EST.
Workshop Description:
Have you ever found writing an artist statement overwhelming and not sure where to start or what to include? Have you struggled with staying true to your voice while matching established expectations? Writing an artist statement should be easy – after all, you are the number-one expert on your own work. But the reality is that no matter how good of a writer you are, writing about your own work is never easy, because it is so close to you. Yet, it is crucial to have an effective statement that represents your work well and makes an impact. Further, the process of crafting a strong statement is an important exercise for every artist, as it helps clarify your ideas and benefits your artistic development as a whole.
This webinar is an overview for artists of all disciplines wishing to improve their artist statements. Attending artists are asked to have a recent statement (300-500 words) with them. Topics covered will include:
The different categories of artist statements, and the various purposes they serve (eg. website, press release, etc). What's different and why?
An analysis of artist statements using examples
A break-down of the essential building-blocks needed for a comprehensive artist statement.
Review the do's and don'ts and evaluate how to strengthen your existing statement.
Tips for getting out of your head and making a fresh start when you find yourself stuck in a language that is no longer working for you.
Please note: Registration will close 6pm EST on March 17, 2020.
Presenter's Bio:
Michelle Levy is an interdisciplinary artist, arts organizer, and writer, with 18 years of experience working for New York City arts institutions. From 2008 to 2018, Levy was Founding Director of EFA Project Space, an interdisciplinary, socially engaged exhibition program of The Elizabeth Foundation for the Arts in New York City. While there, she also founded the SHIFT Residency, which fosters the creative practices of New York-based artists who work for arts organizations. Through her role at EFA, she has supported the work of over 500 artists and independent curators, fostering dialogue around ethics, visibility, identity, and care. From 2000 to 2008, Levy was Program Manager at the International Print Center New York. She is currently working as an independent consultant for artists, and since 2018 had been working with NYFA, first as "Doctor on Call," and now as a NYFA Coach, offering remote one-on-one advice and mentorship sessions with artists. In fall 2019, she taught "Writing an Effective Art Statement," and presented as a panelist in NYFA's Artist as Entrepreneur Bootcamp.
Levy's performance-based art practice uses research and storytelling to investigate the mediated spaces where identity is constructed. Her current project, "Paulina," enlists archives, travelogues, and ongoing exchange with Polish artist/writer Patrycja Dołowy, to investigate the mysterious found-testimony of a Polish-Jewish woman who survived World War II in Poland. In 2018 - 2019, Levy was an artist fellow at POLIN Museum for the History of Polish Jews, Warsaw, PL, and received support from the US Embassy, Warsaw, Poland, and Asylum Arts, New York, amongst others. Levy holds an MFA degree in Digital and Interdisciplinary Art Practice from The City College of New York, and a BA degree in Studio Art with a minor in English from Wesleyan University.
Our 2020 Spring workshop series, highlights NYFA Coaching, a professional development service that offers access to one-on-one individual guidance from a variety of arts professionals, including NYFA staff. If you are interested in learning about the program and how to benefit from it, please click here to learn more.
Technology Requirement:
You may attend this webinar using either a Mac or PC computer (with speakers), standard phone, smartphone, or tablet device.
Please use the AnyMeeting App or Chrome for the best webinar experience.
Make sure your Adobe Flash Player plugin is up-to-date. If it is not, you will be prompted to update it, which will take about a minute. Strong wifi or hard-wired Internet connection is preferred.
For additional technical questions or issues, please email at learning@nyfa.org.
Recording:
This workshop will be recorded. The recording will be shared with all previously registered participants after the session concludes, regardless of whether participants attend the live webinar or not. The recording will be posted online for 6 months, but not available for download.