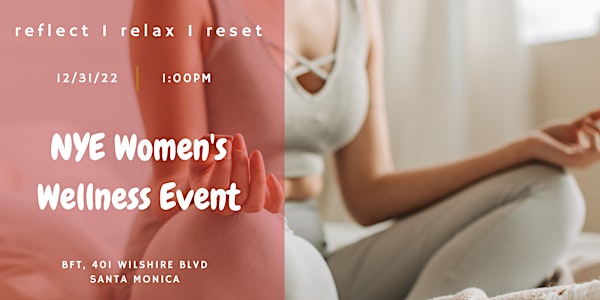 NYE Women's Wellness Event
Join us for an intentional New Year's Eve celebration of YOU!
When and where
Location
Body Fit Training 401 Wilshire Boulevard #Suite 101W Santa Monica, CA 90401
Refund Policy
Refunds up to 30 days before event
Eventbrite's fee is nonrefundable.
About this event
Note: This is a women's only event
Join us for an intentional New Year's Eve celebration of YOU! There's no better way to close out the year than to mindfully reflect, let go, and invite in what we want to be part of our lives. We'll start off by creating vision boards to conceptualize what's important in the year ahead. Vision boards are visual reminders of your intentions and shape your thoughts and actions every time you see it.
You will be guided through a moving meditation before relaxing into a restorative sound bath. The deeply resonant vibrations and pure tones of Jessica's crystal alchemy singing bowls will effortlessly ease you into a profound healing and relaxation. Imagine an energetic deep tissue massage for your brain uplifting your consciousness, leaving you refreshed and open to joy!
To complement the experience of the sound bath, you'll receive a short crystal healing at the beginning of the sound bath. This is meant to bring about deep renewal using ancient rites. It assists healing in a number of different areas, including the mind, as well as bringing about empowerment.
*By registering for this event, you consent to parts of the event being photographed/recorded for the hosts purposes (e.g., social media, promotional materials, etc.).
Activities include:
New Year Vision Boards with Jackie Riso
Movement and Sound Bath Meditation with Jessica Jeang
Crystal Healings with Lorraine Pimienta
What will be provided:
Vision board materials (poster board, magazines, phrases, glue, scissors) will be provided. Feel free to bring any additional favorite magazines or words that inspire you!
This is a non-alcoholic event. We'll provide free beverages, but feel free to bring a non-alcoholic drink of your own! There is also a water bubbler to refill water bottles.
Surprise gift bag & local discounts including but not limited to:
Ocean Oasis Spa: Exclusive 40% discount on select services including IV therapy, fitness programs, oxygen bar sessions, Radiofrequency skin tightening sessions, reiki, and sound-bath [only for first time visits]
NuSkin Celltrex always right recovery mask
BodyFit Training new member trial
Clear quartz crystal
...and more to come!
What you need to bring:
Yoga mat and a blanket/pillow if you prefer to have one for the sound bath experience (but not required)
Yourself. This event is casual, but attire can be anything that makes you feel good! Yoga pants? A fancy, bedazzled dress? A festival outfit? Go for it!!
Come solo or with a friend - we'll have a welcoming environment for all!
Logistics:
Start/end time: The event will start at 1pm and end at 4pm; feel free to check in starting at 12:45
Location & Parking: Event will be held at Body Fit Training, 401 Wilshire Blvd, Santa Monica, CA (map here). There is street meter parking and also a public parking garage across the street (map here). Garage rates: Up to 90 minutes: Free; 2-4 hours ($3.50-$9.00)
Refund policy: We have a limited number of spaces available and will open a wait list, if needed! Full refund 30 days prior to the event date. No refunds within 30 days since vision board materials will be purchased in advance
Questions or interest in sponsoring gift bag items, snacks or non-alcoholic beverages? Contact Jackie at jackie@jackieriso.com
Hosted by:
Jackie Riso, Women's Dating & Certified Life Coach Jackie helps women struggling in dating find the man of their dreams. She believes with the right dating approach, strategy and understanding of ourselves, love is right around the corner waiting for us. Jackie works with women one on one in her coaching program and also offers dating profile audits to start attracting the best match for you! @jackieriso
Jessica Jeang, Yoga & Meditation Teacher Jessica is a yoga and meditation teacher with a corporate background in digital health. Jessica sees mindfulness and self-care as essential to work/life balance. She incorporates the angelic sounds of crystal singing bowls into her meditations to effortlessly relax and refresh the mind. @jesjeangyoga
Lorraine Pimienta , Spiritual Guide & Certified Healer Lorraine has studied ancient healing modalities that helps bring about mental resilience, clarity, bravery, inner strength and wisdom since 2008. She is dedicated to helping others achieve self mastery and passing down tools for daily use from a tried and tested true spiritual tradition. Additionally, Lorraine teaches metaphysical classes such as Sacred Geometry, Astral Travel & Spiritual Intuition to enhance her students' spiritual & psychic capabilities. @thiseuphoriclife