| | |
| --- | --- |
| NYE Weekend Salsa & Bachata Workshops Dec 29th & 30th | |
Event Details
Salsa ATL & Dancing4fun Presents..
NYE Weekend Salsa & Bachata Workshops
Saturday Dec 29, 2018  & Sunday Dec 30, 2018 


 As part of our New Year's Eve weekend we invited two world class Latin dance
couples to teach some cool moves before our New Year's Eve Party.
Whether you are an experience Salsa & Bachata dancer or just starting out
this is a great opportunity to learn some very talented couples.

First up we have Luis Loredo of Dallas Texas  & Victoria Calamusa of Charlotte
North Carolina teaching a 3hr Bachata workshop Saturday Dec 29, 2018.

Next up will be Rodrigo & Wendy of Charlotte North Carolina with some
cool Salsa moves to add to your repertoire!
In addition, you will also learn Styling and footwork in both Salsa & Bachata.

Where:
Dancing4Fun Dance Studio
6025 Peachtree Pkwy
Peachtree Corners GA 30092
678.304.7D4F
About Luis & Victoria:


Luis Loredo : Born in Guadalupe, Nuevo León, Mexico, Luis Angel Loredo
came to the states when he was 9 years old. Although, his family is filled with
musicians, it wasn't until  his freshman year in high school that Luis Loredo began to
tune into the sounds of music.
But once he did, music took over his life very quickly. Bass guitar was his instrument of
choice and like any other musician, he began exploring a multitude of other instruments
including piano, organ, flute, guitar, and drums. He played in his church band as a bassist
while traveling around the states for 10 years. At age 25, Loredo found himself in a club
listening to bachata. The heavy bass beat and acoustic guitar stole his heart. But there
was one problem: he couldn't dance at all. His body could not translate what his heart was
feeling. So he began training with Arlington's Marcus Negron, who taught him salsa on 1 for
about one-and-a-half years.
Right after, Loredo began to train with the well-known Roberto Lay and his Dallas bachata
team SeduXion, which brought him back to his first love and true passion. He performed,
taught, traveled, and grew with SeduXion for three years even becoming part of their first
ever pro team. Then Zouk began to fill his heart. The majestic connection and unique flow
captured his spirit and led him to found DFW Zouk. With a new group of Zouk lovers,
Loredo began sharing his passion at his Zouk practicas, which brought together talent
from across the world, the states and DFW. Loredo also co-directed the Alma Latina Dallas
bachata team along with Katie Mambo for over a year. Loredo was also part of Sensual
Rhythm pro team directed by Arturo Garcia and Elisa Cano for around a year. During this time,
he continued growing DFW Zouk alongside Dmitry and fusing sensual bachata
with Zouk to create his own unique style. He currently teaches sensual bachata,
BachaZouk, and Zouk across the states,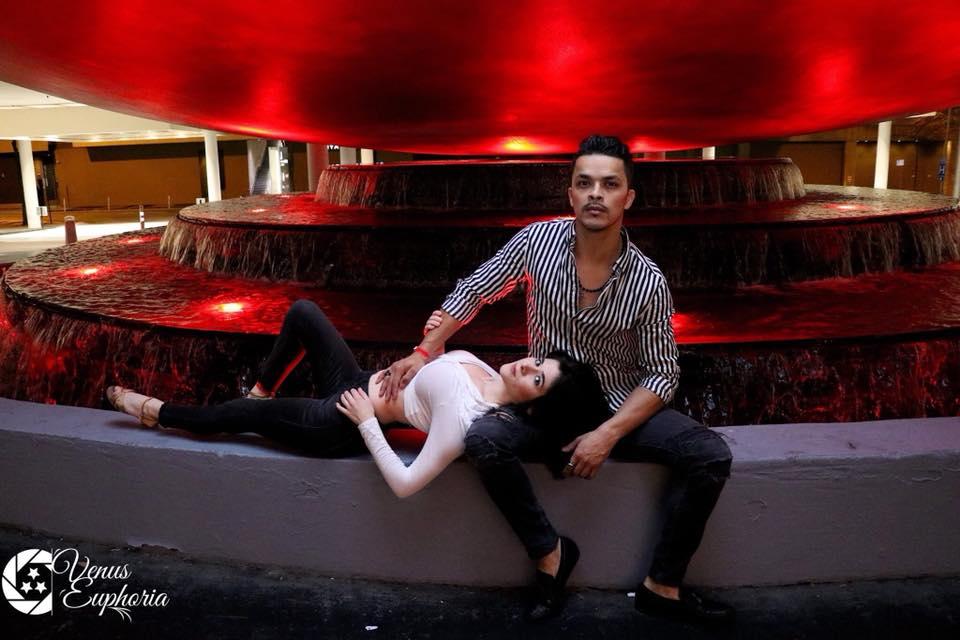 Victoria Calamusa
Born and raised in Charlotte, North Carolina, Music & Dance has always been a part of
Victoria Calamusa's life from early on - that included her preschool, Kindermusik
(a music based school) and expands to the start of her passion for dance at the age of five.
Throughout her Kindergarten, Elementary and Middle school years, she was a part of Lake
Norman Dance Gallery. While there, she took years of ballet, hip-hop, lyrical dance and did
performances with the academy. When Victoria reached high school, she realized that dancing
had become her passion. She began to choreograph hip hop routines of her own, and often
practiced by free styling both lyrical and hip hop. The story of how Victoria got into Latin Dancing
was actually very unexpected, even for herself. As a result of the end of a bad relationship, and
what seemed like the universe was urging her to do.. knowing absolutely nothing about salsa or
bachata, she dived headfirst into the Latin Dance Scene.That was all it took though for her to
realize her ultimate passion. The first social that she went to, she couldn't get enough. Hungry
for more, she started picking up practices with local dancers in the scene, including dance instructor,
Guiseppe Mor. Starting out, social dancing was Victoria's way of learning and growing, and still is.
After being in the latin dance scene for a couple years, Victoria met Eduardo Diaz and began to
train under him in salsa and Bachata, which included lifts and tricks. Another one of her
accomplishments that year was her Performance with Rossanno Adonis of an on1 Salsa on stage
at the Fillmore Charlotte with world-known artist - Guayacan. Throughout the past couple of years,
Victoria has attended many dance festivals & congresses, learning and performing with different
instructors. Some of those include: Daniel & Desiree world team project (Directed by Bethany Gray
and Evan Shuvo) Camp Venus Miami 2017 (Learned and performed with Ahoy Juliana, Tanja
Kensinger, and Desiree Godsell). Halfway through her college career at UNC Charlotte,
Victoria decided make her passion more of a reality and minor in dance. Since then, she
has been trained by top instructors provided by the college in modern dance, traditional
latin dance, contemporary jazz dance,
and is continuing with higher ballet forms as she finishes her degree. Realizing how much love
she had for latin dance, Victoria wanted to find a way to teach and touch other peoples lives
with this outlet that she had found herself in.

ABOUT RODRIGO & WENDY: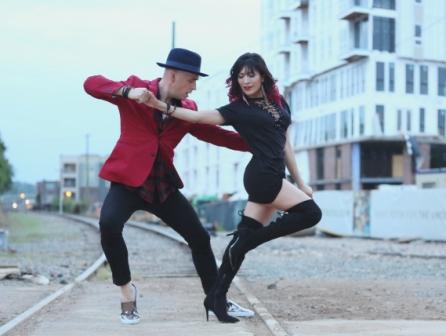 Rodrigo & Wendy Jimenez, are renowned instructors and performers who
have graced numerous stages locally and abroad. Trained extensively with
World Master Instructors and ESPN World Salsa & Argentine Tango champions
they also have been featured in several public broadcast television shows as
well as the International Latin Dance Film "La Epoca" they have conducted
workshops and performed "SALSA TANGO" and "BACHATANGO" fusions  in
addition to teaching and performing Argentine Tango, Salsa, Bachata,
Flamenco and Kizomba, at numerous Salsa Congresses, Festivals, and
Galas of major National & International cities. They have performed live
with Salsa Star Willie Colon, Gilberto Santarosa, Eddie Santiago, Queen of Salsa
"La India" and Salsa bands Guayacan and DLG. RW Latin Dance continues
teaching and performing locally and abroad. Their mission is to bring
our communities together dance, music and culture!
http://rwlatindance.com/about
 Schedule:

                                Saturday Dec 29, 2018
12pm - 1pm    Bachata Lead and follow techniques

1pm - 2pm    Ladies Bachata Foot Work & Styling with Victoria Calamusa
                   Mens Bachata Foot Wrok & Styling with Luis Loredo
2pm - 3pm   BachaZouk Turn Patterns for the social dance floor 

           $40/person in adv; $45/person @ door 
                  -- includes Evening Latin Night @ Armando's Caribe ( $10 Value)
                  -- Free for Full Weekend NYE Attendees or Any NYE ticket that includes Dinner

---------------------------------------------------------------------------------------------------------------

                                      Sunday Dec 30, 2018
3hr Salsa Workshop with Rodrigo & Wendy

12pm - 1pm   Salsa Lead and Follow Techniques

1pm - 2pm   Ladies Salsa Styling & Footwork w/ Wendy Jimenez
                    Mens Salsa Foot Work with Rodrigo Jimenez

2pm - 3pm  Salsa Turn patterns for the social Dance Floor w/ Styling
                   For both Men & Women  with Rodrigo & Wendy

            $40/person in adv; $45/person @ door 
                -- join us for Pre-New Year's Eve Party @ Plaza Las Americas
                -- -- Free for Full Weekend NYE Attendees or Any NYE ticket that includes Dinner

Interested in taking Both Days of workshop?
   $65/person in adv or $70/person @ door
     -- includes Evening parties
     -- -- Free for Full Weekend NYE Attendees or Any NYE ticket that includes Dinner
Http://www.Facebook.com/SalsaATL/
http://www.Facebook.com/Dancing4FunATL/
Http://www.Instagram.com/SalsaATL/
http://www.Instagram.com/Dancing4FunATL/
http://www.Twitter.com/SalsaATL/
http://www.Twitter.com/Dancing4FunATL/


Interested in attending our New Year's Eve Party
@ Sonesta Gwinnett Place?

Go to the link below for all the details & to
Purchase your "Dinner/Party" or "Party only" ticket at the link below:

https://newyearsevepartyatlanta.eventbrite.com
http://www.Facebook.com/NewYearsEvePartyAtlanta/


We have negotiated a discounted hotel rate
which also include breakfast for 2
only available at the link below:
http://newyearsevepartyatlanta.com/Hotel/

If you have any questions..
give us a call..
678.304.7D4F (7343)

When & Where

Dancing4fun Dance Studio
6025 Peachtree Parkway
#4
Peachtree Corners, GA 30092