Description
Event Title:

Afro-Caribbean Black Tie Affair New Years Eve 2019
Venue: The Boiler Room
Event Detail: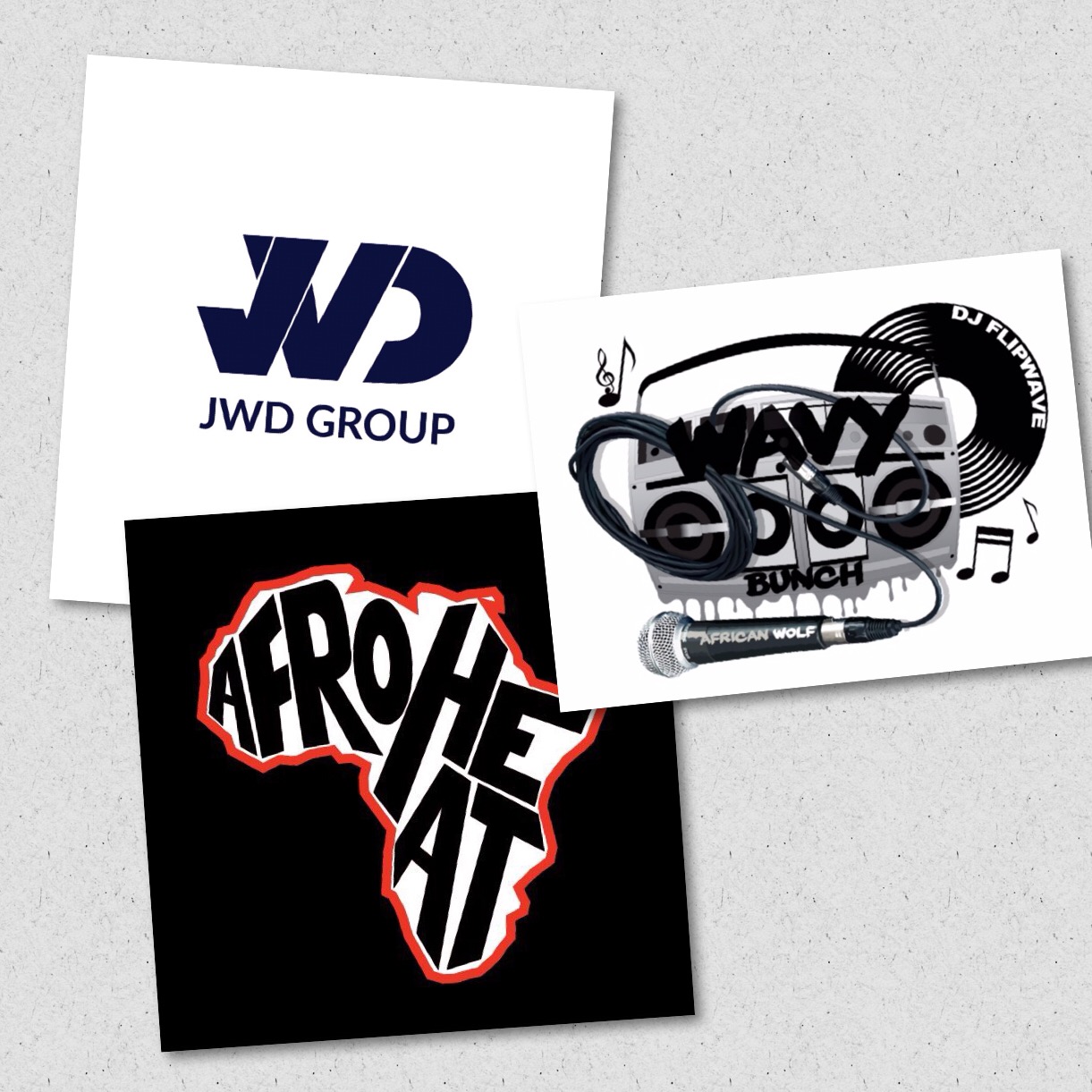 Presents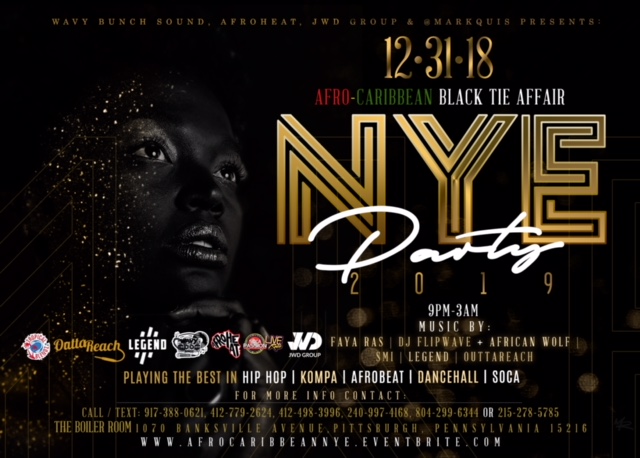 Afro-Caribbean Black Tie Affair New Years Eve Party
PITTSBURGH'S Biggest & Sexiest New Years Eve Party
for the African & Caribbean Community
---
---
Tickets Will Sell Out Quick. Get Yours Early!
Today Only!
Early Bird: $30

General Admission: $50
REQUIRED FOR PURCHASE:
All guests MUST be age 21+
All guests MUST present a valid form of government issued photo ID to enter the event; Passport, US Drivers License or Canada Drivers License ONLY
Tickets: After completing your purchase on Eventbrite, you will receive an email confirmation with your attached PDF ticket(s). You MUST print and bring your PDF tickets AND VALID PHOTO IDENTIFICATION to be admitted for the event. The name on the tickets do not have to match the ID so long as the barcode is scannable. Wavy Bunch Sound, AFROHEAT, JWD Group & @MARKQUIS are not responsible if ticket(s) cannot be scanned and the order is under a different name than the person presenting the ticket. (This ticket price is only available online before the event. Once the online tickets sell out, tickets will cost $60 and more at the door.)
Change names on your tickets here.
Here Are Few Pics of Our Past Events: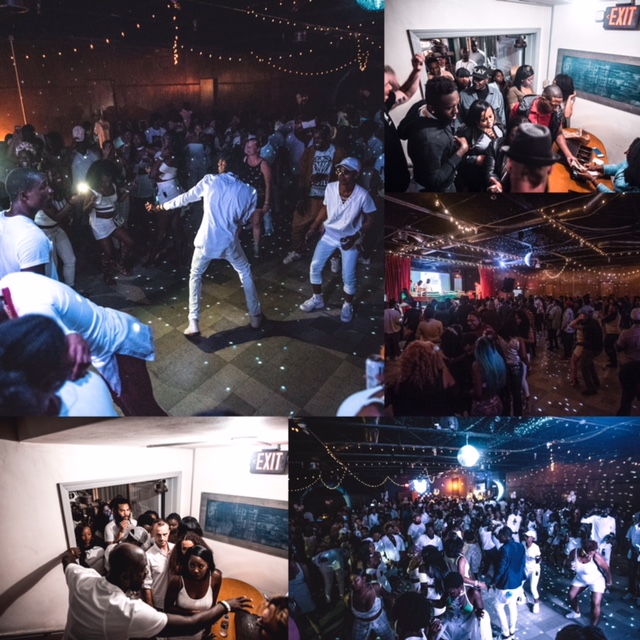 Hip Hop | Kompa | Afrobeat | Dancehall | Soca
DJ SMI | Faya Ras | DJ Flipwave + African Wolf | Legend | DJ Outtareach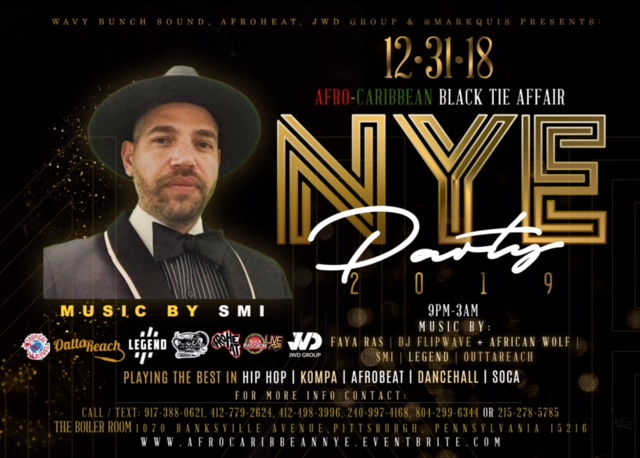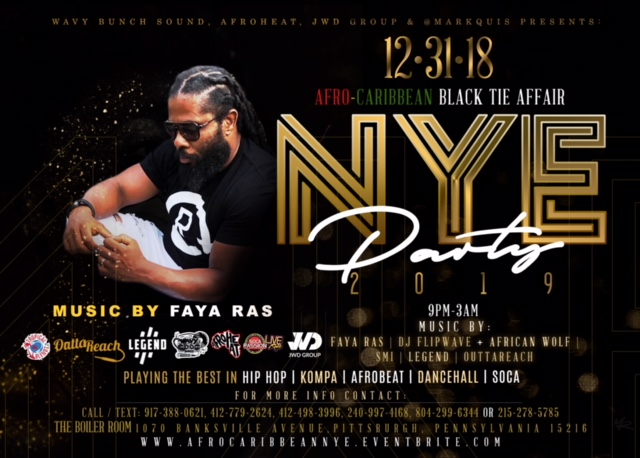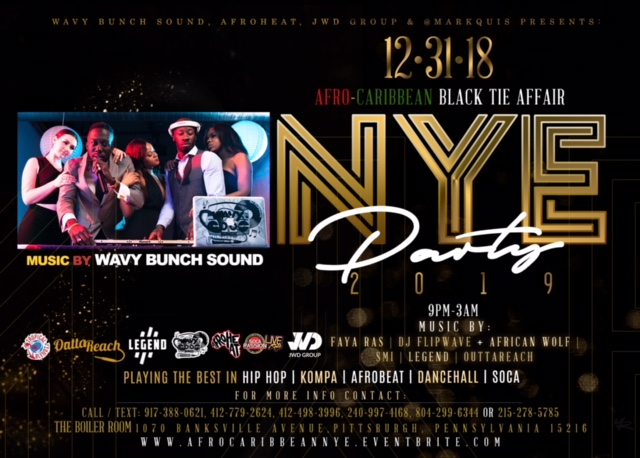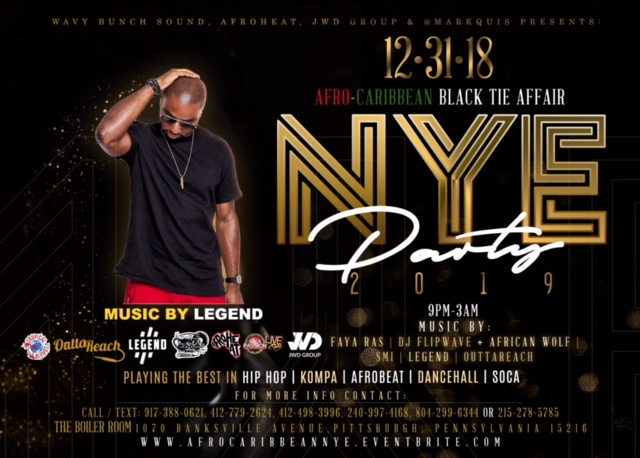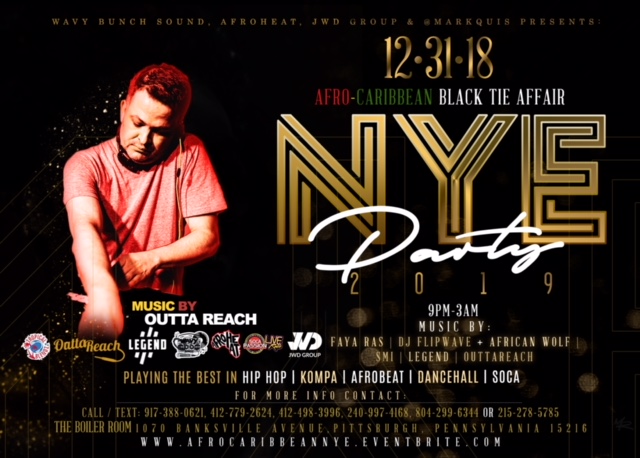 Come enjoy a Intricate replication of the Era with a Lively decorated room, amazing food, great music
and unbelieveable NYE fun in an upscale environment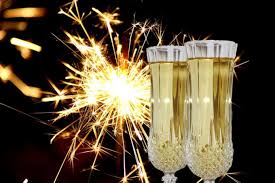 THIS NEW YEARS EVE COME PARTY WITH @AFROHEAT_SOUND,
#WAVYBUNCHSOUND,
@JWDGROUP_TALENTS & @MARKQUIS AFRO-CARIBBEAN BLACK TIE AFFAIR AT THE BOILER ROOM
1070 BANKSVILLE AVE., PITTSBURGH, PA 15216
LOG ON TO WWW.AFROCARIBBEANNYE.EVENTBRITE.COM. THIS WILL BE THE BEST NYE PARTY IN THE BURGH.
ACCEPT NO IMITATIONS! GET YOUR TICKETS NOW AT WWW.AFROCARIBBEANNYE.EVENTBRITE.COM
WE WILL ALSO BE HAVING THE FOLLOWING BOTTLE PACKAGES DOWN BELOW AS LISTED:
4 V.I.P. Tickets with V.I.P. Entrance (No Line & No Waiting Entry)
$350 Initial Deposit (Non Refundable)
Balance is due 12/28/2018
6 V.I.P. Tickets with V.I.P. Entrance (No Line & No Waiting Entry)
$500 Initial Deposit (Non Refundable)
Balance is due 12/28/2018
The Scamma Dem Deh Yeh Package:
(Your own private, exclusive space onstage with personal security guard)
10 V.I.P. Tickets with V.I.P. Entrance (No Line & No Waiting Entry)
$850 Initial Deposit (Non Refundable)
Balance is due 12/28/2018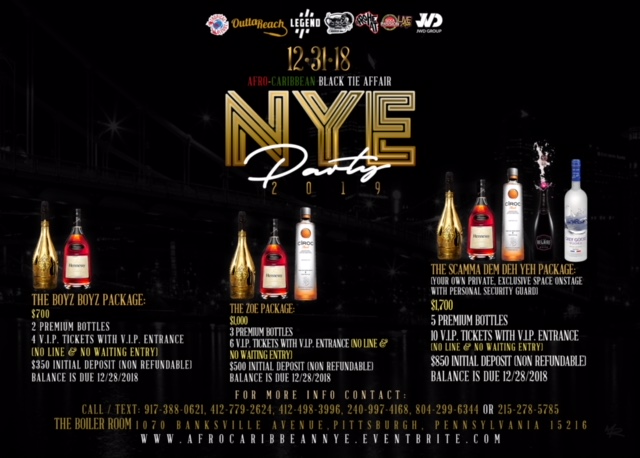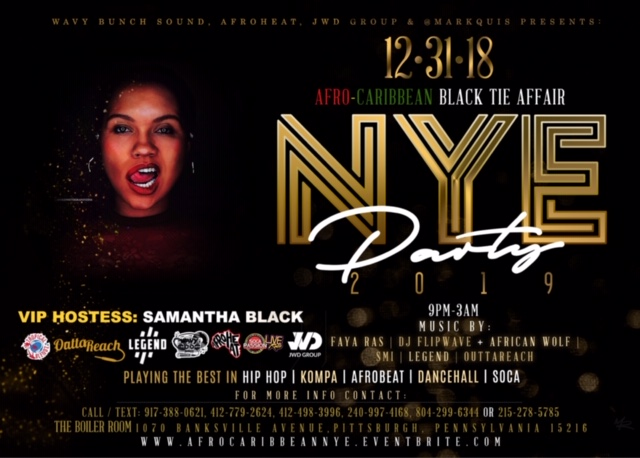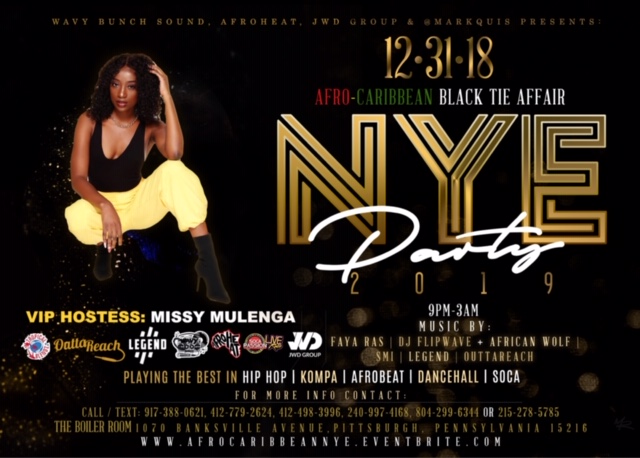 Exclusively at the Sexiest Hall in Pittsburgh, Pennsylvania
THE BOILER ROOM
1070 BANKSVILLE AVE.,
PITTSBURGH, PA 15216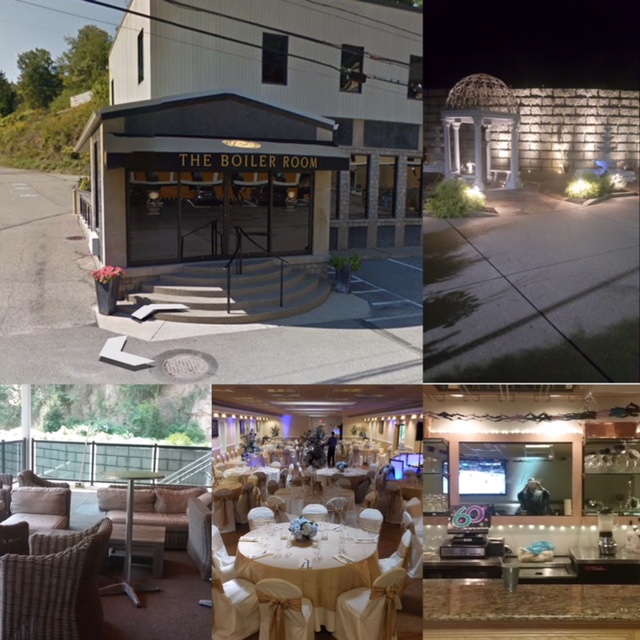 *********************************************************
250 Beautiful People | Caribbean, Afrobeat & Hip Hop Music
No Traffic Congestion | Access to Spacious Parking Lot | Beautiful People | Elegant Venue
Call / Text: 917-388-0621, 412-779-2624, 412-498-3996, 240-997-4168, 804-299-6344 or 215-278-5785
This is An Upscale Party So Dress the part: Manhattan Chic
No Sneakers | No T-shirts | No Caps | Must Wear Blazer
#NEWYEARSEVE
#NYE
#PGHNYE
#AFROCARIBBEAN
#PGH
#PITTSBURGH
#PGHNIGHTLIFE
#PITTSBURGHNIGHTLIFE