About this Event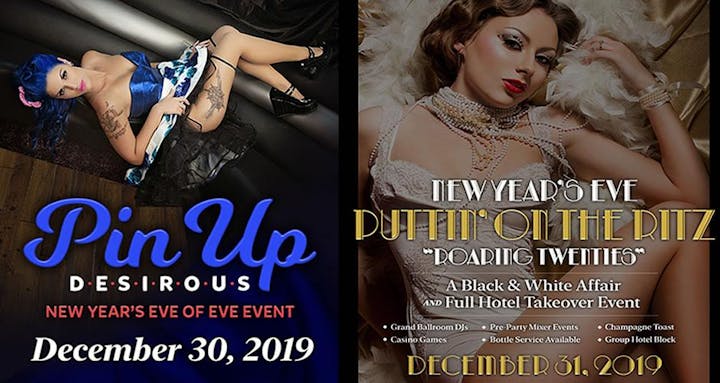 Celebrate New Years Eve 2020 in Houston with the nation's sexiest crowd at the NYE Roaring 20's- "Puttin' on the Ritz"; a total hotel takeover event at the Houston Marriott Hobby Hotel.  As we ring in 2020, we present a very grand theme that reflects back to the sultry, decadent indulgence of the roaring 20's.  This year's NYE Houston event will be a night of "Puttin' on the Ritz" flair, grandeur, sophistication, and seduction, accentuated with glitz and glam attire, as we say adieu to 2019. 
Tickets include entrance to the Speakeasy Casino held in the grand atrium, which will be a focal point for mixing and mingling before and during the New Years Eve festivities.  Tickets also include entrance to the Rendezvous Grand Ballroom with complimentary midnight NYE champagne toast.
For 16 years, DesirousParty has been host to Houston's most alluring New Years Eve parties; drawing in an open-minded, sensual crowd from across the nation.  A huge hotel group block of rooms is also available on Eve of Eve, with a full hotel takeover on NYE.  The hotel link can be found in the "pre-sale" section of the party information.
Eve of Eve: Timeline- Dec. 30th
2:00 pm-  Hotel Check In for Eve of Eve Reservations
5:00 pm to 6:30 pm-  Pre-Party Mixer:
8:00 pm-  Pick up NYE Weekend Wristbands: Speakeasy Atrium Bar Area. 
8:00 pm-  Speakeasy Atrium Bar Opens
9:00 pm-  "Pin Up Girl Desirous": Rendezvous Ballroom Opens
9:00 pm to 11:15pm-  Opening Set by DJ: Moe Green
11:15 pm to 2:00 am-  Headliner: Dj Scooter
2:00 am to ?-  After Parties Hosted by Guests
NYE Houston Roaring 20's Timeline: 
-12:30-4:00pm- "No" Prohibition Pool Party. For guests attending both nights events. 
-2:30 pm-  Hotel Check In for New Year's Eve Guests
- 5:00 pm to 6:30 pm-  Meet n Greet Mixer: Rendezvous Grand Ballroom-
- 6:30 pm to 9:00 pm-  NYE Dinner Reservations:
- 8:30 pm-  Speakeasy Atrium Bar Opens
- 8:30 pm to 2:00 am-  NYE Mirror Photo Booth: Speakeasy Atrium Area
- 9:00 pm to 2:00 am-  Rendezvous Grand Ballroom Opens
- 9:00 pm to 11:15 pm-  Rendezvous Grand Ballroom- Dj M.E.
- 9:45 pm to 12:45 am-  Speakeasy Atrium Casino Opens
- 11:15 pm to 2:00 am-  DJ ShadowRed
- Midnight- Complimentary Champagne Toast 
- 1:00 am-  Speakeasy Casino Prize Raffle for Our Winners
- 2:00 am-  After Parties Held by Guests in Each Hotel Group Block Area 
WHERE:
This year, we host NYE 2020 at the newly remodeled Marriott South Hobby Hotel with over 20,000 square feet of New Year's Eve party space.  The main focal point of this gorgeous hotel is the Grand Atrium area.  Exit your room and peer down into the atrium to experience all the New Year's Eve grandeur.  Casino games will be set up throughout the Speakeasy Atrium Casino area.  The Rendezvous Grand Ballroom will have state of the art dance light shows created by our production teams.  Headline DJ's will be traveling in from across the U.S.  The Marriott South will have a very grand 1920's atmosphere in the Speakeasy Atrium Casino area and a modern club feel in the ballroom. Join us to immerse yourself in the best of both worlds; vintage and contemporary.  The venue perfectly compliments the opulence of the NYE theme. 
WHO:                                                                                                                                                       
Guests do not have to be members of DesirousParty.com to purchase tickets to this event.  However, all guests must be a couple or a single female. Gentlemen, grab a date for this party. The New Year's Eve event areas will be open to ticket holders only.  Bars accepting both cash and credit cards will be setup for guests throughout the party areas. 
WHAT TO WEAR:                                                                                                                                     
Ladies, start the night with daring sophistication in formal wear, provoke the crowd in racy lingerie, or make a risqué move with a wardrobe change before the countdown.  Create your "Puttin' on the Ritz" look with fringe, diamond, pearls, and gloves.  With this being a complete hotel affair, it will be easy to change your attire as you desire.  Gentlemen should dress to impress although tuxes or other formal attire are not mandatory for the guys.
New Years Eve-  Amenities: 
- Eve of Eve & NYE held at the Marriott South Hobby Hotel- Total Hotel Events
- Complimentary Breakfast for Eve and NYE Hotel Guests 
- Full Hotel Takeover On NYE
- Mirror Photo Booth for NYE Guests
- 11,000 Square Foot Rendezvous Ballroom for New Year's Eve
- Speakeasy Casino with Over Ten Tables Located in the Grand Atrium Area  
- Extensive Light and Sound Show 
- Dance Floors and Dance Poles Located in the Rendezvous Ballroom
- Cryo Cannon Blast at Midnight 
- Complimentary Champagne Toast at Midnight for New Year's Eve
- Raffle Door Prizes at End of Night for Our Casino Winners 
- Cash/C.C. Bars in All Event Areas
- Pre Party Mixer in the Rendezvous House Ballroom Hosted by the Craziers FB Group.  Cash/C.C. Bar will be Setup for Guests
- After Party for Hotel Guests Hosted by the Craziers FB Group 
- Reserved Table Bottle Service Available
- The Restaurant Within the Hotel Will Offer a Special NYE Dinner.  Please see NYE forum on the DesirousParty.com site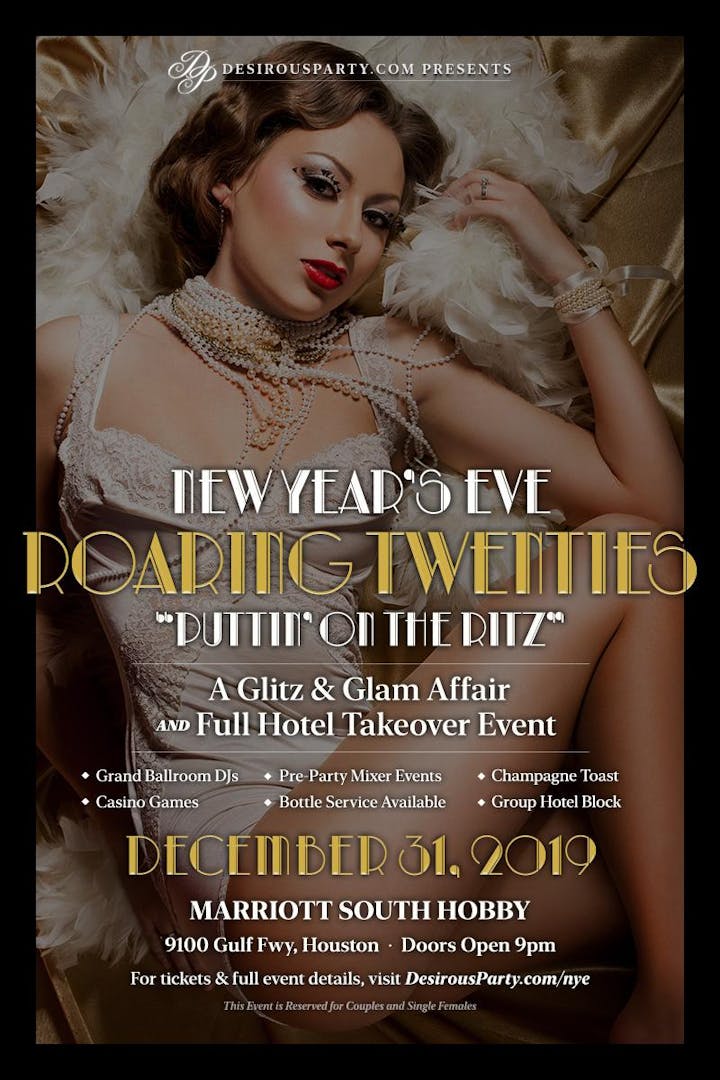 New Years Eve Roaring 20's for a full hotel takeover.