Description
SAY GOODBYE TO 2018 AND WELCOME IN THE NEW YEAR 2019!
Ring in 2019 at our favorite New Years Eve spot- Spice Monkey!
Enjoy any of our Pre-Fix Dinner options PLUS a complimentary glass of champagne. What better way to celebrate the New Year than with friends, great food, drinks and our annual COUNTDOWN toast.
Basic A La Carte - $45.00:
~ 1 item from any two courses (total 2 items) PLUS
~ 1 complimentary glass of champagne
Gold - $60.00:
~ 1 item from any four courses (total 4 items) PLUS
~ 1 complimentary glass of champagne
Deluxe - $90.00:
~ 1 item from any four courses (total 4 items) PLUS
~ 1 drink pairing for each course (total 4 drinks) PLUS
~ 1 complimentary glass of champagne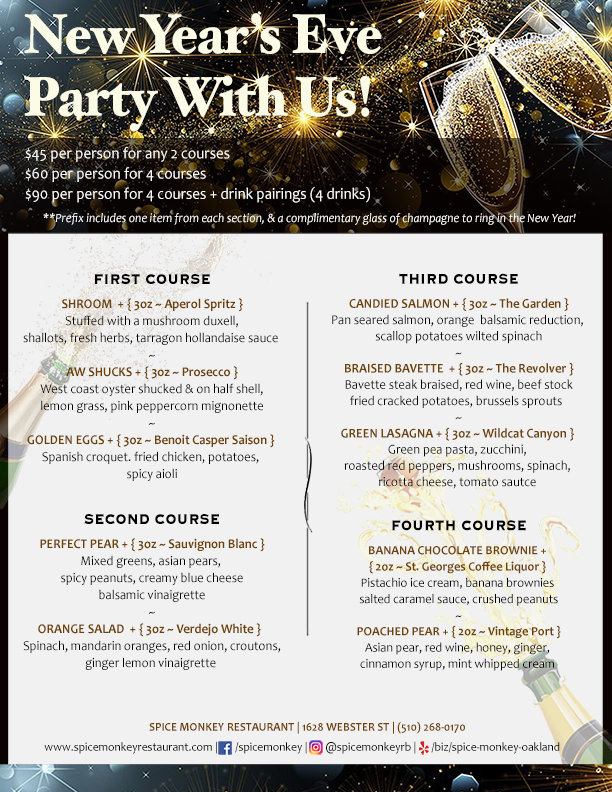 Want to add Comedy to your plans? Check out the links below for additional Comedy Options:
7pm show - https://www.eventbrite.com/e/comedy-oakland-nye-special-monday-december-31-7pm-tickets-52995991437
9:30pm show - https://www.eventbrite.com/e/comedy-oakland-nye-special-monday-december-31-930pm-tickets-53083485133