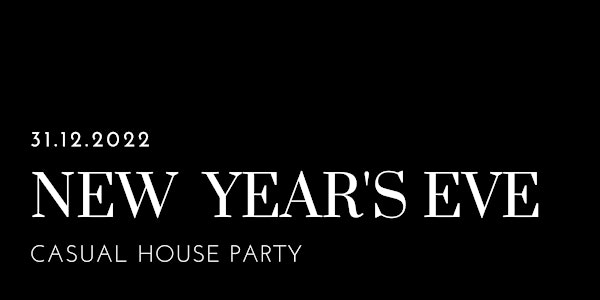 NYE +1 Lame House Party 2023
The Lamest NYE +1 HOUSE PARTY 2023.
When and where
Location
Rome Prati 00153 Rome Italy
About this event
NEW YEAR's Lame house party 2023 is happening in the heart of Rome for locals, tourists and expats who are young at heart.
Date & Time: Saturday 01-01-2022 starting @ 8pm till 4 am
Location: Rome, Italy - Address: In the center, exact location to be announced.
Age: This is a strictly 21+ party
Entrance condition:
Bring your own booze.
Send us a dm on instagram: wearelameklub
Women alone are allowed.
We apologize for not allowing guys alone unless the girls/guys ratio is balanced at the party.
We value:
Diversity: college students, travelers, entrepreneurs, young professionals, artists, dreamers, party animals, engineers, and visionaries. Each brain is built around different values & beliefs, coded by a unique DNA in a unique environment. We are bonded by our human nature and cherished by our uniqueness. Anyone with a young free spirit or looking to find his or hers is welcome to join the party
Freedom of expression: let's make it simple for you, as long as you respect privacy, and maintain safety and boundaries between you and other guests, you are free, free to make new friends, experience new cultures, and express your true self.
Acceptance & inclusion: all guests are equal and should maintain harmony during the event. We are expats friendly, tourists friendly, local friendly. We are friendly to anyone that adheres to safety or consent and contributes to creating a harmonious global society.
Fun: reminder, you only live once. Experience the gift of life to the fullest by meeting like-minded individuals ad creating thrilling memories. The perfect way to start 2023!