Location
The Deep End
1080 Wyckoff Avenue
Queens, NY 11385
The Second Installment of NYCRavers' Ravatar Series of Raves is coming to Brooklyn Feb 23rd, 2019!
About this event
House. Trance. Drum and Bass. Techno. Long ago, the four genres lived together in harmony. Then, everything changed when the mainstream EDM scene attacked. Only the Ravatar, master of all four genres, could stop them, but when the world needed them most, they vanished. 4 years passed and we discovered the new Ravatar, a lightbender named Al Purps. And although their lightbending skills are great, they have a lot to learn before their ready to save anyone. But I believe Al Purps can save the scene.
NYCRavers presents
RAVATAR
The Last Lightbender
Book 2 : Water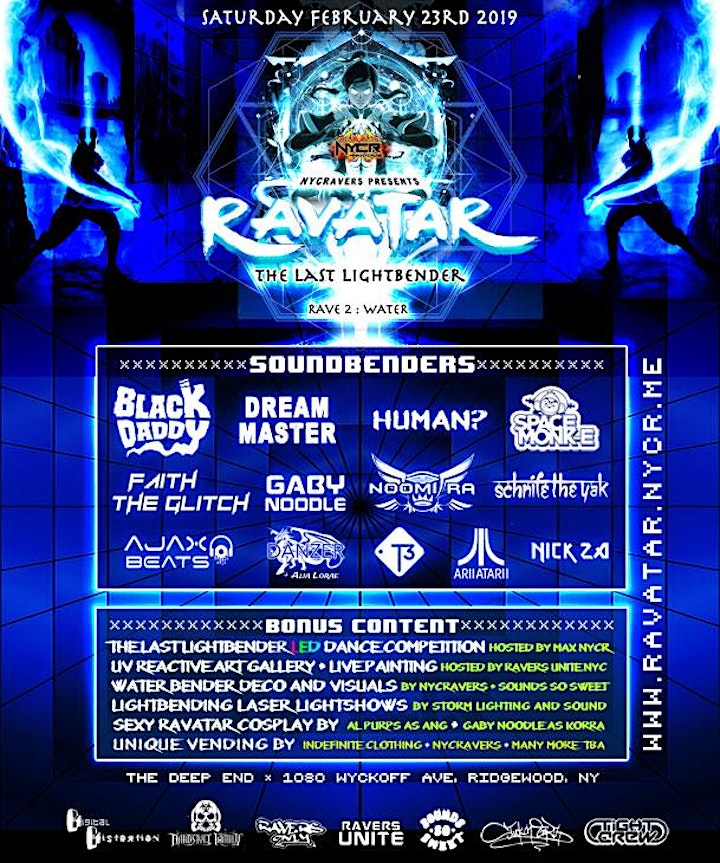 █▓▒ LINEUP ▒▓█
Featuring....
Pittsburgh's Hardstyle Prodigy...
BLACKDADDY (Hardstyle Family, PA) *Hardstyle*
*Official Record Release Event for his FULL ALBUM Hard as Fvck*
HUMAN? (Mutant Jazz & Transmutation, NY) *Special Multi Genre Rave Anthems Set*
DREAMMASTER (Global Evolution / NYCRavers, NY) *Hard Trance*
NOOMI RA (Digital Distortion, NY) *House / Techno*
SPACE MONK-E (Smooth Villan Records, NJ) *House/Techno*
FAITH IN THE GLITCH *Glitch*
GABY NOODLE Cosplaying as Ravatar Korra (NYCRavers / Digital Distortion, PA) *Multi Genre*
AJAXBEATS (NYCRavers, PA) *Drum and Bass*
SCHNIFE THE YAK (Sounds So Sweet, NY) *Schnife Things*
DANZER ft Alia Lorae (NYCRavers, NJ) *Psytrance w/ Live Vocals*
T3 (NYCRavers, NY) *Drum and Bass / Trap*
ARI ATARII (Atarii Empire, NY) *Multi Genre*
NICK ZA (Ravers Unite NYC, NY) *Drum and Bass*
Hosted by Al Purps in FULL COSPLAY as Ravatar Ang
█▓▒ BONUS CONTENT ▒▓█
+ Live Painting by Christian Panda
+ The Last Lightbender LED Dance Competition Hosted by Max NYCRavers - Show off your lightbending skills and win prizes! All LED POI, Gloves, Cats, Etc. is allowed.
+ UV Reactive Art Gallery + Artmaking Station Hosted by RAVERS UNITE NYC
+ Water Bender Deco Art Installations by NYCRavers Eyecandy
+ Themed Visuals by Sounds So Sweet
+ Lightbending Laser Lightshows by Storm Lighting
+ Vending by Indefinite Clothing
█▓▒ TICKETS ▒▓█
21+ Event, You Must have VALID ID to enter
$10 Limited Early Bird SOLD OUT / $15 Tier 1 Presales SOLD OUT
$20 General Admission Presales
DOOR PRICES
$20 at the door in Costume or before midnight // $25 after midnight without Costume
Limited Capacity Venue. Buying Presale Tickets = Guaranteed Entry.
█▓▒ Costume Inspirations ▒▓█
Water Tribe Warriors, Water Benders, Blue, Schnife the Yak, Fire Benders, Earth Benders, Air Benders
█▓▒ LOCATION ▒▓█
The Deep End
1080 Wycoff Ave, Queens NY
L Train to Halsey ST (Note : L Train becomes a bus after 10:45PM)
Brought to you by NYCRavers