Description

<<<< General Admission Tickets are available at the door for $40! >>>>
The 8th Annual Event Includes Plant-Based Food and Products, Speakers, Chef Cooking Demos, Kids' Activities & Much More.
The 2-day festival will be a showcase of 100% vegan innovation, with revolutionary plant-based food, products and fun for kids and adults alike.
The event consists of over 100 plant- based food and lifestyle vendors and three fully programmed stages highlighting over 40 world-class speakers, chefs, and entertainers over the course of the weekend.
Attendees will enjoy free food samples as well as meals for sale.
For exhibiting information, click here.
To volunteer, click here.
Kids 10 and under are FREE


Sampling of 2018 NYCVFF Vendors:
• AeroFarms
• Arbonne
• Ashley Marah
• Banza
• Best Friends Animal Society
• Beyond Better by Boulder Vegans LLC
• Biena Snacks
• Bob's Red Mill
• Bona Bona Ice Cream
• BRAMI
• Brother Wolf Animal Sanctuary
• Bunny Treats
• Burger Urway
• Catskill Animal Sanctuary
• Cedar's Foods
• Center for Pranic Healing/NYC
• CFEI / HOME ON THE RANGE
• Crazies and Weirdos
• Daiya Foods
• Fanciful Fox
• Filfil Foods llc
• Follow Your Heart
• Fruiggie
• Get Juiced
• GO VEGGIE
• Gracey's Culinary Specialties
• Green Mountain Energy
• Greenberg & Merola, LLP
• GuerrillaWearFare
• GUNAS NEW YORK
• Harmless Harvest
• Health-Ade
• HIPPEAS
• Hodo
• Jewish Veg
• Jonathan's Sprouts
• Kawi Foods
• Kellys Croutons
• Love Beets
• Macro Vegetarian
• Marty's V Burger
• Mercy for Animals
• Mo'pweeze Bakery
• Nomoo Cookie Company
• Nyota's Ting International Vegetarian Catering Company
• OM Botanical
• OWYN (Only What You Need)
• Panco Foods
• Partake Foods
• Plant Trainers
• Power of 3 Nutriton
• Pure Batch llc
• Purium
• Reducetarian Foundation
• Rescue Chocolate
• Rip's Malt Shop
• Rule Breaker Snacks
• Sail Away Coffee Co.
• Sands Jerk Hut
• Science of Spirituality
• SmartyPants Vitamins
• Smiling Hara
• Sunwarrior
• Superieur Electrolytes, Inc.
• Tamerlaine Farm Animal Sanctuary
• Teeminder
• The Humane League
• The Tree Bag Company
• Two Shes Productions
• U.S. Veg Corp
• Untamed Hearts
• Upton's Naturals
• Uptown Vegan, LLC
• Vegan Publishers
• Vegans Rock Apparel
• veganshirts.com
• Veggie Grub
• VegNature Inc
• Vital Eats
• Woodstock Farm Sanctuary
• Wully Outerwear
• Zevia
*subject to change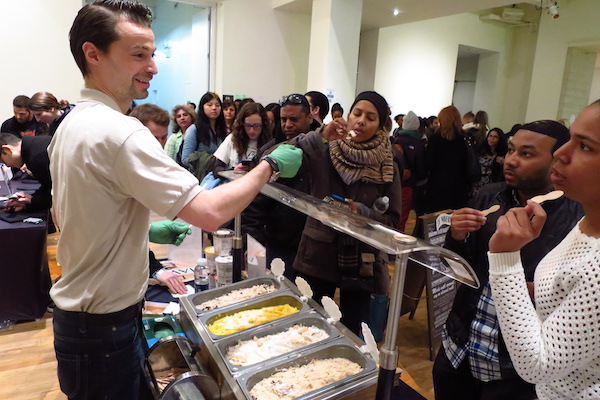 ---
A Sampling of Saturday Presenters:
Dr. Shilpa Ravella "Eating, Living, and the Bugs Inside You"
Dominick Thompson "Redefining Masculinity Through Veganism"
Dr. Chiti Parikh "Practical Guide for Nurturing your Gut Microbiome"
Sid Garza-Hillman "Maintaining a Thriving Vegan Family"
Dr. Robert Ostfeld "Confessions of a Reformed Cardiologist. Plant Based Nutrition and Your Heart"
Ivan Stratienco, Vegan Illusionist.
Alina Zolotareva "Feeding the Future with Sustainable, Indoor Vertical Farming"
Nzinga Young "Everyday Activism: Inspiring Loved Ones to Go Veg"
Ellen Kanner "Vegetable Love: Fueling Passion with Plants"
Gene Stone with Nil Zacharias "Eat for the Planet: Saving the World One Bite at a Time"
Ashley Hampton "Social Media for Social Change"
Abioseh Joseph Cole "Readings from the Voices Unheard collection"
Shauna McQueen "Vegan Entertaining 101: Epic Empanadas"
Luke Elwin "How to Agar"
Eleni Simos, The Clean Eating Chick, "Spring Pad Thai with Almond Tahini Sauce"
Isa Ekstam "Nordic Flavors: Introduction to Swedish Vegan Cuisine"
Fran Costigan "Quick and Easy Luscious Vegan Chocolate Desserts"
Naliaka Wakhisi "Afro-Caribbean Spice Workshop"
Hannah Kaminsky "Get Real: Learn New Strategies for Making Faster, Halthier, and Tastier Plant-Based Food"
Sara Harrel
---
A Sampling of Sunday Presenters:
Jackie Topol "A Well-Balanced Plant-Based Diet for Optimal Health"
Dr. Michelle McMacken "What's the Best Diet for the 21st Century"
Eric L. Adams "Keynote Presentation from Brooklyn Borough President, Eric L. Adams"
Isabelle Steichen "How to Successfully Transition into a Vegan Lifestyle"
Leanne Mai-Ly Hilgart
Brian Kateman "How the Reducetarian Movement Can Advance a Plant-Based World"
Vegan Parenting Panel moderated by Robyn Moore: Annie Shannon, Cynthia King, Andy Cartwright, & Fred Beasley aka Doc
Animal Sanctuary Panel: Kathy Stevens (Catskill Animal Sanctuary), Rachel McCrystal (Woodstock Farm Sanctuary), and Gabrielle Stubbert (Tamerlaine Farm Sanctuary)
Rachel Atcheson "Can Political Action Make a Big Change for Animals?"
Dr. Mauricio Gonzalez "How to Thrive on a Plant-Based Diet through Science"
Victoria Moran "When I'm 64: Veganism For Slow-Motion Aging"
Hayley Greenberg and Jerry Merola "What Every Animal Lover Should Know about Animal Law"
Shoshana Chaim "How to Get Children (of Any Age) to Eat Plant-Based"
Eleni Simos "Spring Pad Thai with Almond Tahini Sauce"
Adam Sobel
Dustin Harder "Cauliflower Fried Rice" 2:15-2:45 – Fully Raw Kristina
Luke Elwin "Fun with Matcha"
Isa Ekstam "Nordic Flavors: Introduction to Swedish Vegan Cuisine"
Chandra Lee "Embrace Raw Living"
---
KUMQUAT KIDS AREA
Kids, come visit your special Festival space for storytelling, arts and crafts, an information station, and a lot more veg-oriented fun!
See full event details at www.nycvegfoodfest.com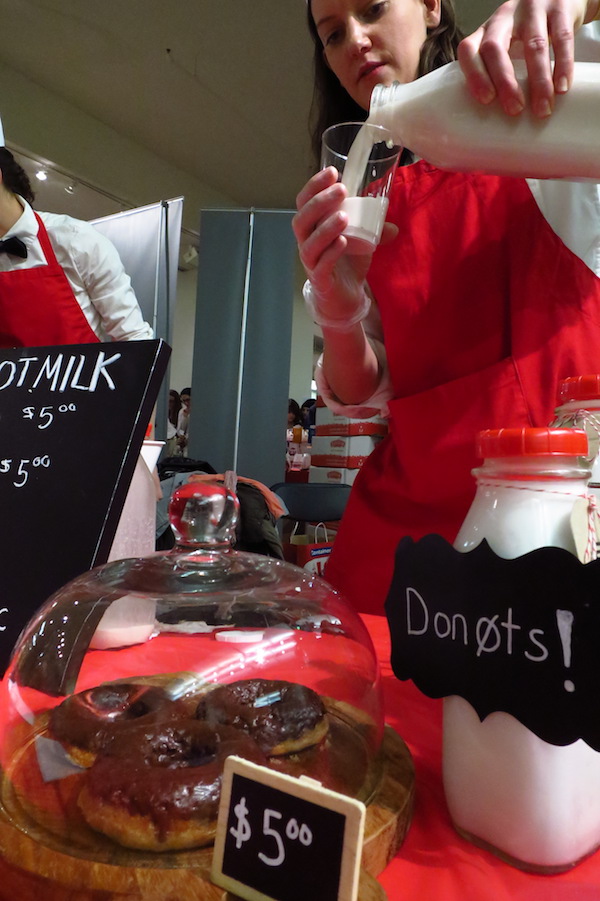 ---
The Humane League is our 2018 Nonprofit Partner!
---
FAQs
What are the hours of the Festival?

11 a.m. to 6 p.m. on both Saturday and Sunday.
What are my transportation/parking options for getting to and from the event?
The 1 train to 18th Street is the closest subway option. The 2/3 at 14 Street, as well as the 4/5/6/N/Q/R at Union Square are also a few minute's walk away.
Parking during the event can be found at the following local parking areas:
142 West 18th
152 West 18th
136 West 19th
124 West 20th
150 West 20th
122 West 21st
There is also metered street parking available on limited basis.
What's the refund policy?
Tickets are non-refundable.
How much are tickets?
One Day General Admission Tickets: $30 online pre-sale/ $40 Door
VIP Two Day Admission Tickets: $75 pre-sale only
Kids 10 and under: Free
Reduced $5 end-of-day tickets will be available starting at 4:00pm each day for those interested in checking out some of the exhibitors before the festival ends at 6:00pm.
Tickets at the door are based on venue capacity and preference goes to pre-sale ticketholders.
Will the Festival be held rain or shine?

Yes, our Festival is indoors, so weather will not affect us.

Are pets allowed?
No pets are allowed unless they are service animals.
Are there ATMs at the Festival?

There are no ATMs inside the Pavilion. Plan to bring cash, although most of our vendors do accept credit cards as well.

Is the Festival fully vegan?

Yes, the event is fully vegan (no animal products anywhere). We showcase how delicious, varied, and all-inclusive a cruelty-free lifestyle can be!