Description
PLEASE NOTE
Hiring Employers Only (no exceptions)
Companies are subject to post-purchase review (Unfortunately, if your company does not meet the profile of an emerging company or startup, your ticket will be cancelled. You will receive a full refund.)
Email help@uncube.me with any questions
WAKEFIELD PRESENTS: NYC UNCUBED
Uncubed isn't a job fair. Nobody likes job fairs.
Uncubed is the most exciting recruiting event in the country and this May we're gathering up NYC's most promising companies and mashing them together with a smart group of attendees (students, grads & experienced talent alike).
Uncubed is a platform to showcase your company in a fun and interactive environment, with speakers, music, & games that draw experienced talent out of their cubes and graduates looking for more exciting/rewarding careers.
Here's what TechCrunch had to say:
"
Normally I wouldn't write about another talent fair, but I want to encourage this informal approach to recruiting...
Cheers to Uncubed for planning a recruiting event you might actually want to hang out at.
"


FEATURING
70+ of NYC's most impressive emerging companies on display with interactive booths staffed by Founders, CEO's, CTO's and other key influencers.
A full day of exploring career opportunities, discovering new products and interacting with influential folks in the New York technology sector.
Here's what companies have said about UNCUBED
"Uncubed is hands down the best career networking event 33Across attends (coast to coast). We have had major success and have hired numerous stellar 33Xrs from Uncubed! - 33Across
"Uncubed provides a unique talent fair experience for both candidates and employers. Their events are thoughtful, productive and enjoyable – and you can't say that often

about a talent fair. We can't wait for the next event!" - Careers 2.0 by Stack Overflow
"Uncubed has provided ideeli with fresh talent. We made three successful hires last season and met with many qualified professionals. It was a huge success." - Ideeli
SOME VIDEO TESTIMONIALS
ATTENDING EMPLOYERS INCLUDE: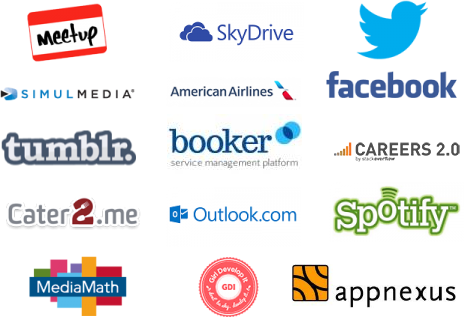 PREVIOUS SPEAKERS INCLUDE: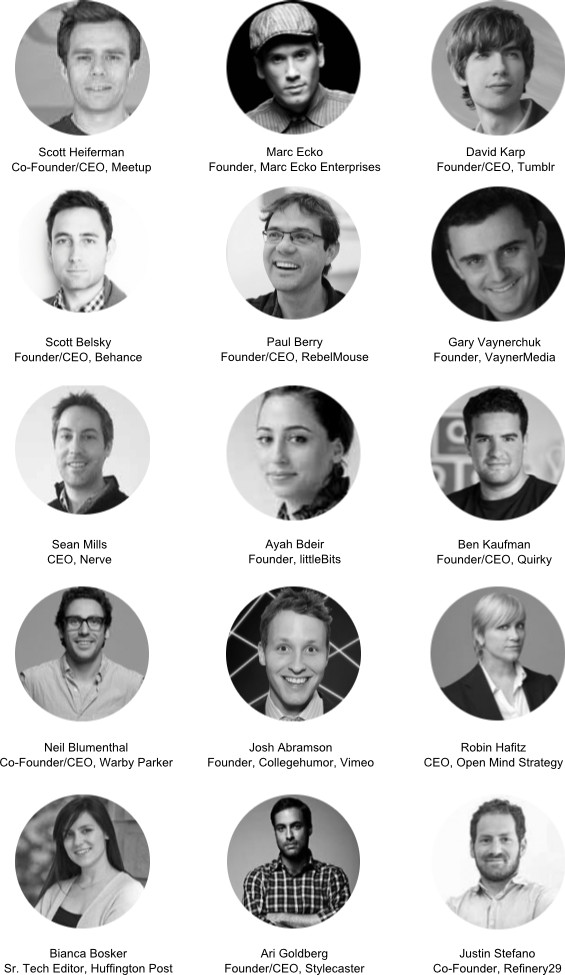 WHO ARE THE COMPANIES?
If you're a company looking to hire and evoke the cultural and lifestlye philosophy of an "uncubed" work environment, you're eligible to be one of the 75 companies chosen to participate in UNCUBED.
WHO ARE THE ATTENDEES?
We work closely with the local tech community and the nation's best universities to invite a high caliber of talent to the event. Our goal is to encourage talented employees currently working in traditional careers to consider the attractive opportunities that the startup culture can offer both personally & professionally.
WHY SHOULD YOU ATTEND?
If you are looking to hire, are a champion of the growing tech community in NYC, and are looking for great branding opportunities, then UNCUBED is a perfect fit.
You will you be one of a select group of companies with exposure to big brands, investors, press, and influencers, and as far as hiring goes, results are very strong. Over 80% of employers conduct formal interviews and roughly 40% are making at least one hire from the event, saving thousands of dollars and incalculable hours.
At the event you will have exclusive access to talent curated from the top programs in the country, most of whom have a considerable amount of real work experience (our average graduation year is 2006-2008).
ABOUT US & FURTHER DETAILS:
Questions:
Tarek Pertew (@TarekP)
help@uncube.me