NYC Tomato Battle: Powered by Tide
When and where
Location
Aviator Sports & Events Center 3159 Flatbush Ave New York, NY 11234
Description
DISREGARD THE EMAIL FROM LIVINGSOCIAL! The Tomato Battle is NOT CANCELLED!
So you're registered for this weekend's Tomato Battle – now what?
First step, give yourself a pat on the back for making the best decision of the summer, cause things are about to get crazy.
Next, read through this "battle manual" to learn everything you need to know about this weekend's event. Let us get the boring details out of the way so by Saturday you have nothing to focus on besides drinking, dancing, and getting messy!
HOW DO I GET THERE?
Have a Car? Perfect. Aviator Sports and Events center has tons of free parking close to the event, so this is by far the easiest way to go! See the map below for the parking lot location.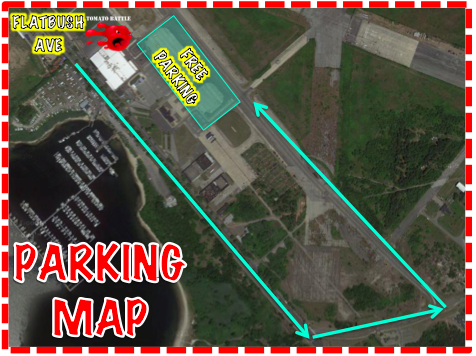 PUBLIC TRANSPORTATION
The Tomato Battle is located 4 miles from the nearest Subway stop (bummer) BUT the good news is, we're adding on the bus to get you there! Round-trip shuttle tickets between the Subway station and the Tomato Battle cost $10 and MUST BE PRE-BOOKED online at the Tomato Battle Registration Site.
The shuttles run from the Flatbush Ave/Brooklyn College station, which serves as the end of the line stop on both the 2 and the 5 trains. Please check www.mta.info for train schedules and availability serving the station, and to plan your route.
Upon arriving at the Flatbush Ave, exit the station onto Nostrand Ave. Look for the Tomato Battle sign and yellow buses outside of the McDonalds / Party City stores, located on the west side of Nostrand. You're almost to the battle zone!
Shuttles TO the event will run from 11:30am to 3:00pm
Shuttles FROM the event will run back to the station from 5:00pm - 6:30pm – so drink up, you're not driving home!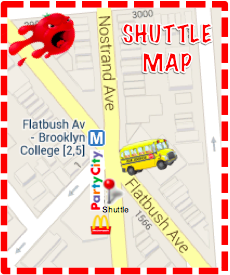 SCHEDULE
Noon:
Registration begins and beer garden opens. Welcome brave battlers!
12–3:30 pm:
Once you're in the door, start enjoying food and beer for sale, socialize, and check out our awesome sponsors. A DJ will be supplying beats all afternoon, and you can make friends with the enemy by playing drinking games with your fellow battlers (before you turn on them and pummel them with tomatoes, of course).
3:30 pm:
COSTUME CONTEST! Head to the stage to show off your wildest battle attire, and we'll let the applause-o-meter be the judge. The grand prize is unbeatable – you and one friend will be the first to enter the tomato zone! You'll start the battle by fighting against 2 representatives from Team Tide, and the moment will be captured forever on Tide promotional video footage.
4:00 pm:
TOMATO BATTLE BEGINS. And now, the moment you've all been waiting for. The DJ and beer garden will remain in full operation as well.
6:00 pm
Wash-up and head home!
WHAT SHOULD I BRING WITH ME?
REGISTRATION! You MUST have your ticket! This means either printing it out or bringing it on your smartphone. No ticket, no entry.

Eye protection is recommended – swimming goggles / sunglasses work great

Shoes with a good tread – things are about to get sticky and slippery

Clothes that you don't mind getting very dirty – we recommend a bathing suit, or a crazy costume. Whatever floats your boat.

Bring a change of clothes for after the battle– unless you want to leave a ketchup trail your entire way home
WHAT SHOULD I LEAVE AT HOME?
All tomato acceleration devices are banned including but not limited to potato guns, water balloon launchers, dog tennis ball throwers, rackets, paddles, bats.

Alcohol or other drugs

Nice clothes

Kids under 14

Items you might throw

Bad attitude
SOUNDS LIKE I'M BRINGING A LOT OF STUFF!
No worries! CoatChex from ABC's Shark Tank will be providing a digital gear check for all participants for just $5. Come chex it out!

THIS EVENT IS POWERED BY TIDE!
As title sponsor of New York Tomato Battle 2013, Tide will distribute samples of Tide VIVID White + Bright Boost after the battle to help remove those pesky stains that might linger after the messy tomato fight. Tide VIVID White + Bright Boost is a laundry additive that boosts the power of detergent to increase the effectiveness of stain-fighting ingredients in the wash cycle. Add it to your laundry load along with Tide detergent for extra stain-fighting power!
THANK YOU TO OUR OTHER SPONSORS
Please see the FAQ and Info page at Tomato Battle for more information.
Questions? Get in touch with us directly at www.tomatobattle.com/contact
Are there ID requirements or an age limit to enter the event?
This event is 14 and over.
*** There are no refunds given for any reason! When you sign up make sure that you will be able to attend the event***
*** In the event of a tomato shortage, we will hold a giant mud battle. The event will go on as planned but with mud instead of tomatoes.***
*** Dates and times are subject to change***
*Purchase of a ticket also is an agreement to the Tomato Battle liability waiver even if ticket is transferred to another customer. CLICK HERE TO READ THE LIABILITY WAIVER