Description
The Harlem Debate Institute (HDI) is a one week summer debate institute at Columbia University that serves middle school students. Programs include lectures by master debate coaches, small group working debate "labs" to practice debate skills, daily practice debates, and culminating debate tournament that ends with an awards ceremony at the end of the institute. The Debate Camp is staffed by New York's top middle school and high school debate coaches, teachers, alumni and debaters. Tracks are available for beginners as well as advanced debaters. Skills include public speaking, cross examination, critical thinking, research, argumentative writing, public forum debate, and policy debate. Subjects include the current policy debate resolution, philosophy, political science, critical theory, economics, history, geography, international politics and more. Students will gain a competitive edge for the upcoming debate season and most important - have fun!Join us this summer to be a Great Debater! Whether you have never participated in debate to whether you are a varsity high school debaters - join us for our summer debate institutes! The New York City Urban Debate League is the largest urban debate league in the country serving thousands of students and hundreds of schools each year. We provide the best debate education opportunities year round including summer debate institutes all summer. Students of all skill levels learn public speaking, refutation, questioning, research, writing, reading, listening and other academic skills. But most of all - it is fun! Debate Games, Debate Tournaments, Debate Activities, Raffles, Games and more! So join us this summer for one of our debate institutes!
Sample Weekly Schedule
Day #1: Orientation, Diagnostics, Debate Games
Day #2: Debate Skills #1 – Public Speaking
Day #3: Debate Skills #2 – Argumentation and Rhetoric
Day #4: Debate Skills #3 – Note Taking
Day #5: Debate Skills #4 – Refutation and Fallacies
Day #6: Debate Skills #5 – The Art of Cross Examination
Day #7: Debate Skills #6 – Research
Day #8: Debate Skills #7 – Writing Your Affirmative & Negative Cases
Day #9: Debate Skills #8 – Introduction to Critical Theory & Philosophy
Day #10: Debate Skills #9 – Rebuttals, Judging, Judge Adaptation
Day #11: Summer Debate Tournament
Sample Daily Schedule
9:00am-9:30am – Breakfast
9:30am-10:00am – Lecture Activity
10:00am-10:30am – Debate Skills & Activity Lecture #2 (large group)
10:30am-12:30pm – Debate Labs and Practice Debates (small groups)
12:00pm-1:00pm – Lunch
1:00pm-3:00pm – Practice Rounds 3:00pm - Departure
Contact Information
NYC Summer Camp Manager Email –
summer@debate.nyc
NYC Summer Debate Manager Phone - 917-774-6539
Executive Director Phone - 917-455-1079
Registration Fees
Summer debate institute registration fees cover the costs of staff, breakfast, lunch, and facilities. We do offer scholarships for students of demonstrated financial need. Please see your debate coach for scholarship information. Students are eligible for scholarships if (1) attend New York City Title I public schools that are active members of the NYC Urban Debate League; (2) participated in at least four NYCUDL tournaments during the current school year, and (3) provide proof of demonstrated financial need. You can contact your debate coach or summer@debate.nyc for additional information. Otherwise, please proceed with payment information which helps us cover the costs of facilities, instructors, supplies, student breakfast and lunch, and scholarship opportunities. Without your contributions this would not be possible. Thank you for making debate camp possible.
All payments are Non-Refundable. Credit can be applied to a another debate institute during the summer and/or provided up to 1 year from the date of the event for next summer's debate institutes.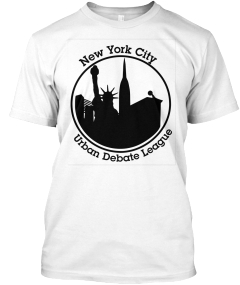 NYC Summer Debate Institute @ Columbia
$19.99
We partnered with Teespring to create some awesome merchandise for this event. Show your support and look good wearing it. Check it out!



Erik Fogel

NYCUDL.

Erik has been a South Bronx public school teacher for ten years with the New York City Department of Education. He received his B.A. from U.C Berkeley, J.D. from Hastings College of Law, and M.S. in Education at Pace University. In 2002 he was accepted to Teach for America and has been teaching in the South Bronx since. He started the South Bronx's first nationally competitive debate team and built one of the largest and most successful Title I debate teams in New York with over 100 students. In 2011 with only a handful of schools with debate teams left in the city, Erik and other NYC school teachers came together to start the New York City Urban Debate League – the city's only scholastic debate league for all students and all schools and today the largest debate league in the nation – serving thousands of students every year. Erik is the recipient of numerous awards in education including: We are the Bronx Fellowship Award, Presidential Youth Award in the Arts and Humanities by the National Endowment for the Humanities, National Endowment for the Arts, National Institute of Museum and Library Studies and the White House Commission on the Arts and Humanities, United States Supreme Court Summer Institute for Teachers Fellowship, Fund for Teachers Fellowship, Plank Foundation Fellowship, Points of Light Civic Incubator Award, and Teach for America Innovation Award Finalist.