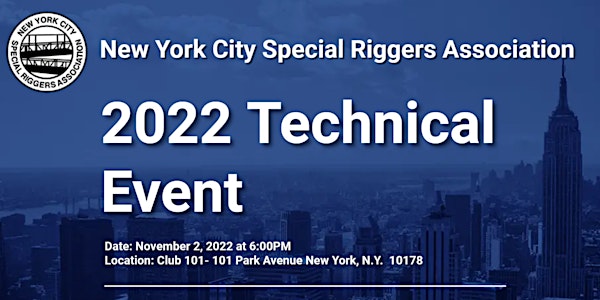 NYC Special Riggers Association technical event at Club 101
The NYC Special Riggers Association cordially invites you attend our technical event at Club 101 on Wednesday November 2, 2022
When and where
Location
Club 101 101 Park Avenue New York, NY 10178
About this event
TOPICS TO BE DISCUSSED:
1. DOB Commissioner, Eric A. Ulrich, as Keynote Speaker will share his ongoing efforts to improve day-to-day operations at the Department of Buildings and other insights into his plans for the Department.

2. Panel Discussion on important Code Changes which will cover various issues of concern related to Chapter 33 compliance, inspections, licensing and more.

3. A message from our event sponsors Extech Building Materials and Accusire Construction
DETAILS:
Date: Wednesday November 2, 2022
Time: 6:00PM - 9:00PM
Location: Club 101- 101 Park Avenue New York, NY 10178
This event is free of charge and will include a full buffet dinner and open bar (beer, wine, soda)
The New York City Special Riggers Association was created in 2014 by a group of dedicated special riggers and façade restoration professionals seeking to make a difference. The NYCSRA currently has over 75 member companies and represents thousands of licensed, trained professionals with decades of experience. On our industry's behalf, we continue working to promote policy and regulatory initiatives that keep workers and passing pedestrians safe, ensure a level playing field in our industry and encourage efficiency during permit and license approval processes.
We hope you will join us for a fun, educational evening of great networking on November 2nd at 6:00PM at Club 101.
Please let us know if you have any questions.