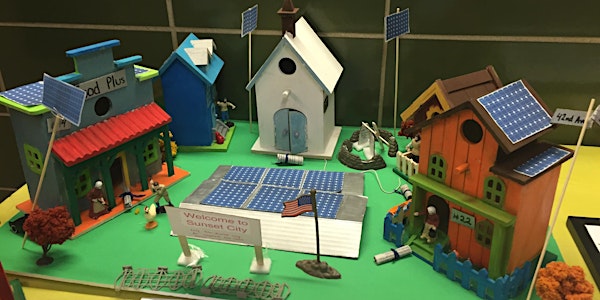 NYC Solar Schools Professional Learning- High Schools
Location
Multiple Locations, New York City
Description
NYC SOLAR SCHOOLS: Professional Learning Dates for High School Science:
EARTH SCIENCE: Monday, 1/28/19 Chancellors Day, Monday, 3/18/19- DOE Division of School Facilities (DSF); 44-36 Vernon Blvd. (NW corner of 44th Drive and Vernon Boulevard), Long Island City, N.Y.,11101 Please bring Photo I.D. for security. Take elevator up to the 5th Floor for the DSF Training Room. Follow event signs to locate the room.
ENVIRONMENTAL SCIENCE and ENGINEERING: Monday, 1/28/19 Chancellors Day, Thursday, 3/14/19 at Central Park East HS in Manhattan- 1573 Madison Ave, New York, NY 10029
LIVING ENVIRONMENT Thursday 2/7/19 at High School for Environmental Studies in Manhattan, Thursday 3/28/19- Second Session at SIMS Recycling in Brooklyn
PHYSICS Tuesday 2/12/19, Thursday 4/4/19 at Global Learning Collaborative HS in Manhattan
CHEMISTRY Wednesday 2/27/19 at WNET (PBS) Offices in Manhattan, and Monday 4/8/19 at SIMS Recycling in Brooklyn
---

Please note that there will be some overlap in activities covered during each workshop.

The NYC DOE Office of Sustainability and the STEM Department are partnering for the 3rd year of the NYC Solar Schools Education Program. DOE is working with the Department of Citywide Administrative Services (DCAS) on a mayoral initiative to install a combined 100 MW of solar photovoltaic capacity on city-owned buildings, per goals outlined in OneNYC, New York City's plan for sustainability and resiliency.
All NYC DOE teachers are invited to attend the NYC Solar Schools Professional Learning. Please note that workshops take place during school hours from 9:00 am- 3:00 pm.
All participating teachers will be provided with the training, curriculum, standards alignment, and other resources they need to integrate solar content and activities into their coursework. Materials toolkits will be provided, and teachers will receive CTLE credits for attending.
---
About Solar One and the Solar Schools Education Program
Solar One's K-12 curriculum, The Green Design Lab (GDL), is a STEM-focused, interdisciplinary sustainability program that provides students with hands-on experiential learning. The NYC Solar Schools workshop includes a combination of hands-on activities that give context for why solar is important – such as an introduction to power plants, fossil fuels, and climate change – and explore the science and applications of solar energy through building mini-solar systems, field studies, and experiments.
A key goal of this program is to connect the solar installations on school buildings to curriculum, allowing teachers to use solar as a tool for students to learn about renewable energy and sustainability, and as a catalyst for STEM learning. This program is FREE for interested teachers; all costs will be paid for by DOE through funding from DCAS.

FAQs
How can I contact the organizer with any questions?
Email education@solar1.org
Do I have to bring my printed ticket to the event?
No, just a valid ID
About the organizer
Solar One is a non-profit green energy education organization based in New York City.