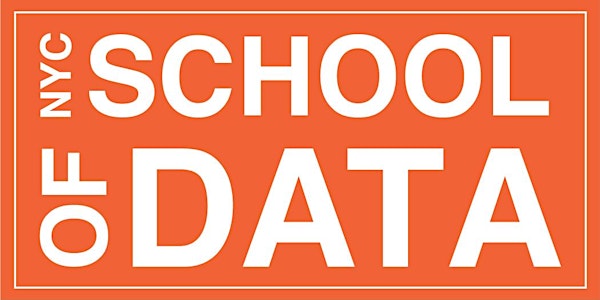 NYC School of Data 2022
Join us for NYC's most informative civic tech + open data event of the year — NYC School of Data 2022 on Saturday, 5 March!
When and where
Location
Cornell Tech 2 West Loop Road New York, NY 10044
Refund Policy
Contact the organizer to request a refund.
Eventbrite's fee is nonrefundable.
About this event
Charge your laptops or tablets, pack your water bottle, vaccination card, grab your quality mask, sharpen your pencils, and get a good night's rest! Join us for NYC's most informative civic tech + open data event of the year — NYC School of Data 2022 on Saturday, 5 March!
This year, we celebrate the 10th anniversary of the City's transformative open data law, and kick off NYC Open Data Week with over 30 sessions!
About NYC School of Data:
NYC School of Data is a community conference that brings together the City's technology, data, and design communities. It is organized by BetaNYC, with programming support from the NYC Mayor's Office of Data Analytics (MODA), and hosted by the Jacobs Urban Tech Hub at Cornell Tech.
From over 150 community suggested sessions, we are organizing 30+ thought provoking panels, workshops, office hours with NYC agencies, and demo/usability sessions to cover a wide variety of topics - digital and data literacy, privacy, smart cities, open government, service design, civic engagement, and open data.
See the complete schedule at https://nycsodata22.sched.com
The 21st Century is defined by data streams, flows, analytics, and systems evaluations. If society is the soil, technology is the plant, design is the DNA, and data is the fruit. Yet data doesn't not always capture the human condition. Data within our society is a reflection of systems, processes, bureaucracies, and reports. We cannot fully understand government operations without discussing how technology and data are used to manage, maintain, monitor, and evaluate human conditions.
For the last twelve years, NYC School of Data and its predecessor conferences have built a framework of relationships that have successfully demystified data and technology, fostered participatory democracy, built cross-borough relationships, and mentored the next generation of civic leaders.
Through workshops, panels, demos, and networking, NYC School of Data is our way to celebrate good applications, a platform to discuss improvements, and a classroom to empower New Yorkers to improve their own neighborhoods.
Join us to build new connections, learn skills and enhance your community. We will provide you a safe space to discuss open data, digital services, civic technology, analytics, smart cities, open government, and digital transformation. Also, let us kick off International Open Data Day and NYC's Open Data Week with a bang!
To attend this in-person event, you must prove vaccination status upon check in and wear a mask at all times (except when eating and drinking).
Come learn and contribute to the next decade of technology, data, and policy — by us, for us!
Requirements to attend?
Everyone who attends MUST show proof of being fully vaccinated against COVID-19 before entry. Additionally, you MUST wear a mask when you're not eating or drinking. This includes when speaking or presenting. We recommend a KF94 or above, and will have ample masks in Large, Medium, or child size.
What is included in your ticket?
All tickets include a lunch, snacks, coffee and refreshments. This year, we will not be providing child care, but if you want to bring your child(ren), and they can be vacinated, they must be vaccinated and be registered , this is in addition to obtaining your own ticket.
Accessibility Questions
This year's venue is easily accessed by public transit, bike, and car. The conference will be delivered in english and will use technical terms. The venue itself is ADA comptable (updated). Service animals are always accepted. If you need sign language interpretation or have any other questions, please email us at schoolofdata@beta.nyc
I'd like to volunteer!
We are looking for friendly people who can help us set up and run the conference. Please fill out this application before by Wednesday, 1 March by 5:00 PM. We will be accepting volunteers on a rolling basis and will notify everyone by March 2nd. < Apply Here >
Student or looking for a scholarship?
There are a selected number of student / scholarship / hardship tickets available. Tickets are $35 and we will prioritize traditionally undeserved & underrepresented communities. You must apply by Wednesday, 2 March by 5:00 PM and register on eventbrite by Thursday, 3 March by 8 AM. < APPLY HERE >
Do you work for Government?
Do you work in government and want to purchase $55 tickets via a check or a purchase order (PO)?
Government ticket opportunities close on Wednesday, 2 March by 5:00 PM. Please email < schoolofdata+govticket@beta.nyc >.
Press and Media! Want to cover the event?
If you press and you want to cover a session/event, email us your press credentials to < schoolofdata+press@beta.nyc >. We will follow up.
Sponsors! Want to support the conference?
Many thanks to Mayor's Office of Data Analytics and Jacobs Urban Tech Hub at Cornell Tech who are supporting our conference's operations. If you are interested in supporting the event in any way, we have many opportunities.
Please email Kate and Noel at < schoolofdata+sponsor@beta.nyc >. We will follow up.
Code of Conduct
BetaNYC is committed to hosting safe and open spaces for all. By participating in this space you are committing yourself to BetaNYC's Code of Conduct and Anti-Harassment Policy.
Connect with #NYCSoData participants and attendees...