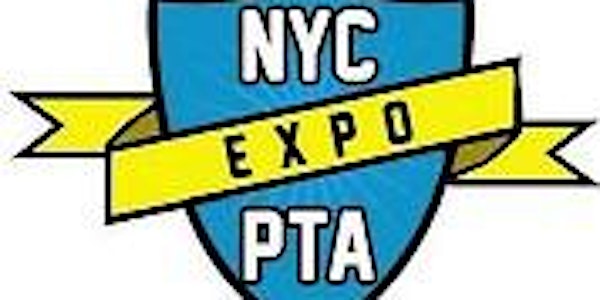 NYC PTA Expo 2016 ~ Exhibitor Booths
When and where
Location
Brooklyn Expo Center 72 Noble Street Brooklyn, NY 11222
Description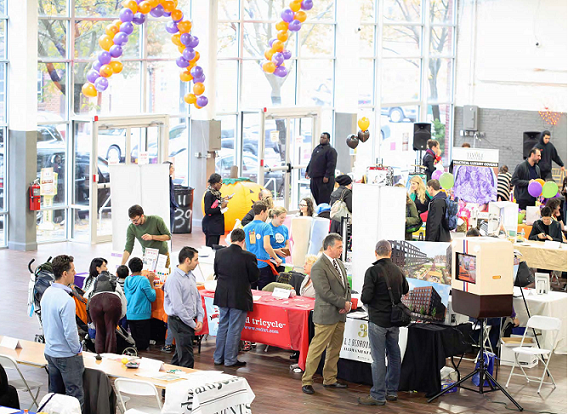 NYC PTA EXPO 2016
Saturday, October 1, 2016 | 12-4 PM
Brooklyn Expo Center
The 3rd Annual NYC PTA EXPO presents a fun and informative event with great resources, products, services and information for New York City PAs and PTAs while bringing together community members, educators, families, parents and city agencies. NYC PTA Expo offers community access and support for parents, exhibitors and educational leaders, alike. NYC PTA Expo celebrates education by supporting PA/PTA councils throughout New York City,
PAST ATTENDING SCHOOLS
PS 6K | PS 16K | PS 17K | PS 26K | PS 31K | PS 34K PS 84K | PS 110K | PS 114K | PS 119K | PS 120K | PS 124K | PS 132K | PS 147K | PS 150K | PS/IS 165K | PS 250K | IS 251K | PS 297K | PS 414K | PS 677K | PS 705K | IS 71K | IS 285K | JHS 50K | MS 126 | Academy for Enviromental Leadership | Brownsville Ascend Lower School | Bushwick Leader's High School for Academic Excellence | Kings Bay Y at North Williamsburg | Mott Hall Bridges Academy | Nazareth Regional High School | New Heights Middle School | Northside Charter High School | The Brooklyn Latin School | The Young Women's Leadership School of Brooklyn | Urban Assembly School of Music and Art | Williamsburg Charter High School | PS 128M | PS 187M | PS 334M | NYC Autism Charter School | Islamic Cultural Center School | PS 140Q | PS 154Q | PS/MS 164Q | PS 329Q | MS 67Q | MS 217Q
PAST EXHIBITORS & PARTICIPANTS
ABCs for Smarter Kids | Adventureland | All In One Entertainment | AMC Photo | American Cancer Society | ArtWare Fundraising | Aviator Sports & Events Center | Boy Scouts of America, Brooklyn Troop 26 | Brooklyn Nets / Barclays Center | Brooklyn Public Library | Brooklyn Robot Foundry | Carousel Cakes | Carpingo | CaseNEX-DataCation | Chuck E Cheese's | Community Education Council District 14 | Cross County Savings Bank | Deanan Gourmet Popcorn | Direct Promotions | Down to Earth Markets | EDS Presentations | Engineering for Kids | FoodPlay Productions | Franklin Pizza | Gamewright GameNights | Grandma Rose's | Greater Giving | Green Mountain Energy | Greenpoint YMCA | Hosh Kids | Irvin Simon Photographers | Jean Joachim, Author | Lucky Kats | Makit Products | Miss Chocolate Fundraising Co. | Mission Be | MobilArq | Mr. Ellie Pooh LLC | Mulee School Supply Kits | Municipal Credit Union | New York City Chess Inc | New York Family | New York Life | New York Road Runners | NY School Help | NYC Councilmember Levin's District 33 Participatory Budgeting Project | NYC Councilmember Reynoso's District 34 Participatory Budgeting Project | NYC Department of Education, Ofice of SchoolFood | NY Metro Parents / Brooklyn Parent Magazine | Office of Brooklyn Borough President Eric L. Adams | PacPlex | Peaceful Playgrounds | Peter Pan Donuts | Planet Aid | Popcorn Palace | Project Playdate | Prudential | Raising New York | Rhode Island Novelty | Sandy Candy by SandCrafters | St. Nicks Alliance | The SMART Playbook | The Wholesale Candy Shop | Trees New York | United Healthcare | United We Stand of New York | Willy Point Kids
WHO SHOULD EXHIBIT AT NYC PTA EXPO?
Do you offer products and services that help PTA/PAs fundraise or operate more productively?

Do you offer educational services and products for school-aged children?

There are +1800 schools in NYC. Are you interested in reaching parent leaders and and school administrators?

NYC PTA Expo

is the opportunity for you!

WHAT MAKES NYC PTA EXPO SO VALUABLE?
NYC PTA Expo offers a supportive networking and informational experience for exhibitors and PTA/PA leaders alike.

NYC PTA Expo

allows our schools and PTAs share new information and projects with each other so that everyone benefits.

NYC PTA Expo offers informative workshops by education specialists, companeis and past PTA leaders so that they may offer advice and resources to new PTA members.

NYC PTA Expo brings together local and national resources, businesses, and brands to one venue.

NYC PTA Expo understands that PTA members may not be aware of many fundraising products and services. NYC PTA Expo offers a unique one-day opportunity for PTAs to scale the learning curve as quickly as possible.

NYC PTA EXPO FACTS
Over 150 schools attended the first annual NYC PTA Expo last year. Based on the inquiries received so far, many more schools are expected to attend this year.

About 70 companies and organizations particpated last year.

Unsurpassed opportunity to reach parent leaders and school administrators.

Brooklyn Expo Center is a spacious and exciting event venue, located at the corner of highly popular Franklin Street in Greenpoint/Williamsburg.