About this Event
MARKETFEST IS SET TO LAUNCH THIS FALL!!
MarketFest is NYC Pride's NEW virtual space where vendors can engage with consumers and promote their small businesses like never before. Fundamentally functioning as a directory, MarketFest is the safe and accepting platform for LGBTQIA+ owned and operated merchants to gain more digital brand exposure.
The directory includes the following categories to cover a wide range of small businesses:
Arts & Design
Beauty
Fashion
Home & Living
Lifestyle
Restaurants & Bars
Services
Wellness & Health
Conceived by the volunteers who bring you PrideFest each year as an alternative to the in-person experience held annually in June, MarketFest hosts information about small businesses, opportunities for the community to engage with your organization through blog posts & social media, along with additional resources on donating to LGBTQIA+ organizations.
Whatever your vibe, we're sure you can find something special at MarketFest!
**********
Check out a preview of MarketFest HERE to see how your LGBTQIA+ owned & operated business can be featured in this virtual space.
**********
View the MarketFest Exhibitor Information Packet by following the link below:
https://tinyurl.com/MarketFestInfoPack
For further questions / inquiries, please email markfest-help@nycpride.org
**********
Registration Tiers
Tier 1 - Directory - FREE!
This tier includes you in our directory, an aggregate of LGBTQIA+ owned and operated services and merchandise. Categories include: Arts & Design, Beauty, Fashion, Home & Living, Lifestyle, Restaurants & Bars, Services, and Wellness & Health.
Benefits:
Organization listed in the vendor directory
Includes a short paragraph description of your organization, logo/image, and link to your website and social media accounts.
**********
Tier 2 – Featured Vendor
This tier is for vendors looking for increased prominence and a space to advertise their brand.
The Featured Vendors page can only support up to 20 vendors at a time, and registration is on a first come basis.
Benefits:
All Tier 1 inclusions
Prominent placement on the Featured Vendors page
Dedicated tile on the Featured Vendors page of the site with brand logo or name
Customizable brand page linked from your tile on the Featured Vendor page
Brand page allows for up to 5 brand logos, images or videos of your choosing
Space for brand statement, description or to advertise your services or any specials/discount codes on brand page
Links to your website and social media accounts on brand page
1 dedicated, MarketFest branded, "vendor highlight" Instagram post on @NYCPride
**********
Tier 3 – Vendor Spotlight
The Vendor Spotlight registration puts your brand at the forefront with the most exposure on the site.
Vendor Spotlight can only support 8 vendors at a time, and registration is on a first come basis.
Benefits:
All Tier 2 inclusions
Premium placement on the Home page with your organization listed under the Vendor Spotlight header
A dedicated banner at the top of the Featured Vendor page
1 collaboratively customized Instagram post on @NYCPride
Inclusion as the "vendor highlight" in 1 e-blast to NYC Pride's 12K subscriber list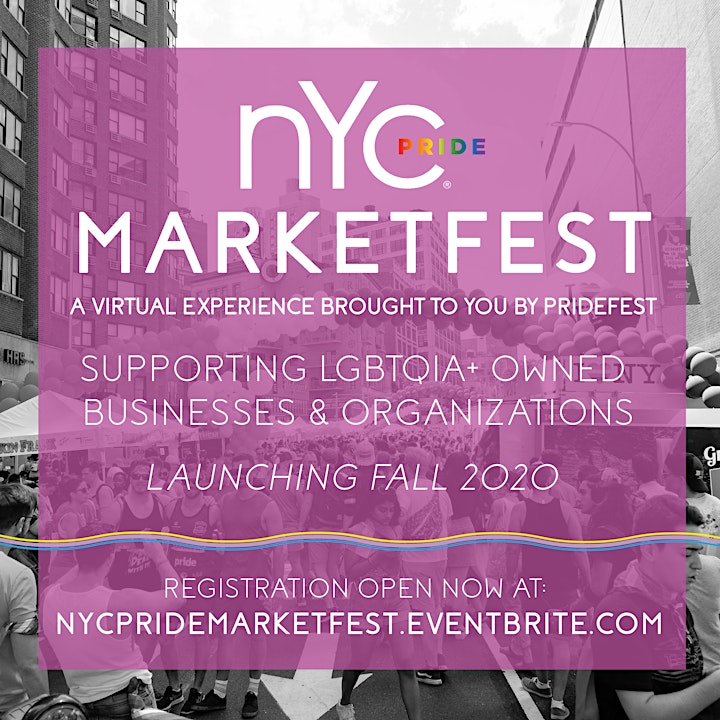 Key Dates:
Registration Open to Past PrideFest Exhibitors - Tuesday, August 18th
Registration Open to the Public - Thursday, August 20th
Deadline to submit assets to be included in the site launch - Tuesday, September 22nd
MarketFest Website Launch - October 2020
**********
What is PrideFest?
PrideFest is our annual LGBTQIA+ 1-day street fair that combines exhibitors, entertainers and activities for a day of fun and celebration in the name of equality. PrideFest attracts thousands of out-of-state visitors and brings them together with local residents and families, corporate sponsors, community leaders, and local business owners.