NYC: Pop-Up bRUNch

Saturday, April 14, 2018 from 8:00 AM to 12:00 PM (EDT)
Event Details
PSA ANNOUNCEMENT: bRUNch Running is excited to announce that we will be hosting our first ever bRUNch Pop Up Event in NYC at the San Remo Cafe in SoHo on April 14th.  Find out more about this NYC gem here.  We are taking over this place for a morning of fitness, food/drink, and fun!
---
WHAT YOUR TICKET GETS YOU:

Your ticket fee gets you: a guided + paced run (5k and 10k options) by our friends from Jack Rabbit and New Balance, a runners bib + finisher's pin, delish brunch buffet spread, including one (1) premium brunch libation (+21) and custom coffee beverage, donation to a local non-profit made in your name, shoe demos from New Balance, an awesome swag bag filled with all the goods, incredible giveaways, and more.
****We working on finalizing our food menu, it will be a delish brunch buffet spread (healthy-ish too) and running routes will be avail soon.
Don't forget to RSVP on our facebook page for all the deets! 
---
Now until April 13th Ticket Price: $50
Day of Ticket Price $60  (if tickets are available)
---
Check-in will be from 8:00 a.m. - 8:30 a.m.
Please, please remember your ID. If you don't have an ID you won't be able to enjoy any alcoholic libations. No exceptions! The venue will be open to
#bRUNchers
so you may leave any items you don't want to run with in the restaurant. However, be advised bRUNch Running nor San Remo Cafe is resposible for any lost or stolen items. (While we don't forsee this being in issue, we have to cover our basis)
Run begins: 8:30 a.m. (approximately)
We are finalizing our routes, but there will be a photo opportunity on the run with NYC skyline in the background! (YAY). Remember, this isn't a closed course or race. But, if you want to run fast, do it! We won't stop ya.
#pictureoptional
Food/Drink Service begins: 9:00 a.m. and will go until 12 p.m. (noon). Once you get back to the venue you can start eating and drinking because you will have earned it. Socialize, hangout with other bRUNchers, check out you swag bag, mingle with our partner's, and don't forget to rock your finisher's pin!
12:00 p.m. (Noon) Nap time! You don't have to go home, but you can't stay here! 
Pick your pace: Our friends from Jack Rabbit NYC and New Balance will be guiding us through the streets of NYC to make sure no one gets lost or left behind.
FYI: You have the option to run, walk, or just brunch.
All ages, fitness levels, and genders welcome. Our only requirement is that you love brunch! Price is the same even if you don't plan on running and every participant is required to have a ticket to attend this event. Sorry no exceptions!
Running in the Women's Shape 1/2 Marathon on April 15th? Perfect, we are too. Join us for this fun shake out run event! 
---
Check out all the buzz:
TIMEOUT NEW YORK: https://www.timeout.com/newyork/news/a-brunch-themed-run-is-coming-to-manhattan-this-spring-022318
FITT: https://fitt.co/new-york-city/brunch-running-nyc/
Secret NYC: https://secretnyc.co/first-ever-pop-brunch-run-comes-nyc-next-month/
---
 -This event is a private event
-This event is for anyone and everyone, we require you to 21+ to consume alcoholic beverages and you MUST bring your ID with you. If you forget your ID you will not be permitted to consume any alcoholic beverages
-We do not offer refunds on no-show tickets or any cancelations less than 7 days before the event.
-Please visit our website or email us at info@brunchrunning.com if you're interested in sponsoring.
-We will announce the location prior to the event
- The run portion of this event is an open course (no street closures) and is not timed.
Oh, and its totally worth mentioning that we will be running in the SHAPE Women's Half-Marathon on April 15th so this is this perfect SHAKEOUT run event before you take on 13.1 miles ( however, it is not a requirement to join us for bRUNch). 

-We run RAIN, SHINE, SNOW (any weather really). Make sure to dress appropriately, and if conditions are cold and wet to bring an extra change of socks because brunch in wet socks isn't fun!
---
Proud Partner's of bRUNch Running:
When & Where

San Remo Cafe
201 Lafayette St
New York, NY 10012


Saturday, April 14, 2018 from 8:00 AM to 12:00 PM (EDT)
Add to my calendar
Organizer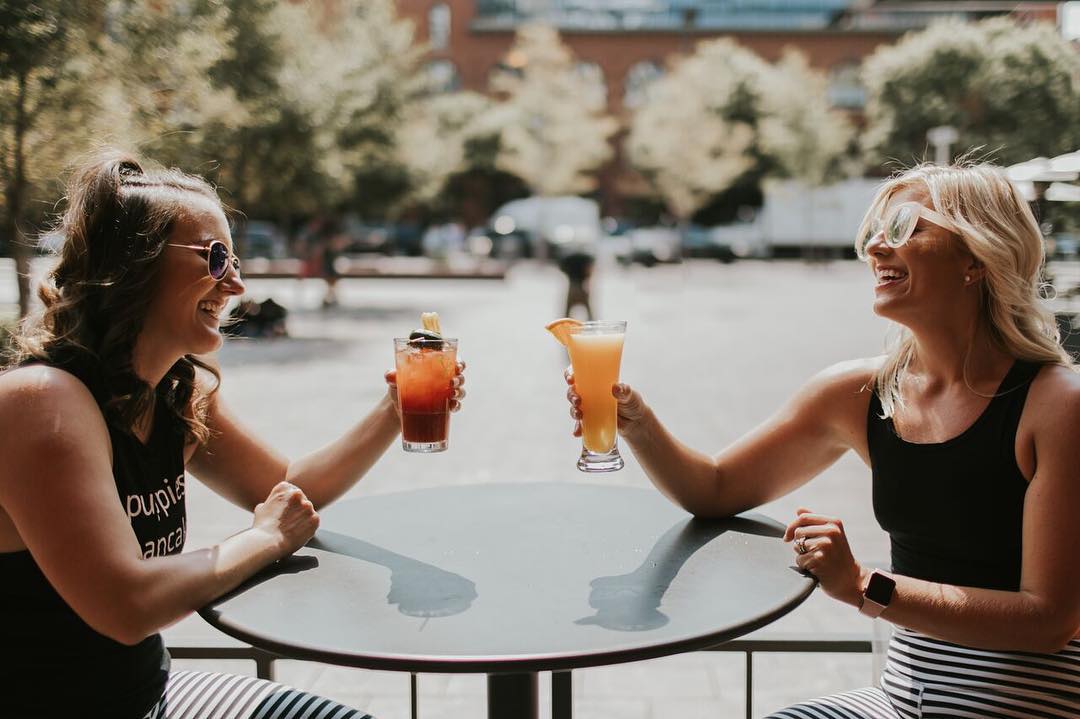 Established in 2013 by two gal pals who had an affinity for running and for brunch (#duh).
bRUNch Running has quickly become one of the top social fitness communities in the country both online and in through hosting live fitness events.
First and foremost, bRUNch Running is not your typical run club. In fact, you probably shouldn't even call us a "club" at all, because we definitely are NOT click-y. We are however, a pretty incredible community of people who enjoy all things: running and fitness, eating (brunch mostly), drinking (responsibly-ish) + of course being social. We are #bRUNchatarians!
We've got something for everyone. bRUNch offers intimate sized events (40-60 participants) to larger events (160 participants) and our largest event of 750 participants at our annual bRUNch Run 5k + 10k timed race (Denver, Colo). bRUNch Running's main focus is to motivate individuals to not only get active but stay active, eat well, and be social!
We believe running, fitness, socializing, and of course delicious food and drink are essential for a happy (balanced) life. In a nutshell: bRUNch takes the pain out of "planning brunch". Imagine that! We do all the heavy lifting by picking a date, a restaurant/ fitness studio, creating running route(s), customize a menu, and we even handle the check at the end. All our participants have to do is purchase a ticket online and just show up for a morning of fun.
We usually meet on a Sunday (sometimes on a Saturday, and even on a Thursday night because brunch is good anytime of day, anytime of week). We go for a run but we use the term "run" loosely, as it's up to the individual as to how fast or slow they'd like to go. We also let them pick a distance (we map out 5k + 10k options so no one gets lost).
After your run is done, everyone "brunches" together at a local hotspot restaurant. Fun fact for ya, all our runs start and finish at the restaurant and are untimed because we like to keep things simple, with the exception of our Annual bRUNch Run 5k + 10k event every October. Save the date: The 6th Annual bRUNch Run is on October 13, 2019.
We don't care how fast or slow you go, how young or old you are (must be 21+ to drink adult beverages of course), male or female, n if you have four-legs (dog-friendly) or get around in a stroller (kid-friendly). The only thing we care about is that YOU like, scratch that, LOVE brunch as much as we do!