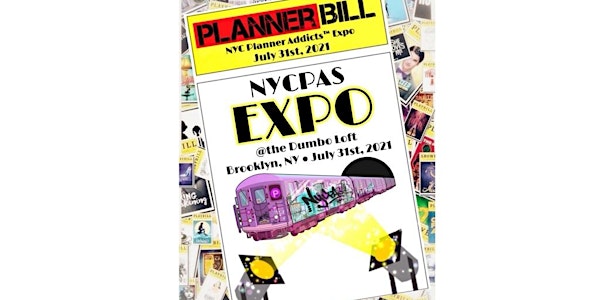 NYC Planner Addicts Expo - General Sales
Brooklyn, We go hard, go hard!
When and where
Location
The Dumbo Loft 155 Water Street Brooklyn, NY 11201
About this event
NYC Planner Addict's, we are are back!
That's right, the NYC Planner Addict's organization team has been busy planning the 4th annual event which is scheduled to take place on July 31, 2021 at the Dumbo Loft in Brooklyn, New York.
This year we aim to bring you something unique and creative, while still staying true to vibe & culture you have grown to love about our events. We have taken feedback from our past attendees and gained insight from attending other planner events as well. We feel this years event will be the best of both worlds in terms of how planner events go. Part seminar, part expo and part party; this style offers planners a intimate experience without the overwhelm.
This style of event also allows those who want more time to plan, to plan! Those who want to shop, can shop. Those who want to mingle, can mingle. You see the pattern? It's a completely customized event depending on your needs and wants. We also have listened to the spacing and timing feedback and have brought all tables down to 8 people maximum! More room for your planner goodies! No more waiting in line to score your seat, as everyone will be able to choose their seat when you grab your ticket! There will be breaks between workshops and time for you to stretch your legs outside at our new fabulous location.
Some things you can look forward to are:
Our infamous DJ Lena
4 unique workshops
Reserved seating
Broadway themed tables
Swag bags
Raffle prizes
20+ pop-up shops
Make-and-takes
VIP appearances
And much more to come....
Planning is a community built on creativity, whimsy and imagination. We hope you will join our community for what we know will be a successful and fabulous summer planner event!
No refunds or cancellation. Tickets are transferable up to 90 days prior to the event. If you have any questions please email: NYCPlannerAddicts@gmail.com