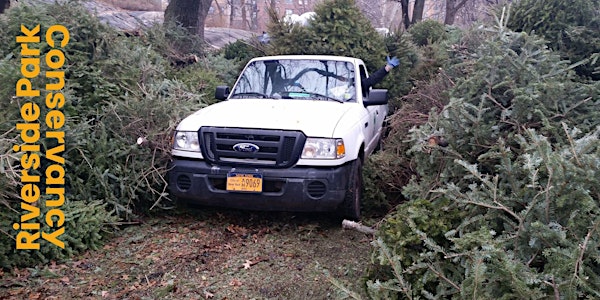 NYC Parks MulchFest - W83rd Street
Join the Riverside Park Conservancy staff and NYC Parks Department to recycle your Christmas trees into wood chips.
When and where
Location
River Run Playground Riverside Drive New York, NY 10024
About this event
Bring your Christmas tree to Riverside Park to be recycled into mulch that will nourish plantings in the Park all year long!
These wood chips are used to nourish trees and plants on streets and gardens citywide. And here's the best part – you can take a bag of Christmas tree mulch home with you!
HERE'S HOW YOU CAN GET INVOLVED
1. Volunteer (on January 7)
Volunteers are needed to "de-Christmas" the trees left for recycling. We will be removing ornaments, lights, and getting the trees ready to chip. Then, we'll spread Christmas tree mulch around street trees along Riverside Drive.
Please register on Eventbrite to volunteer and review our health and safety protocol below.
2. Treecycle (from December 26 - January 31)
Recycle your Christmas tree in Riverside Park. Drop your tree at any park entrance and we will bring it to our chipping site to be Treecycled. The chips from your tree will be used as mulch throughout the park. You can even take home a bag of mulch to provide warm winter protection for the street tree in front of your apartment. No need to register - just come on by!
More than 25,000 trees were recycled last year city-wide. Help us top this number!
**Note: Please remember to remove all lights and ornaments before bringing the tree to a MulchFest site. For more info on citywide tree drop-off and chipping sites, please visit https://www.nycgovparks.org/highlights/festivals/mulchfest.
Health & Safety Procedures
The health and safety of our staff and volunteers is of our utmost concern. With COVID-19 and the Omicron variant at the top of everyone's mind, we have put in a number of additional practices that we require our volunteers to follow. Below, please read carefully through all our health & safety procedures.
Each individual volunteer must:
· Bring your own water in your reusable water bottle
· Wear closed-toe shoes and comfortable clothing that can get dirty.
· Keep all personal items with you at all times, as we will not have an area for bags.
· Masks and social distancing are recommended, but not required.
On the day of the project, if you are sick or not feeling well, STAY HOME! It is not worth the risk to you or to others. If any volunteer refuses to follow our health & safety procedures, they will be dismissed from the project. We take everyone's safety very seriously, and greatly appreciate your compliance as we work to move our park forward.