NYC Network Nights-Network With Our Member Experts

Thursday, March 10, 2011 from 6:00 PM to 9:00 PM (EST)
Event Details
Network Nights presents - Network With 'Our' Member Experts
(note address change)(437 Madison)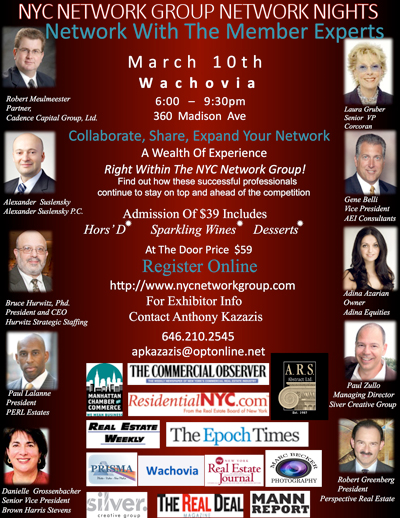 Sometimes you don't need to look any further than your own Networking Group.
The NYC Network Group boasts the best and brightest in the NYC Real Estate Industry.
This has been an exceptionally tough time and these professionals have managed to
continue to be successful right through the recession. Is it over yet-no one knows for sure
but we recommend that you take the time to see what strategies have been working
and which ones haven't - maybe you already know that!
In any case here is a great opportunity to come out and (parler) with the best!
Our Networking Member Experts for the evening:

Adina Azarian
 Adina Azarian is the Owner of Adina Equities. Adina's Real Estate career began at the age of 21 when she opened up the newspaper and read, "Help Wanted . . . No Experience Necessary." That same day Adina interviewed with a top Manhattan broker who recognized her potential and hired her on the spot. Armed with a Real Estate Agent's license, Adina set off to learn the Real Estate business. She was a natural success and before she knew it, she too was a top producer. Within five years, feeling confident in her abilities and talent required to go off on her own, Adina  headed out to start her own company - she set up a phone and a fax machine in her small New York City one bedroom apartment, and thus Adina Equities was born.
Adina was featured in Chapter 2 of Donald Trump's Real Estate Book "The Best Real Advice I Ever Received". She was one of only ten females selected to be in the book, and the only broker invited to include a chapter that specialized in New York City Residential Rentals. Adina appeared on NY Residential TV and taped a web cast for The Real Deal Magazine speaking as an expert about the Rental Market.

Alexander Suslensky
Alexander Suslensky is the managing attorney of the Law Firm of Alexander Suslensky, P.C., a boutique Midtown Manhattan law firm specializing in closing real estate transactions.  The firm represents buyers, sellers and several lenders, including Wells Fargo Bank, N.A. at closings.  Mr. Suslensky is highly regarded as an expert in real estate law.  He is frequently quoted in The New York Times Real Estate Section and presents lectures on real estate law at The New York County Lawyers Association and other venues. 

Bruce Hurvitz
Bruce A. Hurwitz, Ph.D., president and CEO of Hurwitz Strategic Staffing, Ltd., is an executive recruiter and career counselor.  He is a recognized authority on issues concerning recruitment, employment and career advancement having been quoted, since May 2010, in over 100 publications including USA Today, US News & World Report, the New York Post and The Star-Ledger.  The mission of HSS is to promote the hiring of veterans of the US Armed Forces and Merchant Marines.
 
Danielle Grossenbacher
With 26 years of experience as a Real Estate Broker and as a former diplomat, Danielle Grossenbacher has developed a solid reputation of integrity, energy and strong negotiating skills and has established a wide network of international contacts.
Catering to an extensive clientele, she is highly experienced working with foreign investors and developers. Danielle speaks English, French, German and Spanish. She takes care of all the Real Estate needs of her customers, whether residential or commercial. She specializes in Manhattan residential, commercial and investment properties, as well as 1031 Exchanges.
She is currently the President of the New York Chapter of the International Federation of Real Estate called FIABCI, and a member of the Real Estate Board of New York.
Danielle Grossenbacher joined Brown Harris Stevens in 2007.

Gene Belli
Mr. Belli is a highly respected seasoned professional of the real estate due diligence industry. His professional career started in 1984 performing environmental and geotechnical investigations at military installations, nuclear power plants, landfills, waste water treatment facilities and industrial facilities. He was actively involved with New Jersey 's Environmental Cleanup Responsibility Act (ECRA) currently known as the Industrial Site Recovery Act.  Mr. Belli also served as an Environmental Manager for a Regional and International Bank, where he was responsible for the development of the banks environmental department including developing risk management policies and procedures for the Wholesale Banking Division. Mr. Belli was responsible for retaining consultants, contractors and legal counsel to assist the Bank in evaluating and managing risk and liabilities. During his time at the International Bank he provided due diligence support on the first commercial mortgage backed securities program.  From 1999 to 2009, Mr. Belli was a Vice President with an international due diligence firm and was responsible for the Eastern Region and the Canadian Operations.  Mr. Belli's oversight included environmental and property condition assessments, commercial valuation (appraisal), construction project management, cost segregation and lease abstracting. 
 
Laura Gruber

TOP TEN BROKERS HONOR...ONE OF THE TOP 1,000 SALES ASSOCIATES IN ALL OF NRT RANKING IN THE TOP 2% OF THE COMPANY AMONG OVER 46,000 AGENTS in the most difficult of economies for real estate...Also elected as liaison on the Corcoran Advisory Board Counsel for her office. It is not hard to understand how Laura continues to be a consistent member of Corcoran's Multimillion Dollar Club. Laura is a career real estate agent dedicated to ensuring her customers have smooth, positive and successful transactions.
"IT IS WHAT I WANT TO DO; IT IS WHAT I LOVE TO DO; IT IS WHO I AM."

Paul Lalanne
Paul Lalanne runs a dynamic business development firm. By taking an organic approach in wealth management, his firm is anchored in teaching sound leadership principles to organizations, businesses & individuals in the market place. 
His teams equip corporations and business owners in mastering the fundamentals on leadership and asset management with a primary focus on living with balance. 
His passion lies in touching lives by providing solutions to develop successful leaders in the workplace. He continues to work closely with churches, media & real estate companies. He's helped mentor teams that have led to The Women Creating Wealth initiative and the Latin initiative for Business Owners. Paul's drive for discipline grew from a fascinating career working aboard nuclear submarines. After an exhilarating tenure in media, he merged his background with asset management and carved his niche in the world of business development. He holds his Bachelors Degree from Southern Illinois University. Licenses: NY & NJ State Insurance, Banking, Annuities and Investments.

 Robert Greenberg
Robert D. Greenberg, AICP, President/Editorial Director' Perspective Real Estate Media Group
Mr. Greenberg is an architect, licensed professional planner and active real estate broker/development consultant. After attending NJIT School of Architecture he earned a Masters in City & Regional Planning from Rutgers University and worked for over 20 years in the field as space planner and facility manager for ExxonMobil and Merrill Lynch & Co., professional planner for real estate developers, parking authorities and communities in New York and New Jersey, and as a project director and business development officer for major architectural firms including Grad Associates and The Hillier Group before starting the real estate magazine buisness in 2002. He publishes two regional real estate magazines: Perspective New York and Perspective New Jersey. The magazines are read by more than 50,000 real estate developers, owner's reps, brokers, property managers, corporate real estate executives, facility managers, general contractors, architects and engineers.

Paul Zullo
 Paul Zullo, Managing Director, Silver Creative Group
Drawing on his solid foundation from NYU's Stern School of Business and over 20 years of tactical business experience, Paul Zullo oversees account services as Managing Director of Silver Creative Group. The 12-person team based in South Norwalk, CT acts as an outsourced marketing department for it's clients. As the agency visionary, Paul ensures the firm is at the forefront of marketing technology. Silver Creative Group has built a solid reputation for developing highly effective integrated marketing campaigns for real estate projects. The nationally recognized agency has helped to brand and launch a number of high-profile properties in the tri-state area including New York residential buildings: 2 Gold Street, 505W37, 200 Water Street, 99 John Deco Lofts, The Ormonde and 4705 Center Blvd; Luxury office buildings: Carnegie Hall Tower and 300 Park Avenue South; and mixed-use developments: Riverbend District in Harrison, NJ and Waypointe in Norwalk, CT.With a client list that includes some of New York City's leading real estate developers, Silver Creative Group has a proven record of increasing sales and generating awareness. Combining category experience with creative thinking and smart design, Paul and his team help to develop effective communication strategies which are implemented through marketing programs consisting of traditional and online tactics to take their clients' brands to the next level.

Robert Meulmeester
Robert J. Meulmeester
Partner, Cadence Capital Group, LLC
Mr. Meulmeester is a multilingual international real estate executive with over 13 years of experience in real estate investment and divestment strategy advisory, financial structuring and capital placement, real estate due diligence and valuation, site selection and feasibility studies. Prior to joining Cadence Capital Group, Mr. Meulmeester has worked in advisory roles for Deloitte & Touche and Arthur Andersen in offices in Amsterdam, Brussels, and New York where he served various Fortune 1,000 companies globally. Most recently, Mr. Meulmeester was a senior manager in the real estate consulting practice with Deloitte Financial Advisory Services in New York where he provided investment advisory, and valuation studies for management decision making, sale-leaseback structuring, financial reporting and tax reporting purposes. In addition, he has provided guidance on loan underwriting and collateral valuation for mortgage investors.
 Mr. Meulmeester has a Master in Economics from the University of Amsterdam in the Netherlands with a specialization in International Business and Real Estate. Mr. Meulmeester is also an adjunct professor of Real Estate Finance at the Schack Institute of Real Estate at New York University. He is a member of the Urban Land Institute, New York District Council, and he is a Member of the Royal Institute of Chartered Surveyors. 
"Don't Miss This Opportunity!"
When & Where

Wachovia(Wells Fargo)
437 Madison Ave
Madison and 49th St
New York, NY 10017


Thursday, March 10, 2011 from 6:00 PM to 9:00 PM (EST)
Add to my calendar
Organizer
NYC Network Group Inc
NYC Network Group Inc
NYC Network Group specializes in providing valuable business connections for real estate and tech industry professionals in the most exciting venue available...New York City!
Anthony Kazazis, Director, NYC Network Group Inc


NYC Network Group Inc is an organization that offers 4 Events within the year the NYC Real Estate Expo, the NYC Finance Expo, the NYC Tech Expo & the NYC Black Tie Gala in New York City. Come join us & to meet with other top professionals representing all real estate related industries including law, accounting, banking, marketing, architecture, financial planning, real estate brokers and bankers, to name a few.

It is more important than ever to have a network of resources, information and support. The NYC Network Group provides the opportunity to cultivate productive business relationships with your ideal clientele.

Make the most out of your face-to-face networking at one of our events sponsored by NYC Network Group Inc.

Come and meet your next client in person!

Because There is NO Substitute for a Handshake!


Save The Date
April 18 2018
NYC Network Groups Inc Presents:
The NYC Real Estate Expo
The NYC Finance Expo
&
The NYC Tech Expo
04.18.18
All under on roof at the NY Hilton (Midtown) 
1335 Avenue of America, New York, NY 10019 (Between 53rd & 54th Street)


Please visit us at www.nycnetworkgroup.com
Anthony Kazazis
akazazis@nycnetworkgroup.com
646.210.2545
NYC Network Nights-Network With Our Member Experts