Description
On Thursday, December 13th, 2018, "NYC Leadership Summit: Investment, Innovation, and Impact," will bring together key leaders from across the city, state, and region to focus on the intersection of investment, innovation, and impact in the smart city space.
Conversation will revolve around building smart cities from various perspectives. The discussion will range from opportunity zones and technological innovation in cities to how organizations are making an impact in communities.
Event Basics:
1-5 PM EST

Featured Speakers

Startup Presentations

Panels (Investment, Innovation, Impact)

Networking (throughout the event)
A special thank you to event sponsors and partners, including Venture Smarter, Turf Advisory, and Spherical Analytics!

Meet the Speakers:
We are excited to announce some of the experts who will be joining us to share their perspective on building smart cities, regions and industries. Learn more about these distinguished speakers here and preview below!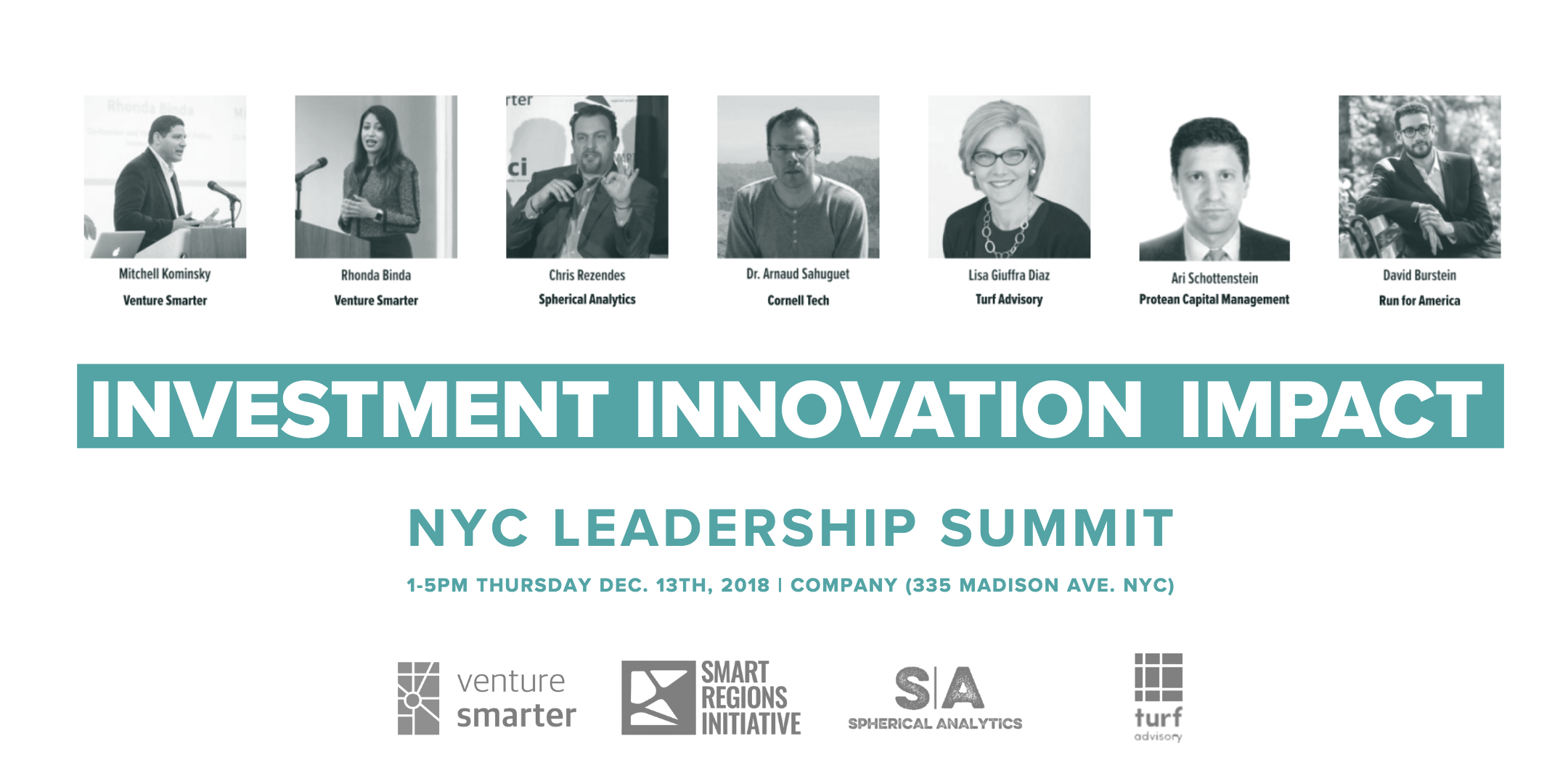 JEANNETTE RAUSCH, DIRECTOR OF PLANNING AND DEVELOPMENT, LONG ISLAND CITY PARTNERSHIP
LOVELIE TEJADA, DIRECTOR OF OUTREACH, CONGRESS MEMBER YVETTE D. CLARKE (NY-9)
KISHA SANTIAGO, DEPUTY SECRETARY OF STATE FOR PLANNING, DEVELOPMENT, AND COMMUNITY INFRASTRUCTURE, NEW YORK DEPARTMENT OF STATE
PHIL JONES, SENIOR DIRECTOR OF THE EAST COAST, LIME
DONAHUE PEEBLES III, DIRECTOR OF DEVELOPMENT, PEEBLES CORPORATION
SHIRA MAZOR, PARTNERSHIPS DIRECTOR, RENTLOGIC
DAVID BURSTEIN, FOUNDER, RUN FOR AMERICA
LISA GIUFFRA DIAZ, FOUNDER AND MANAGING PARTNER, TURF ADVISORY
MITCHELL KOMINSKY, CO-FOUNDER AND CHIEF STRATEGY OFFICER, VENTURE SMARTER
DR. ARNAUD SAHUGUET, DIRECTOR OF THE FOUNDRY, CORNELL TECH
RHONDA BINDA, CO-FOUNDER AND VP POLICY, VENTURE SMARTER; EXECUTIVE DIRECTOR, SMART REGIONS INITIATIVE
ARI SCHOTTENSTEIN, PRINCIPAL, PROTEAN CAPITAL MANAGEMENT
CHRIS REZENDES, CHIEF BUSINESS OFFICER, SPHERICAL ANALYTICS
YOUSSEF KALAD, PROGRAM DIRECTOR OF NYCX, NYC MAYOR'S OFFICE OF THE CHIEF TECHNOLOGY OFFICER
JAYSON WHITE, AUTHOR, THE NEXT AMERICAN CITY; INDEPENDENT CONSULTANT, URBAN AFFAIRS AND INNOVATION
DAVID SOARES, PRESIDENT & CEO, LEXDEN CAPITAL
ZACK HUHN, CHIEF EXECUTIVE OFFICER, CO-FOUNDER
AARON T. MANAIGO, CO-FOUNDER, NATIONAL INFRASTRUCTURE AND INVESTMENT ALLIANCE (NIIA); MANAGING PARTNER, GLOBAL POLITICAL SOLUTIONS
CLAYTON BANKS, CEO, SILICON HARLEM
BRUCE LINCOLN, SILICON HARLEM
Expected attendees and participants: from the investment community, technology companies, real estate developers, key stakeholders in the community, government and university officials, urban planners, and more.
Background: On June 26, the theme of resilience was highlighted during Venture Smarter's 'Resilient NYC Summit', where leaders came together to share their success stories, challenges, and opportunities to collaborate looking through the lens of smart and connected development. Speaker and guests from NYCx, Verizon, 100 Resilient Cities, NYCEDC, Cornell Tech, and others contributed to a productive discussion that lead to action in a number of neighborhoods across the city. Moreover, the City and State of New York have been taking large strides to prioritize smart city planning and investment that puts people first, all while focusing on important elements of resilience such as privacy, cybersecurity, sustainability, and community development.
How can I get involved?
You can register to attend, or learn more about event sponsorship and partnership opportunities here.
Speaking requests please email rhonda@venturesmarter.com
Learn more about Venture Smarter at https://www.venturesmarter.com