Description

Don't miss this opportunity to talk FinTech with industry insiders and discover exciting prospects for investment and collaboration.
Agenda:
6:00 - 6:30 p.m. Cocktail and networking reception
6:30 - 6:45 p.m. Event Introduction Joe Daniels, McCarter & English
6:45 - 7:15 p.m. Keynote Presentation, Abhi Anuket, Magnivia Ventures
7:15 - 8:30 p.m. Presentations by:
Om Kundu, Founder, InspirAVE
Yvan De Munck, Director of Business Development, James
Ken Staut, Founder, GrowthFountain
8:30 -- Networking
Keynote Companies: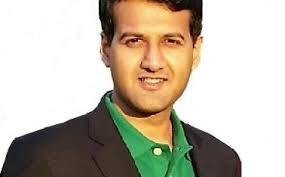 Abhi Anuket, Founder & Managing Principal, Magnivia Ventures.
Abhi Anuket is an entrepreneur, strategic investor and advisor based in NJ. He is the Founder and Principal of Magnivia Ventures, a strategic investment and venture development firm. He has 14 years of operating experience in the financial services and technology industry and he is active across PE and VC. Abhi has also been developing a highly selective, cross-border innovation program, with a focus upon FinTech and Enterprise Startups since earlier this year, planned chapters include locations in Europe and Asia among others. He is also a speaker and has hosted FinTech events in Amsterdam, Mumbai and New York as a FinTech and Data Management SME. Most recently he was a Judge and Panelist at SXSW in Austin for FinTech & Payments and was also one of the first international judges at the Australian FinTech Awards 'Finnies' in 2017
Presenting Companies:
About InSpirAVE — The Internet of Savings®

Named "Top FinTech Forward Company To Watch" by AMERICAN BANKER and BAI, InSpirAVE's social e-commerce platform inspires people to multiply their savings and afford big purchase goals for life's special moments. Our patent-pending technology combines the best savings from merchants and banks, with support from friends and family to place big purchases within reach, without debt… informed by the InSpirAVE Team's decades in track-record across retail, e-commerce, and financial technology:

At a time when 30% of purchases are regretted and ½ live paycheck-to-paycheck, InSpirAVE's impact has elicited critical acclaim from leading forums including SXSW, EFMA, and Finovate — for financially empowering users to make responsible purchase decisions and personalized plans to 'save more, faster' until their big purchase-goal is delivered right to their doorstep: InSpirAVE's partner merchants and banks are equally setting themselves apart as socially impactful brands while realizing the materially significant benefits of new revenue-streams from expanded, engaged customer relationships with enduring loyalty:

James is a one-stop shop for Credit Risk Management, that allows you to easily create, validate, deploy, and monitor regulation-ready, high-performing predictive models.James's purpose is to make sure risk teams have continuous access to state of the art data science techniques and up to date validation and monitoring requirements, without having to setup complex software solutions. Clients who are using James are seeing acceptance rates i.e. volume increases of 10%+ and defaults/charge-off decreases of up to 30%. With James, we're bringing Artificial Intelligence and Machine Learning into your practice, today.

About GrowthFountain
You deserve a better way to raise the money you need to grow.
We banded together with a simple mission: to simplify fundraising and help businesses raise capital. Everybody in the world now has the ability to invest directly in America's entrepreneurs. You should come take a look:
List your fundraise

Activate your network

Once you create momentum, our 1 million member network can provide meaningful additional capital
GrowthFountain is an SEC registered Funding Portal and FINRA Member where individuals can come together to support entrepreneurs and small businesses across America. To learn more about GrowthFountain please visit www.growthfountain.com.
Sponsored By:



Organized by:
Saddlerock Advisors
Registration subject to verification of credentials. We do not accept registrations from individuals or companies that we deem to offer competitive services. We reserve the right to limit attendance.
For more information visit our website