Description

Don't miss this opportunity to talk FinTech
with industry insiders and discover exciting prospects for investment and collaboration.
Wednesday, May 24th
Rise New York
43 W 23rd St
2nd Fl
New York, NY
Agenda:
6:00 - 6:30 p.m. Cocktail and networking reception
6:30 - 6:45 p.m. Event Introduction Joe Daniels, McCarter & English
6:45 - 7:15 p.m. Keynote Presentation: Tom McDermott, Managing Director at Cambridge Wilkinson
7:15 - 8:30 p.m. Presentations by:
Arindam Nag, CEO, CentSai
LD Salmanson, CEO, Cherre
Ed Zabar, CEO, Verif-y
8:30 - 9:30 p.m. Networking
Keynote Presenter:
Tom McDermott is an investment banker with Cambridge Wilkinson, specializing in the financial services industry and Fintech. The vast majority of his career was marked as a global operating executive. He was the Founder and Managing Director of Money Access Financial, an advisory business to CEO's focused on innovative strategy, execution and capital raising. A transformative innovator, he successfully led businesses with up to $1 billion in revenue and $1 billion in loan originations at Fortune 500 firms including First Data Corp, Western Union and Capital One and grown emerging, PE and VC-backed businesses, including Borro. He has a global classical marketing foundation having worked with Unilever, Nabisco and Reckitt Benckiser, where he had marketing, sales and general management roles and included eight years of overseas assignments in Europe and Latin America. He is a long-standing board director and Vice-Chair of Accion East, a micro lender to SMB's.

Mr. McDermott received his BS in Business Administration, Magna Cum Laude, from Boston College and is fluent in Spanish.

Mr. McDermott has his Series 79 & 63 licenses and resides in Northern New Jersey.
Presenting Companies:

CentSai is a social-media platform focused on making financial education fun. Children, teenagers, women and millennials have their independent landing pages, rich with videos, articles, blogs, games and quizzes. Financial experts can join the platform and engage with adults, participate in Q&A and discussions surrounding questions on day-to-day financial issues including savings, loans and wealth management. Individuals or groups in financial and economic education can join our community.

Cherre is the market network for real estate. We are committed to empowering all stakeholders with an interconnected data-driven platform. We are a dedicated group of real estate and technology professionals, each with a proven track record of successfully building and selling world class products and companies. We understand the human and data challenges that the real estate industry faces, and our platform makes powerful and valuable interactions ridiculously easy and enjoyable!

Verif-y is the only user-centric platform where companies, educators and individuals can directly exchange automatically-verified (blockchain based) professional credentials
Sponsored By:
Joseph Daniels
Mr. Daniels is Co-Chair of the firm's Venture Capital & Emerging Companies practice, representing startup to publicly-held technology, life science and consumer companies, venture capital and private equity funds and investment banks in a wide range of seed and venture financings, mergers and acquisitions, IPOs and other public offerings. He regularly advises a broad range of startups, venture-backed companies and VC funds, and has led hundreds of venture and strategic financing transactions. Mr. Daniels has helped companies and private equity firms handle dozens of merger, acquisition and disposition transactions. Additionally, he has represented issuers and underwriters in scores of IPOs and follow-on public offerings involving companies in the technology, life sciences and consumer sectors, including leading investment banks such as Credit Suisse, Morgan Stanley and Oppenheimer. Mr. Daniels also serves as outside general counsel for numerous companies, assisting them with everything from day-to-day business transactions to multinational strategic alliance transactions ranging from technology and distribution partnerships to joint ventures. He focuses on representing clients involved in high-growth sectors, and has experience with a broad range of industries, including adtech, agile aerospace, artificial intelligence, biotech, cleantech, consumer, digital media, ecommerce, energy, Internet of Things, Fintech/financial services, life sciences, mobile, semiconductor, software and telecommunications.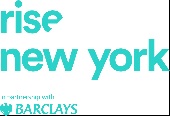 Rise New York offers you the ideal base for connecting, growing and launching your FinTech business. Working at Rise New York means you won't be confined to a traditional office environment – you'll have the space to experiment, collaborate and learn.

If you're involved in fintech, you need to be involved in Rise.
Visit us at https://thinkrise.com/newyork.html
Organized by:
Saddlerock Advisors
Registration subject to verification of credentials. We do not accept registrations from individuals or companies that we deem to offer competitive services. We reserve the right to limit attendance.
For more information visit our website