NYC-EVOLUTION OF CURVES FINALE 2013

Saturday, November 9, 2013 at 6:00 PM (EST)
Event Details
One Chance Entertainment presents...
"Evolution of CURVES" (Haiti Will Rise Again) 
Charity Fashion Show Tour
As seen on TV-E! Network & STYLES Network...this fashion show with a purpose is coming to an end at the fashion capital New York City.
Empowering women with CURVES and at the same time...continuing to HELP HAITI! (Haiti Will Rise Again)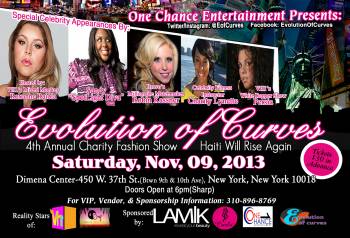 "Curves are not only back with a vengence...they are back with a PURPOSE!" said Sandy Jean Phillipe, on national TV, as the tour made it's debut on E! Network. Last years tour enabled us to purchase land in Haiti & this year, we hope to raise enough funds to build homes on those lands and finally get families out of those hot tents & into real homes. Sandy J.Phillipe, who is a full-figured Haitian model & producer of "Evolution of Curves" , has partnered withHaiti Cherie Heritage Foundation 501c3 in donating proceeds to help REBUILD HAITI.
Your support goes towards ---> http://www.youtube.com/watch?v=1lh9HH8EzMI&feature=c4-overview&list=UUh791k_GBN-sp4CVczjzr6A
                                                      www.evolutionofcurves.com
HOSTED BY THE STAR OF VH1'S MIAMI MONKEY 
ROXANNE RAIOLA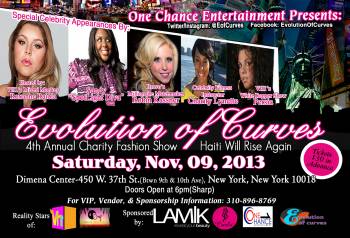 EVENT DETAILS: SATURDAY NOVEMBER 9 , 2013 DOORS OPEN AT 6 PM
THE DIMENNA CENTER 

(Cary Hall) 
450 West 37th Street (between 9th & 10th Avenue) 
New York, NY10018
REFRESHMENTS WILL BE SERVED
SPECIAL VIP TICKETS WILL BE AVAILABLE (INCLUDES SPECIAL GIFT BAG, PREFERRED SEATING AND MORE...) $40.00
SPACE IS LIMITED GET YOUR TICKETS TODAY TO THE HOTTEST SHOW THAT WILL HIT NEW YORK
(EVOLUTION OF CURVES IS SET TO EDUCATE, EMPOWER AND MOST CERTAINLY ENTERTAIN)
THIS EVENT IS SPONSORED BY LAMIKE BEAUTY COSMETICS AND ONE CHANCE ENTERTAINMENT