build Safe | live Safe Digital 2021: Safety and Sustainability, a week long virtual construction industry conference will take place May 3rd
About this event
Every year, we look forward to connecting with our industry partners at our annual Build Safe | Live Safe Conference. As you know, due to COVID-19 our annual in-person event had to be rescheduled last year. Unfortunately, COVID-19 restrictions and venue capacity limits dictate that we again must postpone the event until September 2022. We sincerely apologize for any inconvenience this may cause you. Your registration is still valid for our in-person conference.
But once again you still have an opportunity this year to discuss industry trends and safe construction operations with DOB experts, all while earning continuing education credits. DOB will again host our free all digital event, featuring a full week of seminars, and including sessions focused on worker safety in English, Spanish, Chinese (Mandarin) and Polish. Build Safe | Live Safe Digital 2021: Safety and Sustainability, a week long virtual construction industry conference will take place May 3rd to May 7th, 2021.
As a Build Safe | Live Safe ticket holder, we want to give you the first opportunity to register for courses before we open them up to the general public. See the full schedule of seminars and register to attend here!
We remain excited to host you in-person in October and look forward to your participation in our digital conference this May. Stay safe and thank you for your patience as we all get through this together.
https://nycdob-events.webex.com/nycdob-events/onstage/g.php?PRID=78950bed6663df74d2a81e712b226599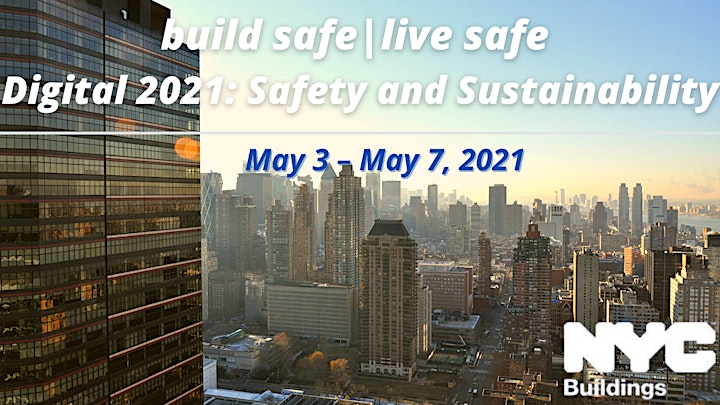 Organizer of NYC Department of Buildings 2020 Build Safe|Live Safe Conference

The Department enforces compliance with these regulations and promotes worker and public safety through its review and approval of building plans, permitting and licensing functions, and inspections. In addition to Code and Zoning compliance review, emergency response and professional analysis of accidents to prevent future incidents, the Department has strengthened its education and outreach programs to provide the construction industry, property owners and tenants with a heightened understanding of safety awareness.

The Department is committed to providing efficient service to all New Yorkers by continuously assessing the equitable distribution of resources to meet the safety and permitting needs of residents across all five boroughs; enhancing the quality of life for all New Yorkers and making our City safer.