Description
Manhattan Real Estate Agents and Real Estate Professionals are invited to an evening of Condos, Co-ops, and Cocktails Presented by Movement Mortgage and the Law Office of Abrams Garfinkel Margolis Bergson featuring Sam Chazanow, Neil Garfinkle, and April Martin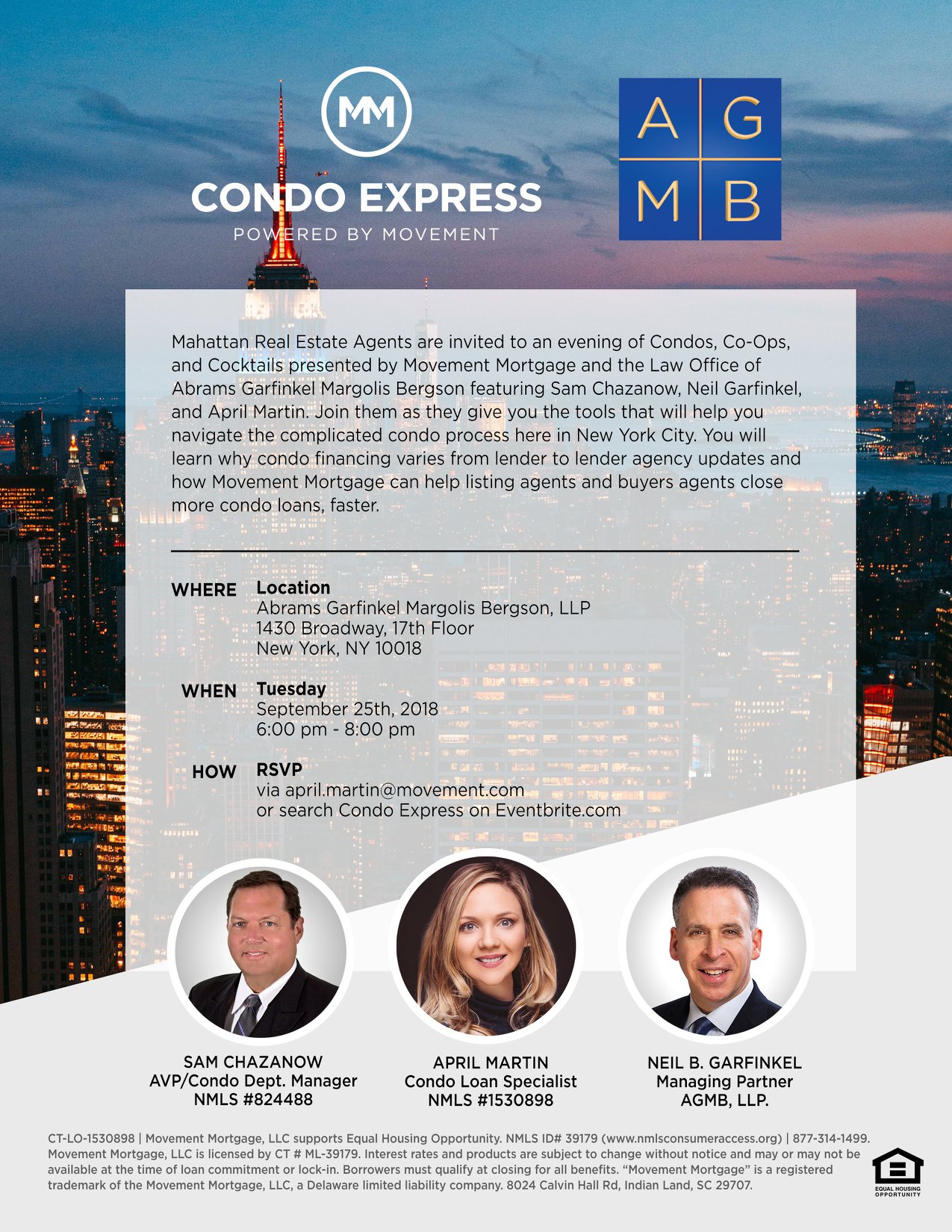 Learn as we give you the tools that will help you navigate the condo process in NYC. You'll learn why condo financing varies from lender to lender, the benefits of limited review, and the key issues and requirements to be aware of.
You'll also hear about agency updates – FNMA's recent changes that will help make condo financing easier, various types of condo projects in the NY market, and why Lenders review project characteristics.
Learn how MM can help get condo projects approved for VA and FHA financing with absolutely no cost to HOA or Management Company. Answers to frequently asked questions on Condo/Coop Questionnaire – Ineligible Characteristics, Warrantable vs. Non-Warrantable will be presented.
The information portion of the evening will close with a discussion of Rescue loans and MM's Condo Renovation Program. Q&A session to follow.
About the Hosts: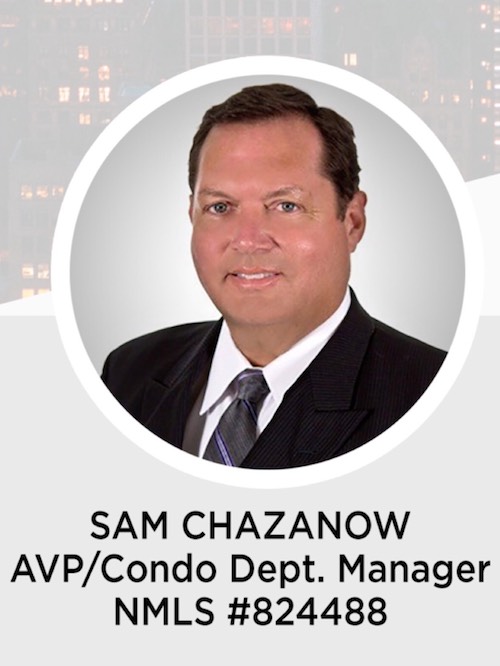 Sam Chazanow is an expert in the field of condominium financing. He has worked in the mortgage banking industry for over 30 years and possesses an extensive background in all areas of loan production and operations. During his tenure as manager of Movement Mortgage's CondoExpress Department, his team has approved thousands of condominium projects for Fannie Mae, Freddie Mac and has sponsored hundreds of projects for FHA, VA, and USDA financing. Sam regularly conducts Condominium Financing Seminars for Realtors and Loan Officers throughout the US. He also teaches "Fundamentals of Condominium Financing", a course he developed for Realtor Continuing Ed credit in several states. He is the recipient of the prestigious "Certified Mortgage Banker" designation, the highest professional designation in the residential real estate finance industry awarded by the Mortgage Bankers Association. (NMLS #824488)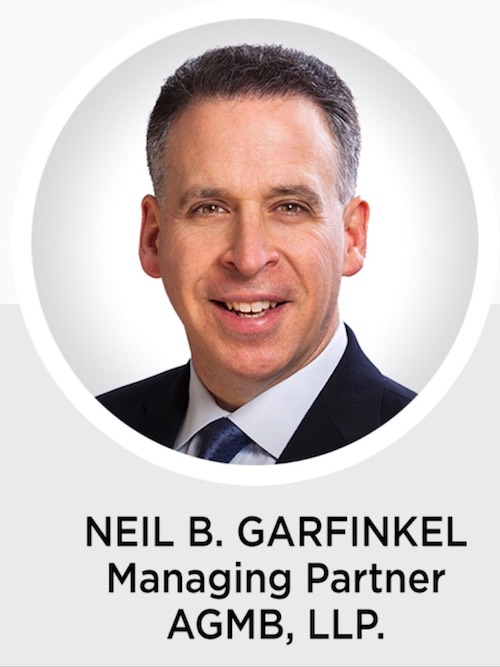 Neil B. Garfinkel is the managing partner of Abrams Garfinkel Margolis Bergson, LLP ("AGMB"), a full service law firm he co-founded in 1995. He serves as the partner-in-charge of the real estate and banking practices of AGMB, which has offices in New York and California.
Neil serves as Broker Counsel to the Real Estate Board of New York ("REBNY"), where he hosts the REBNY Legal Line and authors the REBNY Question of the Week. Additionally, he and AGMB serve as Counsel to the Empire State Mortgage Bankers Association and the New York State Mortgage Brokers Association.
Recently, Mr. Garfinkel was appointed to the New York State Board of Real Estate by Governor Andrew Cuomo. He is also certified by the New York State Department of State as an instructor of real estate courses and he enjoys teaching and speaking about a variety of real estate and banking topics. He is frequently quoted in publications and media outlets nationwide.
Mr. Garfinkel is a Village Trustee for the Village of Kensington in Great Neck, New York and is a member of a number of professional and charitable organizations and clubs.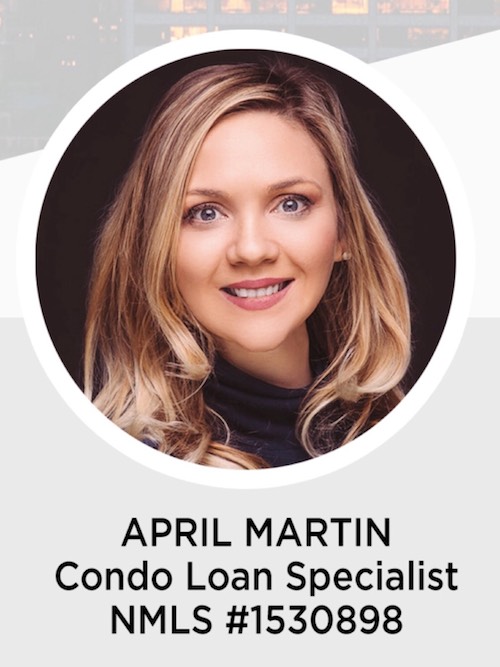 April Martin is a NY licensed loan officer (NMLS 1530898). She specializes in financing condos and co-ops, as well as renovations, and investments. Having worked in NYC over 14 years, April has a vast network of clients and referral partners as well as experience and expertise in the nuances of the Manhattan market.