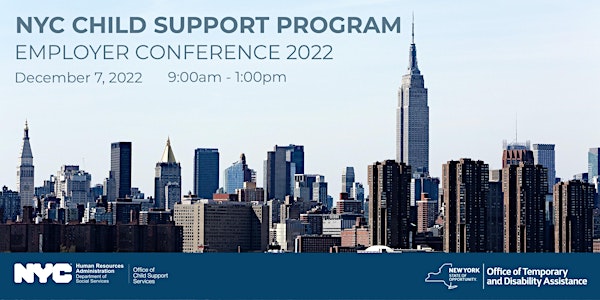 NYC Child Support Program Employer Conference 2022
NYC Child Support Program Employer Conference
About this event
System requirements: Cisco Webex Meetings will be required to attend this event.
Employers are vital partners to the City's child support program; employers typically remit close to $640 million per year to NYC families by income-withholding. Despite this success, employers of all sizes have questions about the child support program's complex requirements and procedures governing wage garnishment.
Join us for a half day-long online conference [9:00a.m.- 1:00p.m.] that will give everyone from payroll managers to individual business owners the tools they need to meet their legal obligations, while also serving the needs of their employees and their families.
Co-sponsored by the NYC DSS/HRA Office of Child Support Services and the New York State Division of Child Support Services, this conference will give you practical guidance on such topics as new hire reporting and the new 2022 state requirement that employers report independent contractors, as well as processing income-withholding and medical support orders.
Presenters include Michael Pocchia, Executive Director, Enforcement Operations with OCSS/HRA and Mary Hans, Child Support Specialist with Child Support Services (NYS DCSS). The conference will be moderated by Elizabeth Kumar, Deputy Commissioner with OCSS/HRA. There will be a special address to attendees by Eileen Stack, Deputy Commissioner with NYS DCSS, Frances Pardus-Abbadessa, Executive Deputy Commissioner with OCSS/HRA, and Alice Jacobsohn, Director for Government Relations with the American Payroll Association (APA).
The conference is also a chance for you to ask questions of the child support experts presenting.
Opportunity to earn 3 RCH credits through the American Payroll Association (APA). If you received credits for the June conference you will be ineligible to receive credits.