About this Event
The Lit-uation...
Eventbrite registration is required to join the book signing line and guarantee your signed copy of Small Doses. A signed copy is included with your paid ticket. Limited additional copies will be available for purchase onsite. Books will be autographed, but not personalized. See ticket page for ticket options and additional details.
6:30 PM Check-in
7 PM TALK: Amanda Seales presents Small Doses (conversation partner TBA), Reading, and Q&A.
8 PM RECEPTION: Meet & greet Amanda Seales! Pull up to our wine bar and enjoy light bites, dessert, drinks, and music during the signing.
ABOUT THE BOOK:
Insightful essays, poignant life advice, and pithy pearls of wisdom from one of comedy's brightest rising stars
Comedian, writer, actress, and social media star Amanda Seales is a force of nature who has fearlessly and passionately charted her own course through life and career. Now, in her one-of-a-kind voice that blends academic intellectualism, Black American colloquialisms, and pop culture fanaticism, she's bringing her life's lessons and laughs to the page. This volume of essays, axioms, original illustrations, and photos provides Seales' trademark "self-help from the hip" style of commentary, fueled by ideology formed from her own victories, struggles, research, mistakes, risks, and pay-offs. Unapologetic, fiercely funny, and searingly honest, Small Doses engages, empowers, and enlightens readers on how to find their truths while still finding the funny!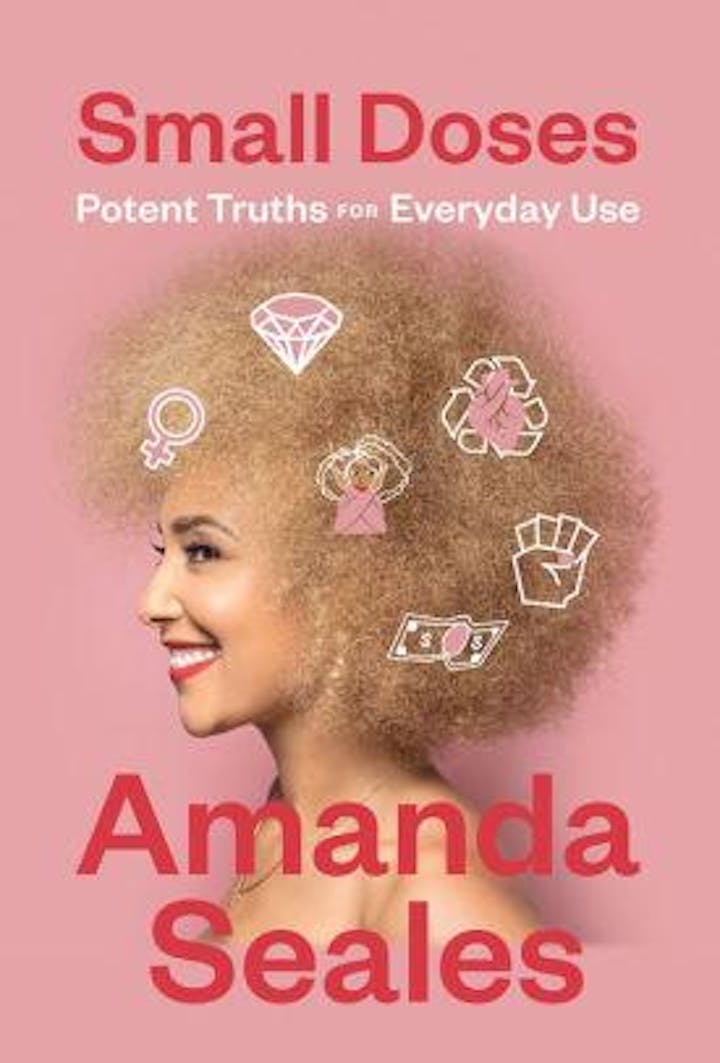 ABOUT THE AUTHOR
Comedian, actress, writer, producer, and more, Amanda Seales doesn't just make you laugh, she makes change!
With an uncanny knack for taking serious topics (racism, rape culture, sexism, police brutality, etc.) and with humor, making them relatable and interesting, she combines intellectual wit, silliness, and a pop culture obsession to create her unique style of smart funny content for the stage and screens.
Along with performing stand up across the globe, and touring colleges doing comedic lectures, this former MTV VJ with a master's in African American studies from Columbia University plays Tiffany on, HBO's "Insecure", is the host of NBC's, Bring the Funny, shines in her debut stand up special, I Be Knowin on HBO, is the creator/host of the variety game show, "Smart Funny & Black", speaks truth to change via her wildly popular Instagram, and weekly podcast, "Small Doses", which will have an accompanying book Small Doses: Potent Truths for Everyday Use.
A Jedi Khaleesi with a patronus that's a Black Panther with wings, Amanda Seales continues to keep audiences laughing, thinking, and living in their truth!